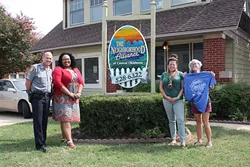 from left MSgt. Robert Skalla, Ashley Dickson, Barbie Smalley and Jessica Thompson will participate in Tuesday's Neighbors Night Out event. | Photo Laura Eastes
After northwest Oklahoma City resident Jessica Thompson called police about a safety concern, it was a relief to see an officer she knew step out of the patrol car.
Thompson and the officer had met at a Neighbors Night Out event for the Classen Ten Penn neighborhood, which stretches from NW 10th to NW 16th streets from Classen Boulevard to Pennsylvania Avenue.
"It's nice to see a familiar face in the neighborhood," explained Thompson, Classen Ten Penn Neighborhood Association vice president. "You feel comfortable because you know the police officers. They've come to neighborhood events and they look out for the neighborhood. I think it has a positive impact in the community, especially with what's going on between police and citizens."
For the third consecutive year, Classen Ten Penn leaders host a Neighbors Night Out event. This year's is 6-8 p.m. Tuesday at McKinley Park, 1300 N. McKinley Ave. Like years before, police officers, firefighters, elected officials and neighbors are invited to the cookout. Over hotdogs and desserts, neighbors mingle, chat about the area, ask officers questions and enjoy a fall evening in OKC. It's a family-friendly event with games and activities, like a piñata, for younger residents.
"It is a great time to meet neighbors interested in making the neighborhood better," Thompson said.
The historic neighborhood joins nearly 100 other metropolitan neighborhood associations and homeowner associations in Neighbors Night Out. The annual evening, happening Tuesday, brings "neighbors and community leaders together to forge relationships and build the social fabric of their community," according to Ashley Dickson of Neighborhood Alliance of Central Oklahoma (NACOK).
Each year, Neighborhood Alliance encourages more than 450 neighborhoods to plan Neighbors Night Out events. Communities host block parties, potlucks, ice cream socials or porch discussions.
"The parties take on the feel of the neighborhood," said Dickson, NACOK programs and communications director. "They all have the same mission to create that closeness in the neighborhood."
On any given Neighbors Night Out, MSgt. Robert Skalla visits four to six events. Skalla, who serves in police community relations, answers their questions.
"The Oklahoma City Police Department has a vested interested in neighborhoods that come together and look out for one another," he said. "This helps to reduce crimes."
Neighborhoods can register events with Neighborhood Alliance, which shares details with the police department. Each division assigns neighborhoods for officers to visit. Most neighborhoods post about Neighbors Night Out events on Facebook or the Nextdoor. Some initiate a phone tree or send email invitations. The Neighborhood Alliance can connect residents with their neighborhood leaders.
Skalla said he has witnessed the changing landscape of city neighborhoods. Capital improvement dollars are flowing into construction of sidewalks, residential street repairs, city park updates and library renovations. He said removing blight and preserving city infrastructure, mixed with strong neighborhoods, will help further increases public safety.
"We all ... want to live in safe, secure and clean neighborhoods," he said.
Print Headline: Safer neighbors, Neighbors Night Out returns to the metro.