Oklahoma City welcomed a new kind of restaurant in 2021, serving both humans and canines. Its namesake never lived to see its opening, but his spirit is inherent in the popular northwest OKC spot.
The demanding hours of the hospitality industry meant Julianne Thomas spent enormous amounts of time away from home and from her pets during the 17 years she spent in it. Thomas had long toyed with the idea of integrating a dog park with a restaurant but the timing was never quite right.
"I've always been around dogs. I can't remember life without dogs," Thomas said. "So, working in the industry, my husband and I would be torn. We'd work these really long shifts, then our friends and family would want to go grab dinner after, but our dogs had already been home alone all day. And we're like, 'Why can't there be a place where everybody can hang out together?"
When her 5-year-old dog Solo unexpectedly died while she and her husband were at work, Thomas knew she needed to bring her idea to life.
"Creating a brand new concept is kind of scary, but we had started doing our research and our work in that area," Thomas said. "We had gotten as far as talking with real estate agents when I came home and found that Solo had passed away during my shift. I was devastated, but it was the push I needed because he could have been with me. He could have been here, so we named it after him."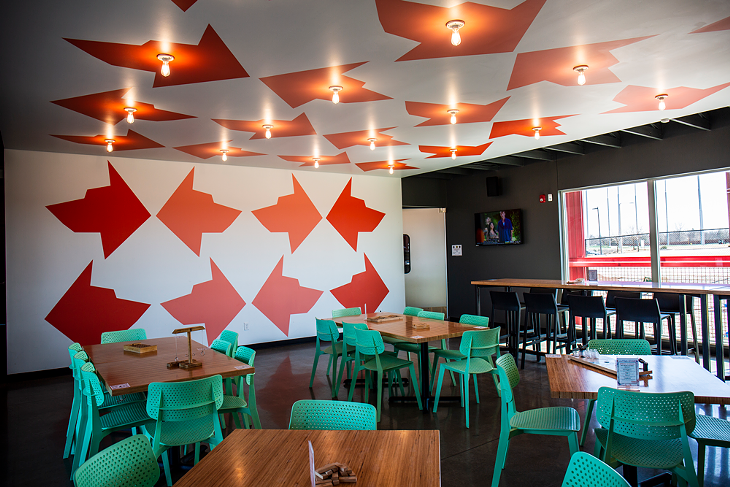 Berlin Green
The vibrant interior of Solo's Park & Pub.
Solo's is a vibrant, multi-use facility designed to be a fun and exciting experience for both dogs and their families. A fully monitored dog park is staffed with Bark Rangers, who train with professional dog trainers to ensure the safety of the animals and know exactly how to handle any situation. They play with each of the dogs and ensure the park is well maintained and clean while guests enjoy the rest of Solo's casual atmosphere. The dog park itself is large and spacious, equipped with separate areas for breeds both large and small, complete with toys, agility courses, and even a DIY dog washing station with soap and towels.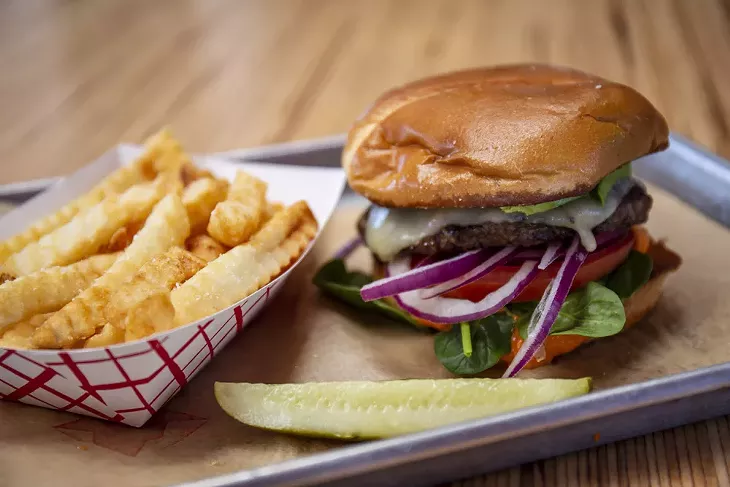 Berlin Green
The Solo's California burger with fries.
Thomas spared no details outside or in. The brightly colored restaurant is hip yet inviting. The calendar is packed with daily events and activities, from trivia and singo to poker nights and live music. Even the menu is designed with both humans and canines in mind. For the humans, Solo's offers a curated selection of gourmet wraps, hamburgers and hotdogs, as well as craft beer, wine and handcrafted cocktails. On the Doggy Bag menu, pups can enjoy servings of chopped burgers, sliced hot dogs, or a Pup Cup of whipped cream topped with bacon.
Solo's is designed to serve visitors of any budget. The park offers a day pass, month-to-month, and annual membership options, each with lots of perks.
"Our annual membership covers the entire day," Thomas said. "So if you came in for lunch and brought your dog, and you can leave them here while you run errands or even go home and let them get some more energy out, you are set for that entire day."
During one busy spring afternoon, about 25 dogs are frolicking through the park with their newfound friends as their happy owners look on, sipping cocktails and playing tabletop games.
"I'm an enrolled member; I joined right after they opened," Rachel Stratemeyer said. "I love this place. It's really a lot of fun. Everyone here is so great with all my dogs, and they know them so they're just happy to come here. Plus, they have great food and amazing drinks. I come for trivia night, singo, so many things."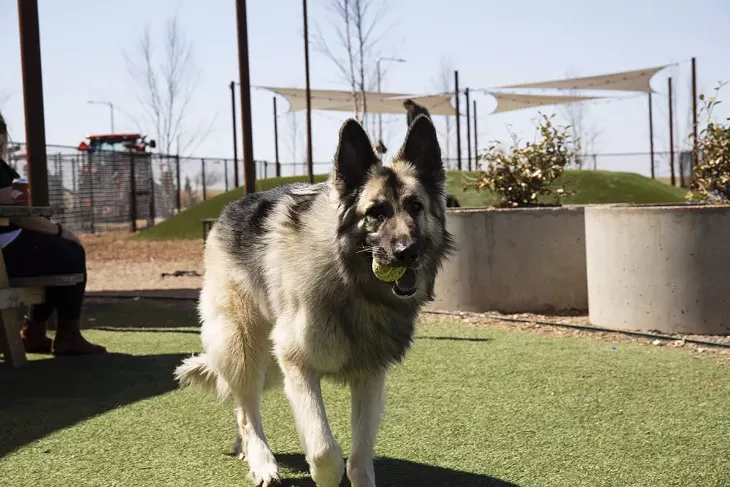 Berlin Green
Jackson, a Solo's Park & Pub guest enjoys the park.
Thomas also wanted to make sure her company does what it can to cultivate community and help other organizations grow. Solo's partners with local animal advocacy groups like Country Roads Animal Rescue, Safe Haven Animal Rescue and others to offer dog adoption events on-site. They also donate a portion of sales on charitable nights to those organizations.
Thomas said she looks forward to expanding the Solo's concept into other areas, but not without careful consideration.
"I would definitely like to bring more Solo's around," Thomas said. "But it's an idea we are very picky about. We want to be as close as we can. Because to us, this is very personal. It's our second home. I have a 19-month-old I've raised in the midst of all of this, but this is also my baby. It's been important to us to have a very personal touch on this place, so we're picky about where we're going to go, we want to, but we want to make sure to keep that same vibe going."
That carefully curated vibe has become as beloved by the staff as it is by the guests.
"I love it. It's so much fun," Solo's Bark Ranger Kaylee Tribal said. "I get paid to play with dogs all day — it's truly the best job."