Mark Hancock
Spare Rib Pale Ale just after being sealed in it's can on the assembly line at Coop Ale Works, Oklahoma City, 2-10-16.
Editor's note: Booze and brews is an Oklahoma Gazette series examining our state's beer and liquor laws.
"This is a fun time," said Kevin Hall, founder of League of Oklahomans for Change in Alcohol Laws (LOCAL).
Hall is excited because, after years of false starts, it seems like the state's alcohol laws might actually change.
Sen. Clark Jolley's Senate Joint Resolution 68 passed the Senate and is being considered in the House of Representatives, paving the way for a statewide vote that could dramatically alter the alcohol landscape. Sen. Stephanie Bice authored Senate Bill 383, which will spell out the changes Oklahomans could vote on.
"I went to seminary in Denver," Hall said. "I got a master's in New Jersey. Those are places with a real craft beer culture."
When he came to Oklahoma, he drank at James E. McNellie's Public House and people complained about the state's backward alcohol laws.
"I said, 'Then let's do something about it,'" Hall said. "The next week, nobody showed up."
Getting to this point has been a slog, but even on the precipice of change, there is a lot of controversy about what the new world will look like and who will survive.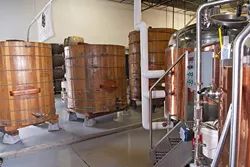 Brewing vats of wood and steal, at Athem Brewing Company. mh
Change brewing
There's plenty to do at Oklahoma City-based Anthem Brewing Company between brewing bottles of Arjuna, shipping out pallets of Golden One, running a taproom and testing out new beers.
Now, president and brewmaster Patrick Lively has two more jobs: watching and waiting.
Anthem is part of Craft Beer Association of Oklahoma (CBAO), of which Lively is vice president. The organization's position is simple: Let the breweries sell beer.
Current law makes it illegal for Anthem's taproom to sell products higher than 4.0 alcohol by volume, including bottled beers or growlers for off-site consumption.
Those are the changes most important to Oklahoma's craft brewers, but the laws would change a whole lot more.
"The way [lawmakers] have gone about it is to create a framework for change," he said. "We're a small portion of that."
Until the particulars are spelled out, CBAO has taken a position of "non-opposition." he said.
As for greater distribution through grocery and convenience stores, Lively said he isn't yet counting that revenue.
"I mean, we're not going to turn them down, but it's naive to think we're going to be in every grocery store in the state," he said. "Dictating which beers get in and how much shelf space they get and where gets really political."
He said big chain stores will likely stick with big chain breweries. Meanwhile, liquor stores are big supporters of local craft breweries.
"We don't want to turn our backs on them," he said.
Senator Stephanie Bice, vice chair, discusses her alcohol bill, SB383, with Senator Dan Newberry, chair, during the committee hearing on business and commerce, at the State Capitol Thursday. mh
Freedom fighters
Freeing craft brewers to sell in their taprooms isn't a major concern to Oklahomans for Consumer Freedom (OCF), the Wal-Mart-funded group advancing an initiative petition that largely mirrors the details in SJR 68.
Political director Tyler Moore said the group's petition is there to ensure Oklahomans get a chance to vote on full-strength beer and wine sales in grocery stores, pharmacies and convenience stores in November even if legislation fails to advance.
"It's a tough budget year, and legislators have different priorities," he said.
Regardless of the state's coffers, Moore said it's clear that consumers want more choices. And not allowing consumers to buy chilled full-strength beer and wine in those stores is leaving tax money on the table.
"As I talk to different people about OCF, they always talk about people buying beer in Missouri or Texas and bringing it home," he said. "That might not be an enormous figure, but we don't want to prolong neglecting revenue we're missing out on."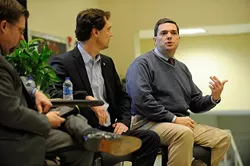 Garett Fisbeck
Clark Jolley speaks during a Education Spending Accounts forum at Bishop McGuinness High School, Thursday, Jan. 21, 2016.
Loss leader
While grocery chains have their interests in mind, so do local liquor stores, said Retail Liquor Association of Oklahoma (RLAO) president Bryan Kerr.
RLAO's competing initiative petition would give his members a fighting chance.
"All the petitions are good for craft beer drinkers," he said. "Ours is designed with local businesses in mind."
Conceding strong beer and wine to grocery and convenience stores will hurt liquor stores, but Kerr said RLAO's proposal would stanch the bleeding by allowing them to sell more nonalcoholic products.
"We don't see any reason why there should be any percentage limit on nonalcoholic products. There's no consumer negative," Kerr said. "There's no public safety problem with liquor stores selling bread. The only reason it would matter is convenience stores and grocery stores don't want something that could draw customers away from them."
OCF's initiative petition would limit nonalcoholic sales in liquor stores to 10 percent of total sales. The two senators' bills would limit those sales to 20 percent. RLAO wants no restriction.
Selection subtraction
Thirst Wine Merchants managing partner Alex Kroblin said the watchword is "consolidation."
There's nothing inherently wrong with wine and strong beer in grocery stores, but consumers should know who they're buying from.
"Yes, there might be more points of access to get the product, but there are fewer companies selling those products," Kroblin said. "You may have 30 different places to buy wine or beer, but those places are owned by three companies."
The larger the company, the less likely the selection will reflect the will of local consumers.
"If you're a craft beer fan and you walk into a big chain grocery store, there's no one there who can make a difference about which beer they stock," Kroblin said. "Those decisions are made at corporate headquarters hundreds of miles away."
People might think independent liquor stores are working together to keep prices high, but that's not true.
"[In reality,] they can't conspire with themselves, let alone each other," he said.
The proposed legislation has forced them to come to the table to help craft changes, but Kroblin said it might be too late.
SJR 68 and SB 383 would affect where alcohol is sold, who can distribute it and how.
The current system isn't perfect, he said, but proposed changes would favor larger distributors and wholesalers that could essentially pair up, pushing smaller distributors like Thirst to the margins and making it difficult to deliver products throughout the state.
"Without smaller distributors, selection goes down and price goes up," he said.
Thirst specializes in smaller, family-owned wineries. Kroblin said it's hard to say if those wineries would end up in the corporate mix if the company went under.
"It's not a doomsday scenario but does throw a wrench in the works," he said. "Do we have the wherewithal to deliver all of our products to all 77 counties? We're in the same boat as the independent retailers. It's a whole new world to figure out."
Print Headline: Drinking games, Changes to state alcohol laws put manufacturers, distributors, retail shops and consumers at loggerheads.