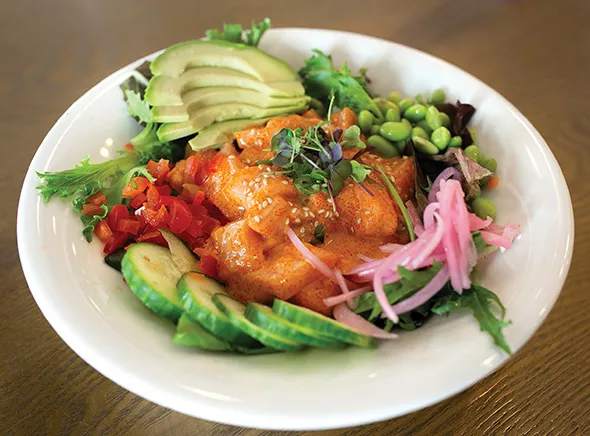 Alexa Ace
Poke at Chae Café tops either fish, spicy chicken or beef with Chae sauce.
After Chae Modern Korean surprisingly closed its highly successful 23rd Street location in April, fans were excited to see the restaurant's popular oxtail soup and bibimbap appear on the menu at Ur/bun, also opened by Daniel Chae.
Now, Chae is bringing the rest of Chae Modern Korean's menu to newly independent Chae Café, 7300 Western Ave., which breaks free from the All About Cha franchise in order to focus on all-day brunch and highlighting local purveyors.
The decision to close Chae Modern Korean was a difficult one for Chae, but it came as he and his wife were expecting their third child — their first in 10 years — and he announced a bid for Oklahoma County treasurer.
"People are really confused with our business decisions in a lot of ways, but I'm like this weirdo that is running for office, closing a really successful restaurant and also opening one," Chae said with a laugh while seated in the new Chae space that is sporting a fresh coat of paint. "It's a constant evolution of what kind of life you want for yourself. I'm finding a better pace. When Chae [Modern Korean] closed, I got a good chunk of my schedule back that my family values."
Chae Café is open from 7 a.m. to 11 p.m. and very well might be the only restaurant in the city offering everyday brunch items deep into the evening. Chae said that while operating his All About Cha location, he often heard from customers that they wanted more savory food options. He said the move from franchise to independent allows them to focus on small-batch locally made products rather than depending on a large supplier.
Big Oak Kombucha, KLLR Coffee, Signature Bakery and Heritage Grains Bread Company are among the Oklahoma City businesses highlighted in the cafe, which will add selected retail items available for purchase in the coming weeks.
"It is a dog-eat-dog world in the restaurant business," Chae said. "You have to constantly evolve, and a franchise can't pivot as quickly as an independent because there is a lot of coordinating involved. We wanted to be able to keep up with everyone else, especially in the Western Avenue District, where you have a lot of different restaurants opening up."
Chae thinks he has found a niche in the market by offering late-night brunch items in addition to salads, wraps, sandwiches and tacos.
"It's clear that brunch and breakfast is really hot right now," Chae said. "Cafes will never go out of style. You mix the whole aspect with cafes and brunch. While you see a ton of brunch concepts opening up downtown and in Midtown, there are only a handful on Western Avenue. … I'm really excited because you can't get our dishes anywhere else. You can't get Korean short rib Benedict anywhere else."
The short rib Benedict is one of fives types on the menu, which is also highlighted by sandwiches served on housemade brioche bread and menu items that get a Korean twist.
Potato pancakes are stuffed with kimchi and topped with a bacon cream sauce. Biscuits and gravy is Chae Café's take on the popular Red Lobster cheddar bay biscuit topped with pork belly gravy infused with kimchi. A poke bowl is available with tuna or salmon in traditional Japanese and Hawaiian preparation, but it can also be ordered with Korean spicy chicken or beef.
The poke is topped with Chae Sauce, which is the sweet, spicy and savory Korean chili paste gochujang cut with other secret ingredients to temper the spice and bring out savory aspects.
"People used to buy it in quarts [at Chae Modern Korean], and it's also really great as a dipping sauce for home fries," Chae said of his namesake sauce.
Alexa Ace
The California roll sandwich is served on housemade brioche bread.
A DMZ Waffle (a nod to the Korean Demilitarized Zone) is a savory waffle topped with fried chicken, kimchi pork belly gravy and an egg.
"It's probably one of the heartiest dishes in the entire city. That's a lot to say in Oklahoma," Chae said.
The brioche bread is highlighted in the French toast and a few sandwiches, including the California roll sandwich, which pairs imitation crab with avocado, housemade coleslaw and cucumber.
Chae was able to retain the bulk of his kitchen staff from Chae Modern Korean. Two chefs work at Ur/bun while Nguyen Nguyen manages the Chae Café kitchen alongside Chae's family members.
He said that during the day, Chae Café will have more of a counter-service restaurant feel, but it will transition to more of a cafe throughout the day, as baristas turn out lattes made with organic ingredients and other specialty coffee drinks.
"It is exciting to spend a little bit more on local and 100 percent organic products and to make it part of our new cafe," Chae said.
A lavender latte is infused with housemade syrup made with organic flowers, and green tea matcha white chocolate chip cookies are an impulse item by the register.
"We want to continue what we did at Chae [Modern Korean] by doing traditional dishes and a hint of Korean flavors in an atmosphere that is very relaxing," Chae said. "Students can come in and stay late without ordering food. They can order a coffee and study late."
Visit instagram.com/chaeokc.