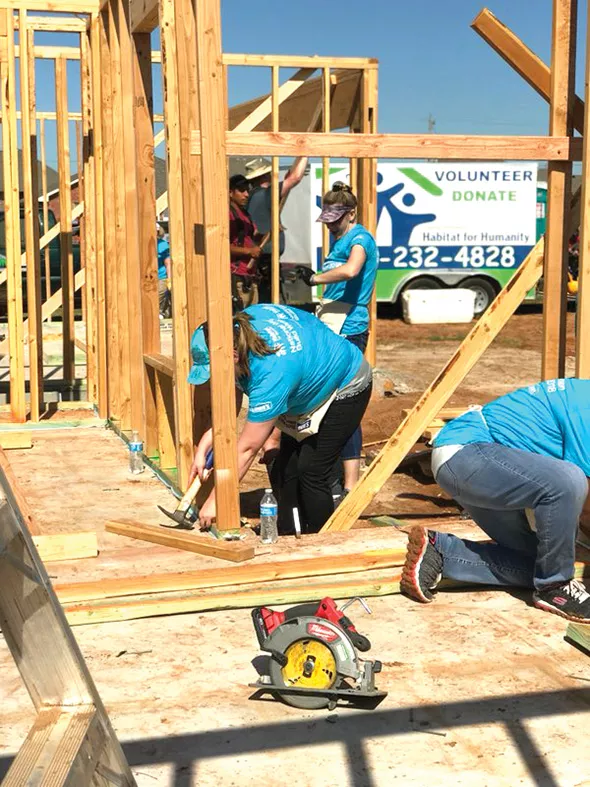 Central Oklahoma Habitat for Humanity / provided
This year, Women Build participants will build a home for Ariel Beasley.
Central Oklahoma Habitat for Humanity (COHFH) will take part in 2019 National Women Build Week, an annual event starting March 2 and coinciding with International Women's Day.
Women Build Week is an initiative of Habitat for Humanity's Women Build program, which was formed in 1991 in an effort to get women involved in serving local communities. Events like Women Build Week provide training and supervision to volunteers who want to take part in building a Habitat home. Men are welcome, too.
This year, Women Build Week kicks off the construction of a new home for Ariel Beasley and her young son, whom she affectionately calls Goose.
She experienced loss, abuse and drug addiction early on in her life.
"For a long time, I was struggling with addiction, and I was in and out of jail, and I was homeless at one point," she said. "During all that, I ended up getting pregnant and having my son."
In 2016, when her son was 6 months old, Beasley briefly lost custody. A few months later, she entered the ReMerge female diversion program, an Oklahoma nonprofit started in 2011 that rehabilitates new or expecting mothers facing incarceration. Graduates of the program have the chance to have their felony charges dismissed.
"They start from the bottom with you," Beasley said, "and for that two years, just walk through life with you. It changed my life."
ReMerge provides medical care, counseling, training, legal services and more. She credits the program with helping her get sober.
"I just never looked back," she said. "Everything has changed since then."
She now works a steady job in human resources and also serves as a resident manager of HopeHouse OKC, a transitional living facility for individuals experiencing homelessness. She frequently mentors women through both ReMerge and HopeHouse, focusing specifically on dealing with relationships and self-worth.
She is also very involved in her church and relies on her faith for personal strength.
"For me, getting really connected with my church and these programs has given me that lifeline," she said. "I just feel like the closer that I've been to God, it's poured out into the rest of my life."
Through her church and a mentor she had there, she got involved in Habitat for Humanity. Her mentor happened to be a close friend of Ann Felton Gilliland, CEO of COHFH, and she encouraged Beasley to apply.
Beasley said she did try for the program early last year but was asked to tackle some credit issues first and show evidence of financial stability.
"That was in February of last year," she said, "and by August, I had finally gotten approved, and [I] worked really hard to get in that position of being able to be accepted into their program."
A group of supportive female friends was another reason she was able to successfully enter Habitat's housing program.
"I had been doing so well for so long, and I had all these great women that were rooting for me and writing these letters for me and saying, 'Hey, we stand beside her,'" she said. "And so it was like this group of women in the community that was carrying me on their shoulders."
It seems fitting for Beasley's new home to be a product of the Women Build program, which brings together even more supportive women to work toward a common goal.
Empowering work
Gilliland, who has been with COHFH since 1990, called Women Build events empowering.
On framing day, the volunteers start with an empty slab and end the day with the beginning of a home. The fruits of their labor are instantly obvious.
"As often as not, women that commit for the first time are really surprised at what they can do," Gilliland said.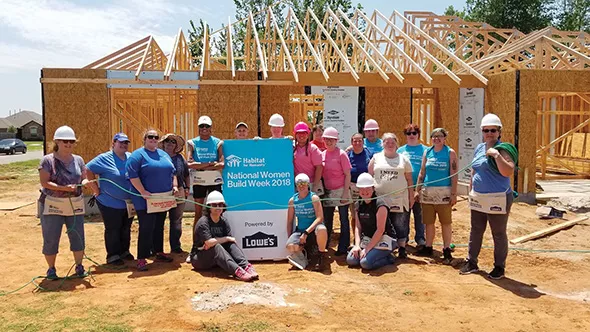 Central Oklahoma Habitat for Humanity / provided
Habitat for Humanity's Women Build Week encourages women volunteers to help build houses for people in their communities.
The build on Beasley's new home is slated to last from March 2 to its dedication on June 8. Volunteers will work on Saturdays during this period to complete the house.
Gilliland said even those who have never worked in construction are welcome to volunteer because there are supervisors that provide on-the-job training. For those who don't want to do construction, there are other volunteer opportunities available, like painting and landscaping.
"Our goal is for [volunteers] to leave that day with a really great experience," Gilliland said. "And I think we accomplish that because so many of them come back."
Thirty to 35 volunteers are needed for framing day, and over 100 women will be needed for tasks in the subsequent weeks. Those interested in this build will need to volunteer within the next couple of weeks. Otherwise, Gilliland said Habitat usually has about 14 other houses under construction.
Beasley is in the process of working through the sweat equity portion of her agreement with Habitat, which requires her to put in 300 hours of work within the organization. Some work must be on other builds and at the Habitat ReStore facility. Portions of sweat equity can be shared with Beasley's friends and family, as well.
Gilliland pointed out that another benefit of the sweat equity is that Beasley will meet other volunteers and her neighbors and, therefore, will move into an established support system in her new community.
Currently, she is also getting the opportunity to choose the finishing details on her new home, like countertops and flooring.
"I had never really thought about what I wanted," she said. "Most people don't get that opportunity. I'm just really grateful to be where I'm at with it."
The honorary chairperson for this year's Women Build is Oklahoma City resident Elizabeth Wilson, and her responsibilities include aiding in fundraising and being present at the home's framing day. As a member of the Pi Beta Phi women's fraternity, she has been able to draw upon that community as a resource.
Those interested in volunteering during Women Build Week or other times during the year should contact volunteer coordinator Rick Lorg at COHFH.
Beasley said she is excited about the next chapter in her story.
"Three days after I took [Goose] home from the hospital and I was sitting in an abandoned house in August, it was like a hundred degrees outside," she said. "We're pouring with sweat, nothing to eat, no running water, no electricity."
She said it was the worst moment of motherhood and her life.
"Going from that to this, to a homeowner; I don't even know how to describe it," she said. "It's just another piece of my story. I can't wait to tell about what God's done for me."
Visit cohfh.org.