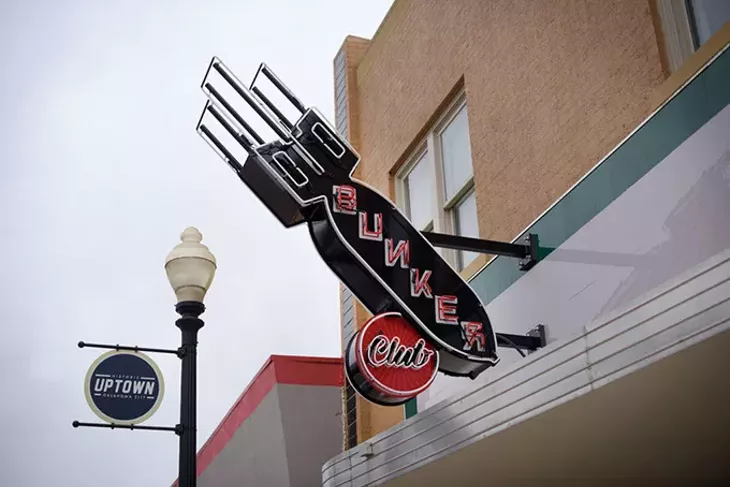 Garett Fisbeck
The Bunker Club, Tuesday, Feb. 28, 2017.
Of all the things Cheers got right — the will they?/won't they? tension between Sam and Diane, the playful naivety of Woody — it was the theme song that rings most true today.
People want to go where everybody knows your name and they're always glad you came.
There's a comfortable sensation when you slide into your favorite booth at your favorite bar and get your favorite drink from your favorite bartender. But what if you haven't found "your" bar yet? Fear not!
New watering holes are on the rise in Oklahoma City and the metro.
Bunker Club
433 NW 23rd St.
405-226-5030
Owners Ian and Hailey McDermid are no strangers to Oklahoma City's bar scene. The Pump Bar, 2425 N. Walker Ave., has been a massive hit since opening in late 2014. They're hoping to replicate that success with a long-awaited follow-up inside the Tower Theater building: Bunker Club.
Harkening back to the Cold War, Bunker Club is being outfitted with old black-and-white TVs and retro-futuristic decor, giving guests the feel of hoisting a drink in an underground shelter.
Hailey said the bar will feature 19 beers, four wines and some "bubbly" on tap as well as a selection of themed cocktails.
Construction should be finished soon, meaning Bunker Club could be open within the next month.
Lost Highway
1613 N. May Ave.
405-601-5606
What do you call a dive bar that isn't a dive bar? Co-owner Scott Pepper just calls it Lost Highway.
Located in the former Bali Hai Lounge, Lost Highway is a unique bar with big appeal.
"What I'm seeing are people ... from all different neighborhoods coming here," he said. "Every day, I see new faces and new people."
With decor out of an old tabloid, bar games and a full roster of liquor and beer, Pepper calls Lost Highway "an everybody bar."
Rewind Pub
1203 SW Second St.
405-819-4265
Joining popular Power House bar and vegan eatery The Loaded Bowl in the Farmers Market District is Rewind Pub. Jump back to the 1980s with arcade classics Q*bert and Centipede while enjoying an adult beverage. Large, wall-mounted TVs will show retro films to go with a menu of totally tubular eats.
Wicked Piston Bar & Grill
309 S. Bryant Ave., Edmond
405-285-1484
It doesn't take a gearhead to love Wicked Piston. It's tucked away in a shopping center near Second Street and Bryant Avenue in Edmond, and the bar's menu is firing on all cylinders with tons of tasty, spicy options. It takes a few drinks to put out the burn from the NOX (N2O) "death by fire" hot wings and Slap Yo Momma Wicked Spicy Jambalaya. The restaurant opens at 3 p.m. on weekdays and keeps revving up high-octane service until midnight.
Print Headline: Bar fun, New cocktail bars and restaurants bring a fun spin to Oklahoma City nightlife.