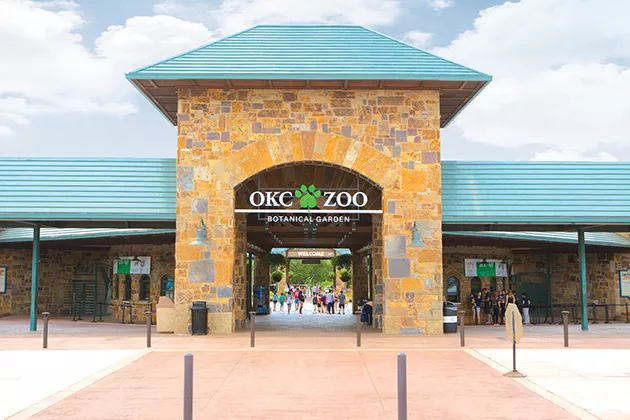 OKC Zoo / provided
Oklahoma City Zoological Park and Botanical Garden is getting several new expansions and renovations for animal habitats in anticipation of a major new exhibit.
Several projects are in the works for Oklahoma City Zoological Park and Botanical Garden that officials say will give people renewed reasons for visiting. Apart from three new animal habitat construction projects, the zoo is in the early planning phase of a big new exhibit.
"We have what seems like a whole slew of projects that are in the planning phase right now," said Dwight Lawson, the zoo's executive director and CEO. "The biggest one is a new Africa exhibit that's going to basically reinvent the central 12-plus acres of the zoo — so everything past the turnstile, the old pachyderm building, Island Life, up toward the giraffe yards."
Planning and logistics for the Africa exhibit will take about another year before an additional year of construction starts. Lawson said it could be ready in spring 2022.
"The other project that we have planning right now is new habitats for our cheetah and wild dogs. They will go in Africa as well," Lawson said. "The area where the wild dogs currently are will be repurposed before that for new and additional space for African painted dogs and cheetah and other medium-sized carnivores. It was the area that used to be called Dog Row. A lot of it has been taken down because it was getting pretty old. That should be up … maybe late summer next year if all goes well."
Modern habitats
The zoo is also working to renovate habitats for its Galapagos tortoises, its condors and other amphibians.
The new Galapagos tortoises exhibit has been under construction for a few months now and should be complete by the end of the year, according to Candice Rennels, director of public relations. The expansion costs approximately $700,000 and is taking place in the former Secret Garden area of the Children's Zoo.
"It gives them a much better space, and it puts another animal exhibit kind of right up there at the front entry where there wasn't much before. It also helps pave the way for the next really huge project that we have with Africa," Lawson said. "The place where they currently are (Island Life) is going to be going away in the next 18 to 24 months, and we had a nice spot in the Children's Zoo that was underutilized and nice and sunny, which is perfect for them. So it's a better spot for them and will activate that space."
The zoo has had Galapagos tortoises in its animal population since 1966. Currently, the zoo is home to one male and three female tortoises ranging from 70 to 110 years old. Through the Zoo's Wild Encounter Program, Rennels said guests will have an opportunity to connect with the tortoises and learn about them from their caretakers.
Initial construction has begun on a new Andean condor exhibit and habitat. Lawson said it could be completed by late spring or early summer of next year. He said Works Progress Administration built grottos in the '20s and '30s that have been walled off from public view for about two decades.
"I'm excited about this one," Lawson said. "We're going to open that area up and basically repurpose a couple for those grottos for a couple large aviaries for Andean condors and a few other bird species. It'd be nice to have that [mix of] history and something new and some new homes for the condors. We used to have those guys down there in the reptile house in some old bird cages that were actually the only original animal habitat structure or enclosure from when the zoo was at Wheeler Park. They actually moved that cage up here, and it was actually a little bit past its useful lifespan, so we got rid of it a year or two ago and have been working toward this new home for condors."
The 10,000 square-foot habitat will provide room for condors to fly in a native landscape that includes viewing opportunities for guests. The expansion costs a little more than $1 million and will move condors to the area west of the zoo's Noble Aquatic Center. It will also feature a dedicated azalea garden space that Lawson said was supported by a longtime donor.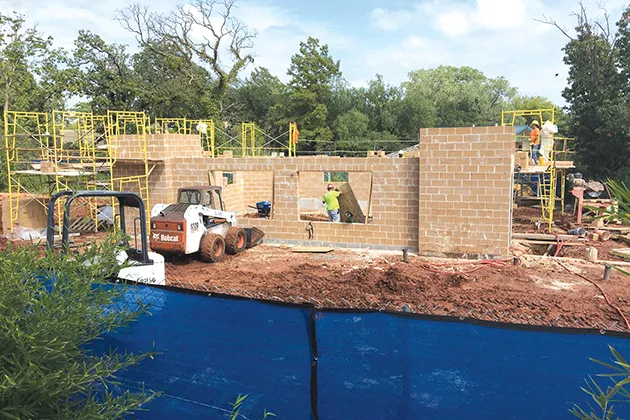 OKC Zoo / provided
The zoo's Galapagos tortoises are getting a new habitat just inside the zoo's entrance that should be completed by the end of the year.
Next month, construction begins on a new amphibian plaza. Lawson said that will be a series of wetland features and landscaping to go in front of the current reptile house.
"We're going to put in some water features that will feature turtles and amphibians and things like that that people can kind of walk through and around," he said. "That'll tie in nicely to the landscaping that we upgraded with the picnic area that opened a year and a half ago. … That one should be done in the spring. It's not as complicated."
The plaza will also feature water gardens that extend from outside the Herpetarium to the picnic area. The project will cost $693,000.
In addition to habitats for its animal population, the zoo is also in the early stages of building a new administration building and renovating the existing one. Construction is estimated to cost $6 million.
"Most of the administration services of the zoo have been living in the basement of the science museum forever. We've outgrown that space, so what we're looking to do is build some new office space," Lawson said. "Then the space that we currently occupy in the bottom of the science museum we want to convert to additional space for education programs. They're kind of busting at the seams as well, so it's a one-two punch to get them some additional room. … This will be a nice, separate environment to place that."
Lawson said the new exhibits will be good for animals and attractive for visitors while providing enhanced educational experiences for everyone involved.
"It's another reason to visit. It's better homes for a lot of these incredible animals that we have. Our standards of care continue to evolve and improve, so we're always anxious to keep up with that," Lawson said. "The situation for animals out in the wild and nature isn't getting any better, so I think there's more and more reason to get people in here and tell them that story and give them a compelling experience as part of that."
While temperatures in Oklahoma City continue dropping, officials still encourage people to visit the zoo. Some animals need to remain inside, but other species are comfortable in the colder temperatures.
November is also Military Appreciation Month, which means free admission all month for active duty or retired veterans of the military, National Guard and Reserves with military ID. Up to four immediate family members also get 50 percent off general admission.
Visit okczoo.org.