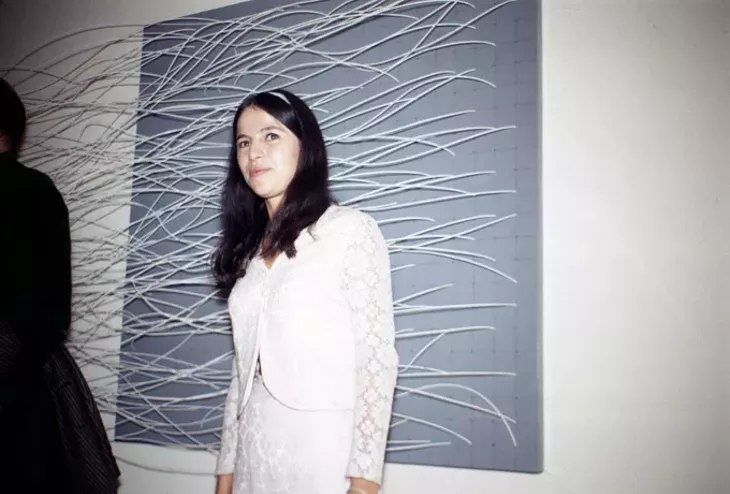 Eva Hesse lived a difficult and painfully short life, but her reputation and the public's appreciation for her experimental art continues to grow nearly half a century after her death. Documentary Eva Hesse, showing June 23-24 at Oklahoma City Museum of Art, builds a case for Hesse being one of the most important visual artists of New York's 1960s downtown scene.
Born in Hamburg, Germany, in 1936, Hesse and her older sister Helen escaped Nazi Germany in 1938 via Kindertransport, the British rescue effort in which Jewish children were removed to safe places in Europe. Their parents reunited with the girls at a Catholic school in Holland and then emigrated to the U.S., where Eva developed an early interest in art. While tragedy dominated much of her life, her art offered a bright, engaging counterpoint.
Originally a painter during her studies at Yale and The Cooper Union for the Advancement of Science and Art, Hesse underwent a massive shift in viewpoint and style after marrying artist Tom Doyle in 1962 and accompanying him on an extended residency in Germany. There, she discovered the use of commercial materials such as textiles, fiberglass and latex. When she returned to New York, she brought with her a unique style of loose, fibrous sculpture that could be used to convey political and social messages and subtle sexuality.
Hesse was celebrated by New York art aficionados during the half decade leading up to her death from a brain tumor in 1970. By most standards, that would leave little source material for examining her life. Fortunately for biographers and filmmakers, Hesse chronicled her days like a 21st-century social media maven. Over 1,200 pages of journals and correspondence are catalogued at Allen Memorial Art Museum in Oberlin, Ohio, which formed the basis of new book Diaries as well as Eva Hesse, directed by Marcie Begleiter.
For her documentary, Begleiter enlisted actress Selma Blair to read from Hesse's journal entries, which included correspondence with artists Sol LeWitt, Richard Serra and other contemporaries. But Eva Hesse is not only a biographical appreciation of Hesse's work; it also looks at what has happened to her later sculptures as they weathered the effects of age.
In her final years, Hesse increasingly worked with latex, a material that degrades over time. As a result, some of her art is now disintegrating. In a recent interview with Vogue, Begleiter said that she wanted to capture how art can be as transitory as life. As Hesse said shortly before her death, "Life doesn't last. Art doesn't last. It doesn't matter."
"On view right now in New York is Repetition Nineteen [III], which is the first fiberglass piece she did with Doug Johns," Begleiter said in Vogue. "That piece is noticeably a different color [now than when it was made]. Do I think that takes away from what it is? No. I think that's time working upon materials. She was really interested in materials, and that's a material that changes color."
For many years, exhibitions of Hesse's work were rare. The Tate Modern in London mounted a massive retrospective of her art in 2002, and seven years later, The Fruitmarket Gallery in Edinburgh, Scotland, exhibited several pieces in an effort to bring more notice to the artist's intricate and articulate work. Now, thanks in part to Begleiter's film, Hesse's work is enjoying a revival. Six galleries in Manhattan, including the Museum of Modern Art (MoMA) and Jewish Museum, are exhibiting her paintings and sculpture.
"There have been a number of major retrospectives, but I have to say, the work is not easy," Begleiter told Vogue's Julie Felsenthal. "It's abstract sculpture. And of course, some of the materials were quite fragile, which means they're not necessarily shown with great frequency. And she's a woman who made artwork in the 1960s. She's certainly overdue to be looked at."
Info box:
Eva Hesse
5:30 p.m. and 8 p.m. June 23-24
Oklahoma City Museum of Art
415 Couch Drive
okcmoa.com
405-236-3100
$5-$9
Print headline: High in fiber, Eva Hesse explores the late artist's revolutionary but fragile work in flberglass and latex sculpture.