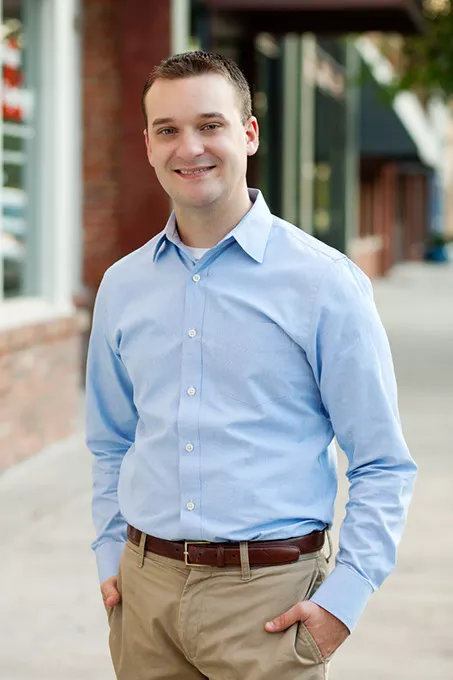 The dining room at Boulevard Cafeteria in Midtown is filled mostly with older citizens who have devoted much of their lives to advancing Oklahoma's Democratic Party, a tall order, especially over the past decade.
Speaking in the center of the room is Joe Hartman, a savvy political consultant who understands Democratic policies and the election process. Hartman is in his element, but he still stands out, as he is noticeably 25 years younger than the average guest. Using terms like "advanced analytics" and "social media," Hartman often is met with blank stares.
"I think there is a recognition among [Oklahoma] Democrats that we need to do something different," he said a few weeks after that lunch and a week after he was elected the new Democratic chairman for Oklahoma County. "The technology in advertising and campaigns just keeps growing every day. Embracing that, along with a more professional organization, is what I wanted to bring to the party."
Ben Felder
Joe Hartman, who was recently elected chair of the Oklahoma County Democrats, spoke with members during an event in Oklahoma City.
The state and Oklahoma County is heavily Republican, and while there are pockets of blue within the city, Republicans reminded Democrats just how strong they are after winning several more liberal northwest OKC districts last year.
Oklahoma Democrats went through a tough election cycle in 2014, but it has been several years since the party lost its statewide majority. If there is such a thing as the political stages of grief, Democrats, at least in Oklahoma County, appear ready to exit the mourning phase and embrace change.
"I think with the new leadership we've got, the new ideas, going in a different direction, I think that's a positive thing," Phil Porter said at an Oklahoma County meeting last week, which he said had the highest attendance he had seen in years.
According to data from congressional and gubernatorial races, in recent years, Oklahoma County has trended more Democratic. However, while there is a focus on preparing for 2016 elections, this year, Democrats in this county will have a chance to show how quickly they can mobilize as they ready for a special election in House District 85 to fill the seat formerly held by Republican David Dank, who died April 10.
"A special election is about turnout, and I think it's going to be a test of our organizing skills and how effective we can be at turning out Democrats," Hartman said about the District 85 race. "I expect both sides to put up really good candidates. For Democrats as a whole, this is going to test our skill."
Dank, who ran as an incumbent in 2014, won reelection easily. Combined, he and his wife, Odilia Mary Dank, held the seat for over 20 years. With Republicans forced to run a new face, Democrats hope to steal a seat in a part of Oklahoma City that has grown younger and more diverse in recent years, two demographic trends that typically benefit the party.
In addition to Hartman, Oklahoma County also voted in Shon Allen and Paula Sophia as new officers.
This year will not be a comeback year for Democrats in Oklahoma. But if new leadership is able to embrace new tactics and the party can steal a seat in the special House race, this could be a year that helps spark future growth.
"This is a long process," Hartman said, "but we have to start now."
---
Print headline: New direction, Incoming Democratic leadership hopes to find a new direction for his party.