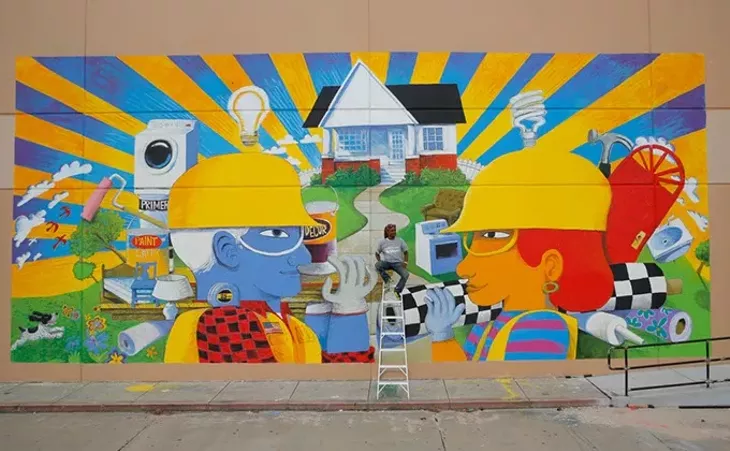 Garett Fisbeck
Skip Hill poses for a photo with at his mural in Norman, Wednesday, Aug. 12, 2015.
The corner of Main Street and Berry Road in Norman looks different.
It's still one of the busiest intersections in town. Norman High School still bustles across the street. The impatient river of traffic still flows by ceaselessly, and the strip mall parking lot still stays full all day.
The difference is the wall on the south side of Main Street.
What used to be a Homeland has now been converted into a new Habitat for Humanity (HFH) Administrative Center and ReStore, a resupply and centralized goods warehouse. The enormous blank wall that used to greet students, shoppers and motorists with all the warmth and charm of a penitentiary is now adorned with one of the largest communal art projects Norman has seen in years. It transformed the entire corner. People are noticing.
"The City of Norman and the community here really facilitated this mural," said Skip Hill, an artist and relatively new Norman resident who was commissioned by HFH to paint the oversized piece. "It really took the idea of public art to the next level, and our focus from day one was to make this a hands-on, community project."
Hill achieved the community aspect of the project thanks to an idea from Liz Barfield, the new HFH marketing specialist.
'Coloring book'
In an effort to fund the mural — which Hill calls Reuse, Renew, Resore — and cultivate a community investment in the new center, an enormous grid was laid out, and Hill essentially created a "coloring book" over the grid.
"A basic outline of the design with no colors filled in," he said. "I just kind of drew it in and then stepped back."
Then, with the painting ready to be filled in, the grid squares were sold to local businesses and civic organizations. Representatives from those groups then showed up and, under Hill's supervision, began filling in the enormous canvas. The 44-foot by 20-foot mural took three months to complete, and Hill said it was a true public experience from start to finish.
"The community was really key; I was more of a facilitator," said Hill, who made appointments throughout the three months to supervise laymen (and laychildren) who decided to come paint.
"The youngest painter was 3 years old, and the oldest was in his 70s," Hill said. "We had the mayor of Norman come paint, presidents of banks, little kids, teachers — a real cross section of this community."
Community response
The buzz and hum of a public art project of this magnitude also drew constant attention from Norman residents just walking by.
People mostly stopped to say "Thank you for doing this" and told Hill multiple times that it made a huge difference on the mood and feel of the intersection. Residents brought the artist drinks and checked to see if he needed anything.
"Everyone seemed really excited and supportive of what we were doing," Hill said.
Hill is no stranger to murals, public projects or garnering support. A prolific artist in the Oklahoma City scene for years, Hill moved to Norman three years ago to discover what he calls a kind of untapped market for artistic initiatives.
"I can see and feel what's going on in the city, but this scene is really catching on too," Hill said. "The energy of having a university here obviously helps. I feel like this town is really about to take off artistically."
Hill hopes his new piece might serve as a catalyst for that. He admits the work is a bit of a departure for him, but the eyes of the two main characters in the mural are vintage Hill.
His vibrant and exotically stylized work has been recognizable around OKC for years, and if one looks closely, one can see his fingerprints on the Norman work. However, guidelines for content and the "coloring book" aspect of the project took him in a new direction.
The buy-in
"It was definitely a departure for me, but it needed to be," Hill said. "The main goal was obviously to let people know what the store was about, what kinds of things they could find in the store, and those are featured on the mural. That's why there's a washing machine and a stove on there."
As for the two centralized figures, the ones staring at each other with the distinctive eyes, Hill said the color choices were deliberate and pointed.
"Black and white doesn't cut it anymore when we talk about the diversity of people we live and work with," Hill said. "So I decided to make the people blue and oompa-loompa orange. It's an abstract idea, but I thought it was important."
Hill, who grew up wanting to be a cartoonist, has made much of his living in years past by working in public schools and supervising youth and community projects. However, he said the Norman piece was not only the biggest project he has done, but the most collaborative as well.
"I haven't done a mural in years, not since the '90s. It was for the Mid-Del school district, and I still like the idea that components of that mural are still there 20 years later," Hill said. "It's a very gratifying feeling. And now, all the people who helped paint this one will know what that feels like. All of those people have stock in this art now."
---
Print Headline: Taking stock, Skip Hill brings his art to the people of Norman, and they take ownership of it.