Garett Fisbeck
Bison burger with pork belly at Hutch on Avondale, Tuesday, May 2, 2017.
Oklahoma City's food scene owes a debt of gratitude to The Coach House.
During its 31 years in business, the restaurant helped train numerous chefs to lead their own kitchens across the metro and the country.
The Coach House closed in February 2016. In the end, it became a special occasion restaurant. In a larger city, maybe that wouldn't be a problem, but it was simply unsustainable in Oklahoma City.
It was not gone for long. After the final service, chef David Henry and mixology whiz Kyle Fleischfresser went to work changing the venue's menu, decor and name.
Much as they combine disparate ingredients into a delectable dish or a powerful cocktail, the eatery cooked up by Henry and Fleischfresser is something magical.
The Hutch on Avondale is a delightful spot that aims to be a weekly destination instead of a once-a-year indulgence.
As someone who dined at both The Coach House and The Hutch, I can safely say the quality of the food is as high as ever. Henry is a relentless creator and a perfectionist.
His former menu contained more of what he called "fussy foods" — the kinds of dishes that were meant to be viewed as art pieces before being slowly savored and enjoyed.
The Hutch still has a few "fussy" details, but the food is much more approachable.
For instance, it's hard to fathom ever finding chicken wings (seven for $8) on the menu at The Coach House.
But there's no doubt the same culinary skill is at work when a bowl of enormous wings bathed in a hot sauce vinaigrette shows up at the bar top. The bottom of the bowl is lined with diced celery, pickled carrots and a blue cheese mousse.
I found the wings had more of a barbecue flavor, but they were extremely meaty, nonetheless. The chicken was cooked beautifully. It's okay to gnaw on the bones. No one will judge you.
For something a little more genteel, might I point you in the direction of the white cheddar and chive biscuits (six for $5)? They're petite nibbles with a rich cheddar flavor and just a touch of buttery oiliness that comes from using real cheese.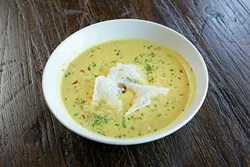 Garett Fisbeck
Chicken curry soup at Hutch on Avondale, Tuesday, May 2, 2017.
The bowl of chicken curry soup ($8) is slightly more substantial and much more impactful. For the extremely budget-conscious, the soup is a great deal that still shows off the kitchen staff's mastery of seasoning and texture.
The creamy liquid was spiced with curry and coconut, a natural pairing that creates tongue-titillating bursts of flavor on a smooth, cooling base of coconut cream. Below the surface lurk perfectly sized, luscious bites of tender chicken. On top is a flavor-rich chutney you should stir in and distribute equally in the soup. The intense bursts of fruity sweetness and tangy vinegar gives the dish legs and changes up the texture.
Each bite is a little different, which is kind of exciting, especially when they're all so good.
Let me preface this next bit with the understanding that $18 is a lot to pay for a hamburger. I know this. There are plenty of great burgers in Oklahoma City that don't break the $10 barrier. But I'd still order a medium-rare bison burger at The Hutch. And I'd absolutely add $3 more to the bill for pork belly.
Bison is beefier than beef. Bison tastes like what most of us think beef should taste like. It's lean, too, so I'd recommend getting it cooked medium at the most. It's best at medium-rare, in my opinion.
Add a little salt, lettuce and tomato and a house-made bun and you've got your hands on a big, beautiful burger.
Pork belly is what bacon is made of, but bacon isn't nearly as thick as what they cook at The Hutch.
Served crisscrossed on top of the bison patty, the pork belly is fried to a lovely crisp outside and has a supple, melting interior. It's big enough that diners should prepare to grip the bun a little tighter and open their mouths a little wider.
It's worth the stretch.
The bison and pork belly juices mingle together to create a tempest of tastiness. Be ready for the diametrically opposed impulses to immediately take another bite and the need to stop and contemplate the maelstrom of happy flavors in your mouth.
The burger also comes with fries — really, really delicious french fries that are dusted in black pepper and salt. These fries are in the running for the best in the metro.
The burger and fries are hard to beat, but only until the roasted chicken breast ($26) is served.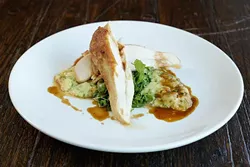 Garett Fisbeck
Roasted chicken breast with creamy polenta at Hutch on Avondale, Tuesday, May 2, 2017.
Look; I know, all right? Chicken breast is supposed to be boring. It's the least interesting part of the chicken under most circumstances. But being prepared by chef Henry is not most circumstances, and this chicken breast is far from boring.
At the base of the plate, you'll find creamy, immaculately seasoned polenta with some gently sautéed arugula and a drizzle of savory sauce. Taste each part individually and marvel at the perfection. Then take a knife and begin slicing into the chicken breast, being sure to get a piece of the crisp, roasted skin with each bite.
Dip it in the chicken sausage sauce. Scoop up a wisp of polenta. Wrangle a few arugula leaves. Take a bite and concentrate hard on putting the knife and fork down, because it's difficult to do. This dish is the very soul of what The Coach House did and proof that The Hutch is an able successor.
Taking simple, high-quality ingredients and applying precision cooking techniques to create a truly memorable dish is what The Hutch on Avondale does.
Print headline: Casual elegance, The Hutch on Avondale retains The Coach House's skill in a more relaxed atmosphere.