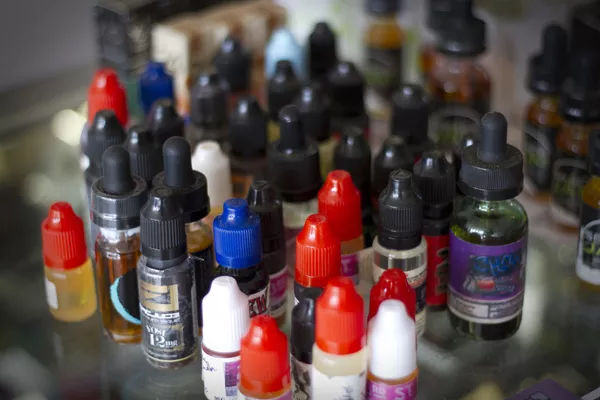 E-liquid flavors at 23rd Street Vapes | Photo Erick Perry
Adam Bottoms' three-pack-per-day smoking habit was expensive, and he knew that it wasn't good for him. Becoming a father changed everything. He wasn't going to risk secondhand smoke affecting his infant daughter's already-delicate condition. So he walked into a shop that sold electronic cigarettes, also known as e-cigarettes or "vapes."
There are various styles of handheld hardware that vaporize e-liquids, a mixture of flavoring and nicotine blended with a variety of nicotine strengths. The process produces a cloud of vapor users inhale instead of tobacco smoke.
Fatherhood motivated Bottoms to seek help with smoking, and he credits e-cigarettes with helping him stop smoking entirely for the last five years. Bottoms is one of many who have used the devices in their quest to become smoke-free. He also is one of many passionate users who enjoy working in the industry because of it. He now works full-time for an e-cigarette company here in Oklahoma City.
It isn't hard to find a shop that sells e-cigarettes and e-liquids. That's because until recently, shops selling vaporizers and the liquid and accessories that go with them have been able to proliferate across the U.S. with little regulation from federal or state governments. Just about anyone who wanted to start a shop could.
But that changes starting Aug. 8. On that date, e-cig and vape liquid manufacturers, distributors and retailers will fall under a recently announced set of Food and Drug Administration regulations that are 499 pages long.
They have up to two years to adjust their practices to fit within the new rules.
The struggle has already begun over whether vape use is effective in curbing or stopping smoking, possible health impacts of use and quality control of e-cig liquids and restricting access of vapes and liquids to minors.
New rules
The new FDA rules define e-cigarettes and vape liquids as tobacco products, effectively regulating the entire e-cigarette industry under the Family Smoking Prevention and Tobacco Control Act (Tobacco Control Act).
The ruling is based on studies that show "a dramatic rise" in e-cig use by high-school-age youth, according to FDA-provided data included with the new regulations. It also highlighted the sale of vape liquids with names and flavors that appeal to that demographic.
The rules, approved May 5, ban sales of electronic nicotine delivery systems — e-cigs, hookahs, e-pipes — to anyone under age 18. Photo identification is also required for adults under age 26.
"As cigarette smoking among those under 18 has fallen, the use of other nicotine products, and especially e-cigarettes, has taken a drastic leap," Sylvia Mathews Burwell, Department of Health and Human Services secretary, said at a May 5 news conference in Washington, D.C.
A May report from the Centers for Disease Control and Prevention (CDC) shows e-cig use grew almost tenfold among high school students between 2011 and 2015. There was a nearly ninefold increase among middle school students.
Burwell also said hookah use and cigar smoking among the age group "continues to be a problem."
Industry response
"This is not regulation; it is prohibition," American Vaping Association, an industry trade group, said in a press statement quoted May 5 in The New York Times.
It prefers the industry be regulated by food rules instead of tobacco rules.
Within weeks, several lawsuits were filed to attempt to stop the new regulations. Manufacturers and retailers also launched campaigns to sway public opinion against the new FDA ruling. One such business is based in Oklahoma City. They will have plenty of information to use in that campaign.
A recent report compiled by Public Health England, an agency of the United Kingdom's Department of Health, concluded e-cigarettes are "around 95 percent less harmful than smoking.'"
In May, the CDC issued a report showing more adults are quitting smoking than ever before. However, while it recommends "nicotine replacement products" as scientifically sound methods of smoking cessation, it does not specifically recommend the use of electronic nicotine delivery systems.
More than 480,000 preventable deaths each year are caused by smoking tobacco, according to the CDC.
Local impact
Oklahoma City manufacturer and distributor Ryan Vicedomini said he believes the industry "will be dead within two years" unless the FDA rules are modified.
He is founder and CEO of Vapor Supply, more commonly known locally as Vapor World. It's the company that Adam Bottoms now works for.
The approved regulations removed a controversial requirement that would have removed all flavored e-cigs and vape liquids from the market until they received FDA approval but the regulatoins still require companies to gain marketing permission for any tobacco-related product introduced after February 2007.
Vicedomini said that the expense of the extensive testing for FDA approval would have been something that only the two or three largest corporations could withstand and would likely drive mom-and-pop shops, which often create custom liquids in-house, out of business.
"Even if I try to get one of my e-liquid flavors approved, just one, it could be as little as $300-$400 or as much as $2-$10 million," he said. "One flavor; and we have over a thousand."
He owns retail shops in Midwest City, southeast Oklahoma City and Moore. In addition, Vicedomini said Vapor Supply is a wholesaler to smaller retail shops across the world. Its online presence allows the business to ship to individuals by complying with various state requirements for age verification before orders are completed.
The company has about 70 employees who could lose their jobs if the company closed. As Vapor Supply's business model shows, e-cig and vape supply can be lucrative. According to Vicedomini, his gross sales last year for all his operations were $25 million, with $3 million of that comprised of retail sales.
Vicedomini was set to ramp up e-liquid manufacturing operations when the FDA ruling was handed down.
He recently invested over $200,000 into a new Oklahoma City lab that ensures consistency, purity and greater safety for employees involved in the process.
The tax revenue paid on that $3 million in retail sales is something that Vicedomini thinks should be heavily considered.
"You're talking some pretty good tax income for the state," he said. "There are 300 to 400 other stores in Oklahoma alone that collect taxes on their sales, too."
Print headline: Government control, Recently approved federal e-cigarette rules mean vaping is now regulated like tobacco.