Provided
Individual slices change daily at Notorious P.I.E. and cost $3-$4.
During his career as managing partner with Hal Smith Restaurants, Brandon Kistler has helped usher in The Garage Burgers & Beer, Pub W and The Winston from opening to expansion, but Kistler's work on the newest concept, Notorious P.I.E., takes on special meaning.
"We're at 20 Garages now, just opened the fifth Pub W in Edmond and Winston was a year and a half of work and it's doing great," Kistler said. "We're looking for a second [Winston location] now. Creating a new concept is a creative process that is so fun and rewarding. Day-to-day is such a different beast than creating and getting it open. It is such a relief to get it open, but then day-to-day management becomes a different chore to get it going in the right direction."
Notorious P.I.E. — a neighborhood pizza joint opened at 305 W. Main Street in downtown Norman in September — offers daily by-the-slice options as well as whole pizzas with fresh and funky topping combinations.
Kistler first met James Clifford when Clifford started working at a Pub W that Kistler was managing, and Clifford kept telling him about his dream to open a new pizza joint after Clifford experienced owning and running Mimi's Pizza. Clifford's experience mirrored Kistler's lifetime of growing up in the restaurant industry, as his parents owned and operated Pump's Bar and Grill until 1996.
When Kistler moved over to help expand The Garage, he brought Clifford to manage a location. It helped earn his stripes with Hal Smith, and after a successful few years with The Garage, Notorious P.I.E. was born after the location that formerly housed Puebla Tacos y Tequileria became available.
"Jimmy has been open with Hal [Smith] and I know that pizza is his passion and he wanted the opportunity to do it again," Kistler said. "He did a great job for us as a manager at The Garage [1021 Interstate 240 Service Road] location, and this location came open and we took the Notorious P.I.E. concept and ran with it."
Notorious P.I.E. differs from Hal Smith's other pizza concept Upper Crust by offering several daily slice offerings that cost $3-4 in addition to larger, 18-inch pizzas and a 10-inch gluten-free cauliflower crust.
Kistler said Notorious P.I.E. has more of a focus on cocktails compared to Upper Crust's wine focus, but the two concepts co-existing is akin to the similarities shared between other Hal Smith restaurants Louie's Grill & Bar, Pub W and Charleston's and Redrock Canyon Grill. Any additional Notorious P.I.E. expansion will be based on market, where by-the-slice sales make sense.
"We would never go right next to Upper Crust, and it's a different neighborhood feel and things of that nature," Kistler said. "There aren't any cross-compete concerns. We just space them out and keep them unique in their own regard."
Funky flavors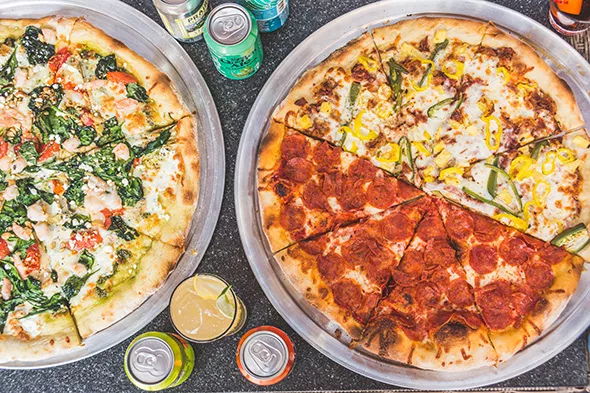 Provided
Pesto Dream; Hot, Hot, Heat; and Big Peppa pizzas at Notorious P.I.E.
Clifford and Kistler collaborated to create the Notorious P.I.E. menu with Clifford bringing over recipes for the house marinara and Italian beef sandwich from his experience with Mimi's Pizza. The Italian beef is available on a toasted baguette as a sandwich or on the I Dip, U Dip, We Dip sandwich that includes a side of
au jus
for dipping.
Pizzas are baked in a deck oven and take about 8-10 minutes, Kistler said. The Big Peppa lines the five-cheese blend with 90 total pepperonis and then follows in the Oklahoma tradition established by Jack Sussman and Nomad of using fried pepperonis as an additional topping. Fried pepperonis are also used on the banana pepper Caesar salad.
"[The fried pepperoni] add texture, and it's fun," Kistler said. "It's also a nod to tradition."
Kistler's favorite pizza on the menu is Greens, Eggs & Ham, which has a base of garlic- and basil-infused olive oil topped with spinach, chopped bacon, capicola ham, garlic, roasted tomatoes and baked eggs.
Pesto Dream is a spinach-and-cashew pesto with fresh mozzarella, five-cheese blend, shrimp, spinach, roasted tomatoes, artichoke hearts and goat cheese-roasted cashews and is one of two shrimp options on the menu.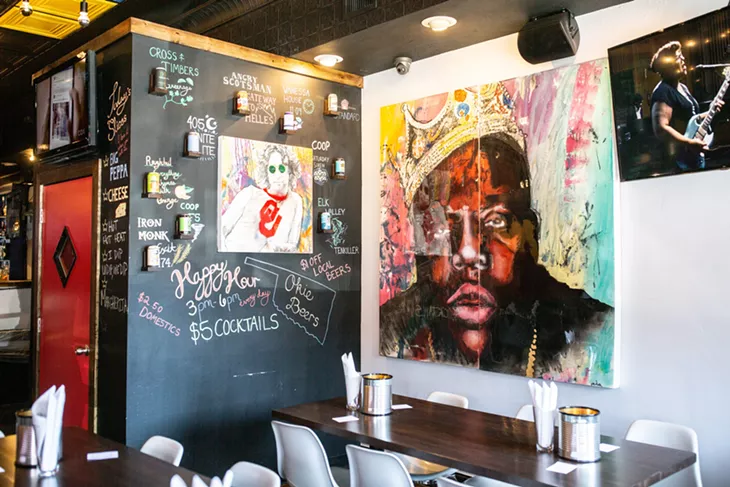 Alexa Ace
Notorious PIE is located in downtown Norman.
Cured Meat Overlord includes pepperoni, salami, Italian sausage, chopped bacon and capicola ham and is a top-seller; it is the antithesis of the vegetarian options, which gain a new offering in November to go along with The Screamin' Vegan (roasted carrot and jalapeño hummus as a based, crimini mushrooms, roasted onion, red bell peppers, kalamata olives, artichoke hearts and cantaloupe). The roasted fruit also makes an appearance on Livin' Off the Wall with cheese, red grapes, red onion, basil and honey.
"We were working with the guys from Sysco, and they has the idea to do cantaloupe and prosciutto like a canapé, and it wasn't really working," Kistler said. "Then we got the idea to pre-roast the cantaloupe, and it holds up to the cooking process. It was a group effort."
With a new menu in November, Notorious P.I.E. will offer a fried cheese pizza that tops its regular cheese pie with fried cheese sticks, extra marinara and Parmesan. It will also add bomb snacks — pizza dough stuffed with pepperoni, sausage, cheese and deep-fried — to the appetizer menu full-time.
While a lot of gluten-free crusts are thin and crackerlike, Notorious P.I.E. stocks a Sysco-provided version that rises into a thick and flavorful crust.
"There's so much flour in that kitchen that there was no way we could make our own dough and say it's a gluten-free dough without flour contamination," Kistler said. "It's got a nice rise and chew to it."
The outdoor patio at Notorious P.I.E seats additional 60 people and is the kind of place to enjoy one of its house punches: Derby Boombastic made with Four Roses bourbon, Bitter Truth falernum, grapefruit and lemon juices and Tornadocane made with two types of rum, pineapple, cranberry and lime juices with a splash of ginger beer. It also offers a pineapple frosé and four house cocktails made with fresh juice, including a take on an Old Fashioned that uses Cynar in place of muddled cherry and orange, and an Italian margarita that substitutes triple sec for amaretto.
Visit notoriouspienorman.com.

Alexa Ace
Notorious PIE's alcohol selection includes beer, liquor and cocktails.