provided
Dry-aged rib-eye
Over the past 18 months, the restaurant at 2920 NW 63rd St. has gone from Meat Market Refectory to MMR Prime Steakhouse and finally Union Wood Fired Grill.
As executive chef Jonas Favela was promoted to co-owner by principal owners Lance and Cindy Ruffel, he wanted to put his own stamp while building on extensive kitchen experience in Oklahoma City. Favela came on board in May 2017 right before its transition from Meat Market Refectory to MMR.
"Right off the bat, I never really liked the name," Favela said. "No one knows what a refectory is. … We'd have our busy days and our slow nights, but it was never really consistent. I always thought it was because we were considered a special occasion restaurant."
Favela's position was elevated, and the restaurant closed for a few weeks before re-opening in late November with a menu that builds on the Union name by combining flavors from different cuisines in one dish and what Favela hopes is a more family-friendly and affordable restaurant that attracts customers from nearby neighborhoods on a more regular basis.
"Not everyone likes the same thing in a big family," Favela said. "If you have vegans in the family and still have people who want a big, fat steak, we can make both of them happy."
Favela's lengthy and varied experience in kitchens in Oklahoma City includes time with The Ranch and Boulevard Steakhouse and many others, but when he finally got full control of a menu, he wanted to showcase the interpolation of sweet, acidic and salty with some spice thrown in for good measure.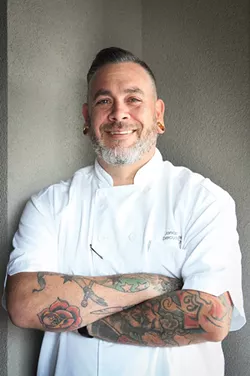 provided
Jonas Favela
He is very excited that the top-selling item on the menu in its first few weeks as Union Wood Fired Grill is the shrimp poblano ($19).
"Coming from a steakhouse, the small filet is typically the No. 1 seller," Favela said. "Our filet is up there, but I'm proud that they aren't just coming for steak."
Favela puts a spin on traditional stuffed poblano pepper by putting shrimp and ginger jasmine rice in the pepper, which is placed on top of a mole sauce.
"Food is like music," Favela said. "When you think about certain flavors that you're dealing with in a sense of percussion, ginger is going to be a high hat while something like mushroom or truffle is a kick drum or floor tom. Just like good music, you need it all in there."
Diners at MMR will still recognize the distinct omega-shaped bar and the blue chandelier hanging overhead, but the former meat market space has been turned into a private dining room. The restaurant puts its focus on dinner and will begin offering its full menu until 11 p.m., with additional bar snacks available until closing time.
The kitchen remained largely the same as its former iteration except the addition of a large wood-fired grill that uses mild, but smoky white oak. The grill makes its mark on dishes in a variety of ways. There is a large aging chamber where the restaurant cures its own charcuterie and rib-eyes ($43) age for 45 days before hitting the grill.
The smoky and occasionally spicy shishito peppers ($8), one of 12 appetizers on the menu, hit the grill until they are blistered and are then combined with balsamic caramel and shallots. A rack of lamb ($37) cooks sous-vide until it's the perfect temperature and is then finished on the grill for a smoky flavor.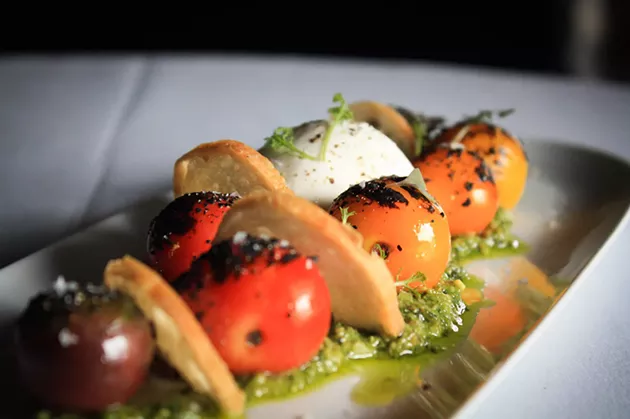 provided
Burrata mozzarella appetizer
The Union Burger ($13) hits the grill before going on a pretzel bun and getting toped with Port Salut cheese and avocado-corn relish. Favela said the addition of sandwiches to the menu was another way to make it more approachable. Union also serves a house-cured and smoked pastrami on rye with house-made pickle, jack cheese and honey mustard and shaved rib-eye sandwich ($18) with black garlic au jus and Port Salut.
Favela made a concerted effort to expand the seafood offerings beyond the requisite salmon, shrimp and scallops at a steakhouse. He added cedar plank sea bass ($37), which is finished in the oven with honey truffle and brown sugar until the cedar plank starts to smoke and it's brought to the table for unique presentation. The restaurant also offers lobster tail (market price) with rice and broccolini and lobster tagliatelle ($25).
The restaurant offers three vegan dishes, including a Chinese-inspired vermicelli bowl ($18) with wood-grilled vegetables, which is an example of how the Union in the name of the restaurant signifies the combination of different flavors. On the restaurant's version of the Mexican street food classic elote, corn is slathered in mayonnaise, but instead of using chili spice and queso fresco, Union uses ricotta salata and a togarashi spice blend.
"It's Japanese spice with Italian cheese, and it comes together as an elote," Favela said. "Those flavors are similar to the original but different."
Union's cocktail program is showcased with monthly wine and liquor-themed dinners. Favela said they will consider adding lunch hours in the middle of 2019, once the new menu is ingrained in the service from the kitchen to the front of the house.
Visit unionwoodfiredgrill.com.