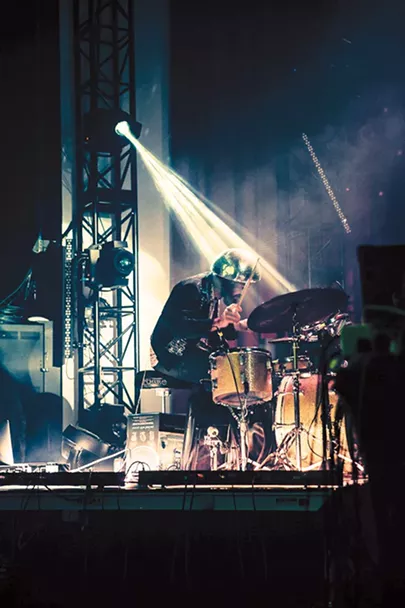 Ryan Magnani / provided
Darren King, aka DK the Drummer, is scheduled to headline Uptown Get Down New Year's Eve at Tower Theatre, 425 NW 23rd St.
While many will gather this New Year's Eve to watch a shiny ball drop, Darren King's new tradition is to — à la Chevy Chase's character in Caddyshack — be the ball.
"I have this disco ball helmet that I created and wore the last time I was at the Tower Theatre," said King, aka DK the Drummer, "but this show will be the first one that I will be able to use my full disco-mirror suit. I'm going full regalia. I'm having a … I believe the term is unitard made that is covered in disco ball glass, so from head to toe, I will be luminous. We'll see what it feels like to drum in that outfit. It's going to be ridiculous."
King, Kanye West and Jabee collaborator and former drummer for Mutemath, is scheduled to headline Uptown Get Down Monday at Tower Theatre, 425 NW 23rd St. He said he ordered his custom-made suit for the performance from a company in Eastern Europe after a failed attempt to make one himself.
"I think they have some type of reflective plastic that essentially does the job," King said. "I attempted to fashion my own mirror-ball jacket out of actual pieces, little squares of glass, and you just cut yourself. You rub up against it while you're drumming. You'd cut your arms or your hand. That was a thing. I think I found a solution. We'll see, because this is beta-testing. This will be the first show with that outfit, so we'll see how it goes."
King calls his solo performances "drum jockey" sets.
"I'm mixing together lots of different music," King explained. "Some of it's original; some of it's popular music. Probably the closest thing you could compare it to is Girl Talk mashups, vocals and instrumentals from different places that fit together in kind of a mosaic. It's supposed to be a dance party, but I'm trying to find some sort of hybrid between what happens when you see a DJ and the audience is into what they themselves are doing. It's a crowd-centric dance party, but then I want to find a balance between that DJ set and what happens when you go see an artist and they play an instrument and they're really proficient at the instrument; they're passionate.
"So it's not just a guy twiddling knobs, not that there's anything wrong with that. There's a cool thing about getting together and it not necessarily being about the performance of the guy onstage, but then a cool thing happens when you do go see someone play and they go off with an instrument. They go somewhere; they go on a journey, and you transcend. It can become a pretty powerful experience."
Basketball beats
While it might sound complicated and requires modern technology, including drum triggers and a sample pad, to pull off, King said his goal is to create something primitive feeling.
"What I'm trying to achieve is, I think, nothing more than probably what used to happen hundreds of years ago whenever you'd build a fire and somebody would drum and everybody would dance," King said. "That's really it. That's the goal here, except without the fire."
In lieu of creating a fire hazard, King uses an audio/video sampler triggered by his drum kit to provide the audience with visuals.
"Whenever I hit a drum, it actually makes short little one-second video sample," King said. "So I could chop up, like, Beyoncé, and remix it live, or throw something from the '80s in there like some ALF or some Muppets."
It's a multimedia recreation of the DJ Shadow-inspired mashups King used to make by mixing his own instrumentation with samples before he found a band to join, but his original drum kit was significantly lower-tech than his latest.
"I grew up in a small town," King said. "I was born in 1982, and everybody my age wanted to be Michael Jordan, so I had about four or five basketballs, and it just so happened that they each lost a different amount of air so they had a descending tone. I set them up with highest-sounding tone on the left, and they got lower to the right, and I would just sit on the ground by my bed. I would push the mattress to the side and use the metal edge of the frame and I would play along to my CD collection … for hours, until my parents finally bought me my first drum set."
In hindsight, King said he would recommend a different method for any aspiring bedroom drummers.
"Basketballs are not the best thing to practice on because they give you too much rebound," King said. "The stick bounces off the basketball. It's better for the strength of your wrists as a drummer to practice on pillows. …That builds your speed and builds your muscles. It's sort of the same thing as running with weights. A basketball is the opposite of that. It does all the work for you."
A youth spent drumming along to Weezer and Gene Krupa albums might have helped King develop his eclectic style, but his DK the Drummer shows are about creating an experience he feels he missed out on in his youth.
"It's something that I think was suppressed in my childhood and adolescence," King said. "I didn't get to go have as many dance parties as I would have liked to, and I think I'm trying to make up for lost time with this — get a little ridiculous, get a bit absurd, wear something crazy. It gets silly."
But if he takes things more seriously, King, who also plays in Sucré with his wife Stacy King, might have another project lined up in the future.
"My 6-year-old daughter told me yesterday that someday I could play in her band, so long as I don't play so crazy," King said. "She told me I need to tone it down a little bit if I'm going to play in her band. I respect that."
The show is scheduled to begin at 8 p.m., and The Bright Light Social Hour, The Robinson Brothers and Helen Kelter Skelter are also on the bill. Tickets are $20-$50. Visit towertheatre.com.