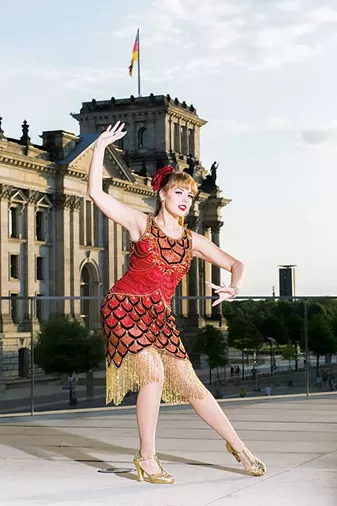 Thomas Koy
Adèle Wolf is a burlesque performer and producer. Her New Year's Eve Bash starts 10 p.m. Monday at Oklahoma Contemporary Arts Center.
Adèle Wolf is deep into preparations for her annual New Year's Eve Burlesque & Variety Show, recently returning to Oklahoma City from performances in Berlin to run one of the many local productions she stages every year. The long-running shows are a testament to her determination and creativity as a driving force of burlesque in OKC.
A native Oklahoman, Wolf always knew she wanted to be a performer, starting with a childhood in dance and theater.
"I was in a high school play when I was 16 that was set in the '50s," Wolf said. "So in researching hair and makeup styles of the '50s, I stumbled upon vintage burlesque on YouTube, and I just thought, 'Wow!'"
She was living in Texarkana, Texas, at the time, so unfortunately there weren't many opportunities for burlesque.
Wolf went to college in Georgia and eventually moved back to Oklahoma City. She still had a burgeoning interest in burlesque and started searching for classes or anything burlesque-related.
"I was like, 'Maybe there's something!'" she said. "There was not."
So she sought out other opportunities. A friend asked her to perform in a show in 2010. After four months of preparation, she finally made her burlesque debut.
Not only is she currently a full-time performer, but she also created and runs Adèle Wolf Productions. Every year, she produces themed shows around the holidays, including the upcoming New Year's Eve Bash and Oklahoma City Burlesque Festival.
"I ended up with my production company because there were no professional shows here," she said. "And if I wanted to see any of the performers that I admired and wanted to learn from, I had to travel elsewhere, which is also why I started my school."
Wolf is also an instructor at Oklahoma School of Burlesque, 2520 N. Meridian Ave., where she holds several workshops throughout the year.
Wolf's extensive touring schedule, especially recent stints in Paris and Berlin, means the classes are limited. Workshops are typically given in conjunction with her productions, especially during Oklahoma City Burlesque Festival. Lessons can also be given at private events like bachelorette parties.
"I had to create an industry here for myself, basically, if I wanted to work," she said.
So far, she has performed in 11 countries and tours year-round, and she said she hopes to add more countries to her list next year. She is constantly working to elevate and share the art of burlesque with wider audiences, providing entertainment that is available nowhere else in Oklahoma.
"I have my productions, and I do private and corporate work, but I would like more opportunities for the public to see professional entertainment on a regular basis," she said.
provided
Lady Lola LeStrange is a member of The Jigglewatts Burlesque Revue in Austin, Texas.
Pure fantasy
Wolf explained that there are many different types of burlesque. Traditional burlesque is one of the oldest forms of theater and had a satirical, political slant.
Now, most people associate burlesque with what she called "the American striptease." Modern burlesques can still be variety shows, like a more adult version of its vaudeville relative, but the striptease is front and center.
"Back in the height of the burlesque industry, 'burlesque' was an all-encompassing word for a show that had comedians, variety acts, circus [acts]," Wolf said. "The burlesque strip-teasers were just the highlight."
Wolf said the New Year's Eve Bash has that same vintage variety feel but also incorporates modern elements.
"So you might see someone performing to a big band track or someone performing to Nine Inch Nails," she said.
This year's bash, held in Oklahoma Contemporary Arts Center, 3000 General Pershing Blvd., promises to explore burlesque through the decades. The show starts 10 p.m. Monday. Doors open 9 p.m., and attendees must be at least 18 years old or older.
The event also includes prizes, games, a photo booth and a midnight toast for attendees age 21 and older. Guests are encouraged to come in costume.
Wolf said she draws from her own experiences and from celebrated shows like those at Moulin Rouge for inspiration in her own productions. She said she doesn't want to just be an echo of a Las Vegas production — she wants to match that level of professionalism and exceed audience expectations.
"I'm like, 'Let's bring the actual Las Vegas showgirls,'" she said. "That's what we're doing."
One of those headliners is Hazel Honeysuckle, who currently performs in Absinthe, a cabaret and variety show held in Caesars Palace. Wolf and Honeysuckle met at Oklahoma City Burlesque Festival and became close friends.
Another featured performer is Texas-based Lady Lola LeStrange, who also participated in the 2018 Oklahoma City Burlesque Festival, where she was named Most Classic. She is a member of The Jigglewatts Burlesque Revue.
"She's really an amazing dancer," Wolf said. "Really super energetic, amazing musicality."
Belly dancing by Kata Maya will also be featured. Maya is a member of Aalim Belly Dance Academy, 2520 N. Meridian Ave., and was named the winner at the international 2017 Belly Dancer of the Year Competition.
Wolf's expertise extends to an exceptional attention to detail for every show.
"There are a lot people that just book talent," she said, "but I work really hard to curate a show. So everything from the color of somebody's costume to the tempo of their music, what props they're using, all those things are in the process."
Among the set pieces included in this year's bash is Wolf's "largest and most expensive prop yet," which will be debuted in her new act.
She pulled up a picture on her phone of a particularly impressive custom piece of glassware.
"It's a 5-foot-tall champagne coupe," she said.
The prop is currently housed in her garage and will need a team for transport to the venue. It's so tall, she'll have to climb into it via a ladder during her number.
Wolf's shows have a dedicated fan base, and she said some audience members even plan their vacations around her schedule. So it might be no surprise that VIP tickets to the New Year's Eve Bash sold out quickly in early December. Wolf said the rest of the event's tickets usually go just as fast.
For those who miss out on the New Year's Eve Bash, the annual Valentine's Affair will be coming up on Feb. 16, 2019.
"My goal with these shows is to completely take people out of the everyday humdrum of life and give them pure fantasy," Wolf said. "Just transport them somewhere else for a while. And I really think that type of energy is a great way to start the New Year."
Visit adelewolf.com.