Convention center Ward 2 Councilman Ed Shadid's opinion of a new downtown convention center and tax-subsidized hotel is clear. He is against it. Others on the council, like Ward 5's David Greenwell, have defended the project and expressed comfort with spending public dollars to help build a major hotel.
But Ward 1 Councilman James Greiner offers a middle-ground perspective that highlights the complexity of the issue and the questions left to be answered.
"The biggest issue, I think, for the convention center hotel really is ...," Greiner said before taking a pause. "You know, I don't know what the biggest issue is. I think the fact that I don't know what to say about the convention center hotel at this point says a lot."
Greiner would prefer not to spend tax dollars on a private hotel, especially one that has several hundred rooms that might sit empty most of the year. He doesn't want City Hall getting into the hotel business and feels there is something un-capitalistic about subsidizing one hotel over others that have been built.
But he also believes some type of hotel is needed to make the MAPS 3-approved convention center a success.
"[Our advisors] keep telling us we need a hotel, so I guess that's what I've got to believe," Greiner says with a laugh. "Certainly the need for higher hotel capacity is needed. The convention bureau tells us those numbers, but I say that no private developer wants to come in and help alleviate the shortage when [the city] is openly announcing we are going to help build a large hotel in the coming years."
Greiner avoids offering a premature decision because he realizes there are still a lot of details to work out in the coming months. But as the council openly debated the issue during a meeting last week, Greiner offered an invitation to residents.
"We've talked about public input a lot, and I think the best way for public input is for everybody out there to contact us," Greiner said during the meeting. "The citizens elected us to make decisions, but we all want to hear what every one of our citizens think about these issues."
Following a failure to negotiate a purchase price for downtown property, the city is back on the hunt for a convention center site. The council has also received presentations on the need for a large hotel to support the new convention center and the likelihood that such a hotel will require some sort of assistance from the city.
"This tail wags the dog. There is no question about it," Ward 4 Councilman Pete White said about the way the convention center has dominated the city's discussions in recent months. "The people I represent literally [couldn't] care less. And I suspect that if you had a poll today, the people of this city couldn't care less."
The site selection setback has been used by Shadid — the convention center's biggest critic — as a reason to reconsider the project in its entirety, especially the hotel.
"To me, the writing on the wall is obvious that the city should reevaluate its effort to build a convention hotel," Shadid said.
White and Shadid's comments were challenged by other members, including Greenwell and Mayor Mick Cornett. But Greiner's conversation with Oklahoma Gazette on the issue highlights the fact that there are still many unknowns and additional information will continue to sway the conversation until a final decision is made on where to build the convention center and how involved the city gets in building and operating a convention hotel.
"If there is a public subsidy needed, what is the public subsidy going towards? If it's going to be made for making a bigger hotel, I don't think that would be the best use for it," Greiner said. "To me, it also depends on how you define a public subsidy. We own the land and we are going to lease it to a private contractor or private hotel company to develop a hotel to run it, then yeah, I certainly wouldn't be opposed to that.
"But build it bigger just so we can get these big conventions that are just a possibility? That's the sort of stuff that I'm really adverse to. I don't have a lot of answers right now."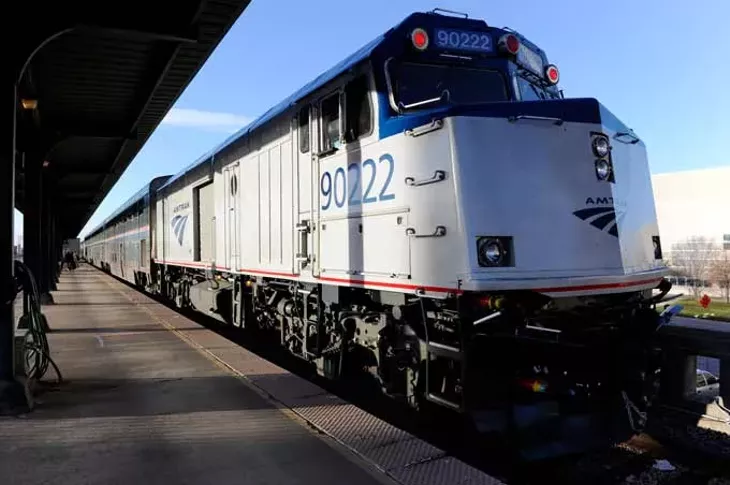 Rail delay Passenger rail service between Tulsa and Oklahoma City remains on track, but its start date has been pushed back several weeks.
The Eastern Flyer, which will connect the state's two largest metros, was originally slated to begin service this month. But company officials announced last week the line will begin operations sometime in May.
In other passenger rail news, House Bill 1077, a bill that would open the Heartland Flyer, the passenger rail line between Oklahoma City and Ft. Worth, Texas, to other providers, passed out of the Senate Transportation Committee last week and is headed for consideration on the Senate floor.
Oklahoma has said it cannot pay the requested amount from Amtrak for the rail line's operation, creating some fear in rail advocates that the line might be in jeopardy. HB 1077 would allow the state to open the Heartland Flyer to other operators, bringing competition into the fold that could drive down the cost.
"Right now, Amtrak is a monopoly," said Evan Stair, president of Passenger Rail Oklahoma, a rail advocacy group. "There are companies out there, and they are ready [to run the Heartland Flyer]."
Shelter upgrades Oklahoma City's animal shelter is undergoing renovations that will bring new floors, walls and kennels. The renovations are expected to be complete in six months.
"Our shelter is really going to look great when our project is finished, and we're excited for everyone to see it," said Julie Bank, the city's animal welfare superintendent. "This is going to make our shelter a better place for our city's pets and for people who want to come here to find the newest member of their family."
The new construction materials and design will help prevent the spread of disease and replace aging components of the shelter with new spaces that are clean and more pleasant for pets and visitors, the city said.
The shelter will remain open during construction and will continue to offer adoptions. It's located at SE 29th Street and S. Bryant Avenue and is open for adoptions from noon to 5:45 p.m. every day but holidays.
Gov. Nigh Former Oklahoma Governor George Nigh will speak April 16 at Oklahoma City Community College's (OCCC) Public Affairs Forum. The nonpartisan forum gives students and the community insight into the politics during the speaker's time in office and how those political issues impact Oklahoma now, OCCC states. The forum will be 12:30 p.m. to 1:45 p.m. in Sarkeys Atrium in the Visual and Performing Arts Center Theater, 7777 S. May Ave.