Seeking developers Local developers are being sought to showcase their projects during the Oklahoma City Mayor's Development Roundtable on May 6.
The city has announced that six recently completed or planned local development projects will be highlighted during a series of mini presentations during the event.
Presenters will have six minutes and 40 seconds and will be allowed to use 20 slides. They will use 20 slides at 20 seconds per slide during the lightning round format.
Ten applicants will be selected to audition for six spots. Those interested in submitting a presentation can do so online on the city's website.
Charter bill Senate Bill 68, which would allow the cities of Tulsa and Oklahoma City to become charter school sponsors, received approval in the Senate, setting up a hearing in a House committee.
Sen. David Holt, R-OKC, said he authored the bill to give the city more control in establishing charter schools.
However, Ward 4 Councilman Pete White said the control is not needed and could harm the relationship between the school district and city.
"If Oklahoma City wanted to sponsor a charter school, the first people we ought to ask is [the school district], as opposed to us having the unilateral authority to do that," White said during a council meeting last week. "I think it destroys the relationship ... I have worked really hard to build over the last three years. I think it is very destructive to create a situation where we could go around the [district]."
Holt said his bill was not a request by the city, but he wanted to give them the power to establish a charter school in a neighborhood in which the local school might be holding back development or population growth.
"The school board's perspective is — and rightfully so — demanding excellence in their existing buildings," Holt said. "A mayor and a council, they just want their citizens to be satisfied with their education options, regardless of where that comes from."
The bill has been referred to the House Common Education Committee, where it has not been heard as of press deadline.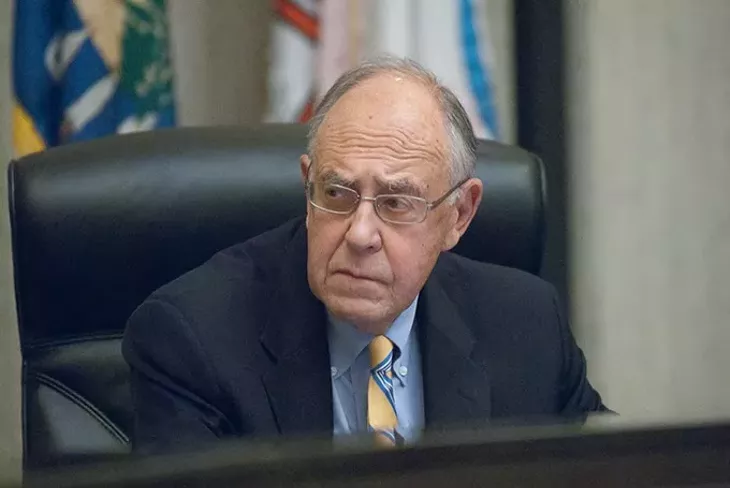 Take a ride After an unsuccessful attempt last month to strengthen the city's enforcement of cycling laws, Ward 8 Councilman Pat Ryan received approval from the Oklahoma City Council last week to adopt the state's law concerning bikes passing cars and giving police the power to write tickets.
Oklahoma law already prohibits bicycle operators from passing other vehicles between lanes of traffic, but Oklahoma City police are not able to issue tickets for violating a law only on the state books. The passage of Ryan's proposal gives police the ability to issue tickets ranging from $50 to $500 to a cyclist.
"This is just [an adoption] of a state law that will allow a more efficient means of enforcement," Ryan said. "I think [the fine] should be even higher than that, personally."
Job fair The city's parks department is looking to increase employment from April to September as local parks facilities enter the busy spring and summer season.
The Oklahoma City Parks and Recreation Department doubles in size from 220 year-round employees to nearly 500 during the busy summer season, according to the city, and two job fairs have been scheduled in the coming weeks.
Jobs are available for qualified workers in grounds maintenance, recreation and aquatics, and qualified candidates must be at least 18 years of age (16 years old for lifeguard and litter crew positions) and must pass a conditional job offer drug test and background check.
Job fairs are 10 a.m. to 2 p.m. Saturday and 4-8 p.m. April 2. Both job fairs will take place at Will Rogers Senior Center, 3501 Pat Murphy Drive, inside Will Rogers Park.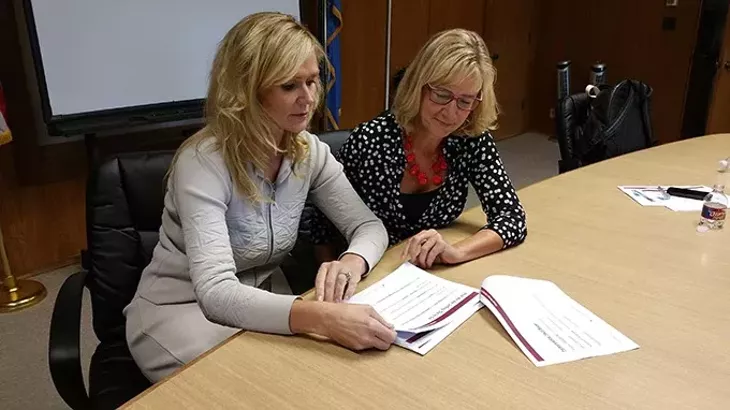 Ben Felder
Cutline: Joanne McEachen and Jane Davidson with The Learner First were in Oklahoma City last week to speak with principals about their work.
Quotable "A lot of people would say that the reason why African-Americans aren't doing well in math, for example, is that a lot of them are living in poverty and there are factors in their home and community environment that are impacting their ability to achieve," said Jane Davidson, a consultant with The Learner First, an organization that has been studying the Oklahoma City Public School District in recent months.
"Well, if that's the case, then kids on free and reduced lunches, kids who are living below the poverty line, should be doing worse than African-American kids because some of those African-American kids are not living below the poverty line. But the reverse was true. You are actually worse off in this town being black than you are being poor."
By the numbers 41,000. That's how many petition signatures are required in Oklahoma to put a new political party on the 2016 ballot. The Liberty Party of Oklahoma (OKLP) has announced it is in the process of gathering signatures for the next presidential election.
However, House Bill 2181, if passed, would reduce the signature requirement from 5 percent of the last general election to 1 percent, setting the new goal at 8,200.
"The OKLP seeks to be a fully recognized political party in Oklahoma, which includes the ability to run candidates under our party name, including the 2016 Libertarian Party nominee for president," the group said in a statement.