Name change
Damon Berryhill, head coach of the Oklahoma City Dodgers, said the city's three magic words when asked to recall his memory playing in the first game when the Chickasaw Bricktown Ballpark opened in 1998.
"As far as I was concerned, it was a big-league city," said Berryhill, as if reading from a script handed to him straight from city leaders.
Seventeen years ago, Oklahoma City built a major league-esque minor league ballpark, later lured an NBA franchise to town and has built one of the nation's largest rowing facilities, all in an effort to become that "big-league city" Berryhill said he found in OKC when he was still playing ball.
So when it was announced last year that the RedHawks would be rebranded as the Dodgers, taking the name of its new parent club in Los Angeles, there were critics who saw it as the city embracing a minor league status that wouldn't fly.
"We had to really think through that," said Dodgers' general manager Michael Byrnes about the name change. OKC is the farm club for one of the nation's most iconic ball clubs, but acting minor league hasn't been in the franchise's DNA in recent years.
On the surface, taking on the Dodgers' name is not unique. But the club looked to give the new brand an Oklahoma feel. Foam fingers are in the shape of the state, one version of the logo includes the SkyDance Bridge and another uses bricks to pay tribute to the ballpark's neighborhood, Bricktown.
"In the first quarter of 2015, our merchandise sales [have increased] fivefold when compared to the first quarter last year," Byrnes said.
The team has also seen large sales of merchandise online, which was almost nonexistent in years past. At least half of those online sales are bound for paying customers in California, Byrnes said.
"The city's great, the ballpark is great, the people are great," said Tommy Lasorda, the legendary Dodgers coach who won two titles. "We are very, very happy about coming here."
Lasorda, who has been in the Dodgers' organization for 66 years, threw out the first pitch before last week's sold-out opener. He said OKC is attractive because of its proximity to Tulsa, where LA's Double A team is located.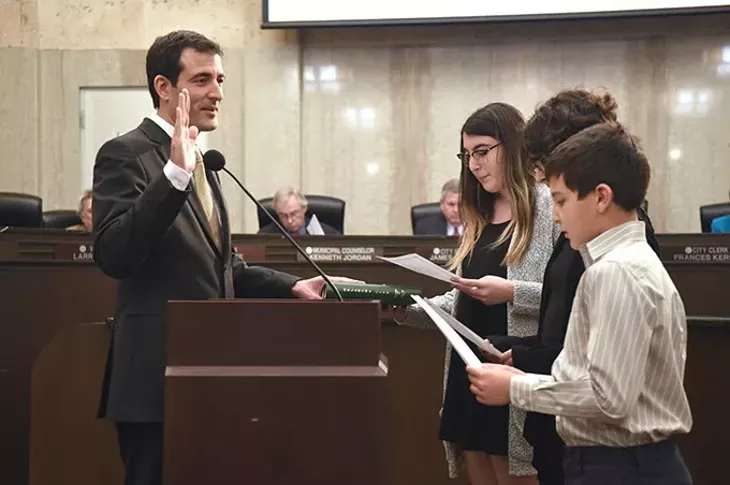 Ward 2 Councilman Ed Shadid gets sworn in for a second term by his kids at Tuesday mornings Oklahoma City Council Meeting, 4-14-15.
Councilors terms
Mark Stonecipher, elected to fill an open seat in Ward 8, was sworn in during last week's city council meeting.
Following Pat Ryan's announcement he would not seek reelection, three candidates emerged. Stonecipher won and now represents Oklahoma City's most northern ward.
Ed Shadid (Ward 2), Meg Salyer (Ward 6) and David Greenwell (Ward 5) were also administered the oath of office following their reelections in March.
Larry McAtee, councilman of Ward 3, also began a six-month term as vice mayor.
Quotable
"I believe if a private business owner wants to serve or not serve an individual, they have that purview right now," Oklahoma Sen. Jason Smalley (pictured), a Republican, told the Associated Press last week after he removed protections for same-sex riders in rideshare bill.
House Bill 1614 would require all rideshare drivers to obtain a permit from the Oklahoma Corporation Commission, along with setting other standards related to insurance coverage. While the House passed a version that outlawed discrimination based on sexual orientation, Smalley, co-sponsor of the bill, removed that language prior to its passage in the Senate.
HB 1614 passed the Senate 35-11. None of the Senate's eight Democrat members voted in favor of the bill, although Sens. Randy Bass and Susan Paddack were excused votes. Five Republicans voted against the bill, but none could be reached by Oklahoma Gazette for comment on deadline.
Do it
The public is invited to an open house for Interstate 44 West Trail Tuesday from 5:30 p.m. to 7:30 p.m. (presentation at 6 p.m.) to learn more about the future 8-mile trail planned for west Oklahoma City, connecting Lake Hefner with the Oklahoma River. The trails will be open to pedestrians and cyclists. The open house will be held at Will Rogers Garden Exhibition Center, 3400 NW 36th St.
Nigh honored
Former Oklahoma governor George Nigh will be awarded the Sister Cities International OKC's Global Vision Award at its annual luncheon next month. Nigh's political career included an effort to build relationships with the global community, including taking Oklahoma's business and agriculture leaders on economic missions to foreign countries.
"George Nigh was a visionary in understanding how important international relationships would be for Oklahoma's future," Vicki Clark Gourley, president of Sister Cities OKC, said. "We are privileged to have him as our 2015 Global Vision Award Recipient."