Garett Fisbeck
Western Avenue improvements aim to broaden sidewalks and strengthen pedestrian infrastructure throughout the area.
The Oklahoma City Council recently approved funding for a Western Avenue business district streetscape project. Soon, larger sidewalks, traffic-slowing medians, bicycle parking and trees will improve safety community use of the area.
"This is probably the most progressive streetscape project outside of Project 180," said Ward 2 Councilman Ed Shadid, who compared the Western Avenue project to downtown efforts to strengthen pedestrian infrastructure.
Shadid said construction in business districts often causes short-term disruptions and aggravation, especially when done on a large scale.
"This certainly will be a burden for the businesses," Shadid said. "But we really need to support those businesses during this construction."
Organizers said Western Avenue improvements will be made block-by- block next year, during which times traffic along individual blocks will shrink to one lane.
The city contracted The OU Institute for Quality Communities (IQC) to make streetscape and walkability improvement recommendations for the popular uptown shopping district. ICQ renderings show the addition of traffic- slowing crosswalk medians and larger sidewalks in front of Will Rogers Theatre at 43rd Street and Western Avenue. Currently, due to the popularity of venues near that intersection in particular, pedestrians often squeeze themselves through narrow sidewalks and around sidewalk tables, parked cars and moving traffic.
Ward 8 Councilman Pat Ryan was the only council member to vote against the project. Before his vote, he said he was concerned about the impact that ongoing construction could have on the local businesses along Western Avenue.
Some business owners said they were excited about proposed improvements but also expected a decline in sales during construction. Many said they're already saving money to help their shops remain resilient during the long-term process.
"As a small business owner — especially a relatively new small business owner — the idea of the construction time is terrifying," said Able Blakley, co-owner of Savory Spice Shop. "It's one of those things where it will be amazing, and I'm completely 100 percent in support of it — if I can live through it."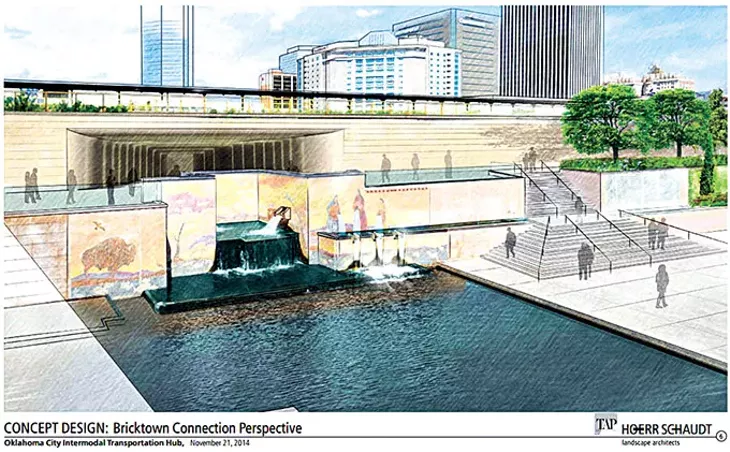 Provided
Santa Fe Depot rendering
On track
To best serve city transit users, local streetcar advocates want a $28 million redesign that would turn downtown's Santa Fe Depot into a transit hub and also directly link stops along a planned downtown streetcar line.
Overall, members of Oklahoma City's streetcar subcommittee praised city staff on the $28 million Santa
Fe redesign that will incorporate the current Amtrak stop and future rail and bus services.
Funding will come from city and federal funds, officials said.
To meet federal requirements, Santa Fe will have a streetcar track that stops at E.K. Gaylord Boulevard. However, the initial streetcar route plans do not include regular use of that track. Instead, the closest streetcar stops are planned at least a block away from Santa Fe, along lines to run down Sheridan and Reno avenues.
"As a streetcar subcommittee, we want to make sure [Santa Fe Depot] is tied in [to the streetcar] system," said committee chairman Nathaniel Harding during a meeting last week.
Committee members also asked about developing a covered walkway from Santa Fe Depot to those streetcar stops and added signage inside the station that would direct riders to those stops.
City Engineer Eric Wenger, who gave a Santa Fe station plan presentation to the committee, said stop integration would be revealed further in the process.
Wenger also said construction on the station is slated to begin this summer, with completion expected in the fall of 2016.
As part of Wenger's presentation, there is a proposed tunnel under the elevated railroad track linking the station with Bricktown. Some committee members suggested a covered walkway from the tunnel's exit in Bricktown to the streetcar stops on Sheridan and Reno.
Because a $13 million federal grant for the Santa Fe station redevelopment required it to link to the streetcar route, a track will be built in front of the station, although it will hardly ever be used, at least during the first phase of the system.
Consultants recommended not ordering the five streetcars until the final construction price for the route was set, but committee members expressed a desire to move quicker.
"I don't see a reason to wait that long [to place an order] when we know we at least need five cars," said Jill Adler.
Consultants for the streetcar believe five cars, with four in use and one as a backup, would allow the first phase of the route to offer service every 10 minutes.
Jeff Bezdek said streetcar manufacturers are "notoriously late," and it was noted that new cars for Seattle were already several months behind schedule. The committee asked city staff to prepare for a July 1 order of five streetcars, even if final construction cost of the route was not yet set.
Say what?
"I'm not against fracking ... but there are some places you don't do this."
That was the shout from a person in the crowd at last week's public hearing on a proposed natural gas well near Lake Hefner. The meeting featured a standing-room- only crowd with hundreds of more protesters outside, most of which were against drilling near the lake. As the city continues to review the proposal, check with okgazette.com for updates.