Miguel Rios
OKCPS hosts public work sessions to get input on its strategic plan and a teacher fair for recruitment.
CITY


---

Public school future
Oklahoma City Public Schools (OKCPS) announced last week its intent to host four community work sessions to get input as it works to update the district's strategic plan. Known as The Great Commitment, the current strategic plan closes in 2020. An updated plan will be in place through 2025 after stakeholders help provide input.
"We launched iteration No. 1 of the strategic plan, and we called it The Great Conversation. That evolved into a five-year strategic plan that we refer to as The Great Commitment," said Sean McDaniel, OKCPS superintendent. "What we need to do now as a district is develop our next five years, our next path forward. … We want to know what our community thinks and believes about our future and what it should look like and any gaps in The Great Commitment and how to fill those gaps."
One of the sessions already happened. The next is 6 p.m. Thursday at John Marshall Enterprise High School, 12201 N. Portland Ave.
The third session is 6 p.m. March 10 at Capitol Hill High School, 500 SW 36th St.
The final session, which will be in Spanish, is 6 p.m. March 12 at US Grant High School, 5016 S. Pennsylvania Ave.
OKCPS is also hosting a teacher fair 4:30-6 p.m. March 11 at Douglass High School, 900 N. Martin Luther King Ave. According to a press release, administration teams will be interviewing and hiring educators on-site. Registration is not required.
"We're looking for nurses, we're looking for social workers, we're looking for elementary teachers, middle school teachers, high school teachers, administrators," said Jason Brown, deputy superintendent. "We invite any and all. There will be individuals who are hired on that day. If a candidate comes in, they have everything in place and we've had an opportunity to check references and make sure they're the best person to put in front of kids, why waste time?"

Visit okcps.org.
Mayor's address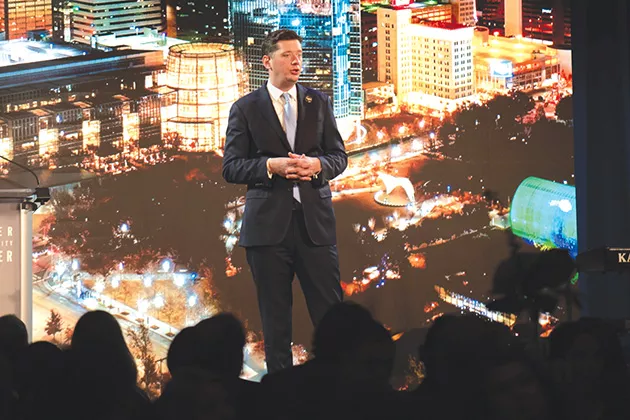 Miguel Rios
Mayor David Holt said the city needs a "unified vision for public education" during his State of the City address.
Mayor David Holt said he wants to find a "unified vision" for public education at his second State of the City address last week.
"This should be viewed as an opportunity by all people who care about public education in our city to once again have everyone at the table ready to do big things. And let me emphasize, this isn't an operational conversation," he said, commending OKCPS leaders for their work operating the largest school district in the state. "This is where we talk about the things nobody could achieve on their own. … I have no preconceived notions about where the conversation goes, but I just know forward is where we have to go, and I believe a mayor has an obligation to be a catalyst in getting us there."
Hosted by Greater Oklahoma City Chamber, the sold-out 2020 State of the City address cost either $60 (chamber members) or $100 (non-members) to attend. It was also livestreamed on the city's official Facebook page.
Holt touted the city's "remarkable year," calling it "triumphant" and attributing many of the highlights to previous MAPS slates. He said the MAPS 4 advisory board will likely be seated next month to begin implementation.

Visit okc.gov.
STATE


---

Black emergency response
University of Oklahoma's Black Emergency Response Team hosted a press conference followed by a sit-in — some students even participated in a hunger strike — last week to address racism on campus. Though the demonstration came after two professors used the N-word in class, students emphasized that they continuously deal with racism on campus.
The sit-in ended after various demands and meetings lasting three days.
"We were ready for action. And we took it. That action continues today. The work does not stop here, and we are proud of the progress that we made throughout this time," reads a statement from last Friday.
Jess Eddy / provided
BERT's sit-in at OU lasted three days.
One of BERT's most notable demands was the resignation of provost Kyle Harper, who students say is complicit in the oppression of minority students for his silence and inaction in the face of racist scandals.
"When it was clear that Provost Kyle Harper would refuse to resign, we gave a new list of demands that would ensure some accountability and checks on the Office of the Provost to bring about equity," the statement reads. "Out of these demands, two are under the scope of Interim President [Joe Harroz]."
Because of the pressure from BERT and other students, faculty, staff and organizations who supported their efforts, a student advisory council will be created to "provide insights and advice to the office of the senior president and provost." The university will also regularize a 360 review process for senior executive leadership, starting with provost Harper.
"Establishing a feasibility committee for a multicultural center, equity training for faculty, and a course on diversity were all fully committed to by the administration," according to BERT. "This is a win for us. This is a win for the people. But these are wins that we must continuously fight for. … Together we sat and slept on hard floors until a change was made. As BERT, we find this more than inspiring."
The initial racist incident came from a professor's use of the N-word during class. Professor Peter Gade likened the slur to the phrase "OK, boomer" during his capstone class. Gade has since stepped down from teaching the class for the rest of the semester.
But on the heels of that, news broke that for the second time during Black History Month, another OU professor used the slur while reading a historical document. Joe Harroz, the university's interim president, said in a statement that the professor "could have made the point" without using the word.
BERT officials said most of their demands will be represented within the university's strategic plan that will be presented to the Board of Regents March 10-12.