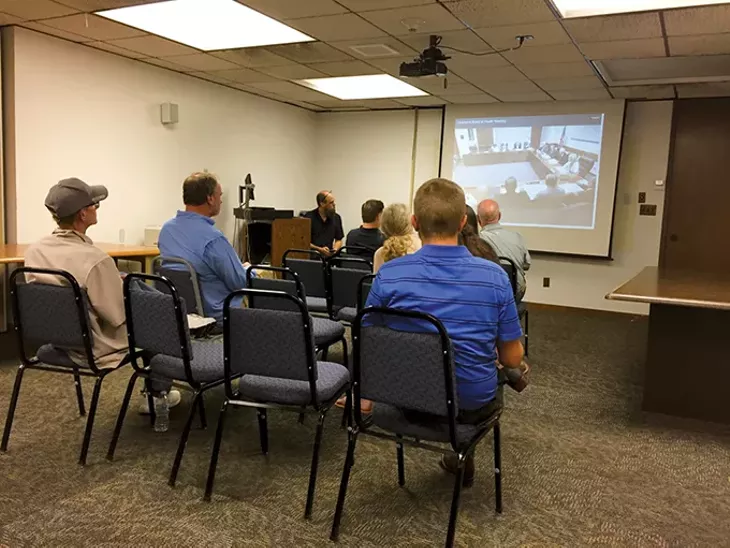 Ben Luschen
Members of the public watch a live broadcast of the special State Board of Health meeting Aug. 1
Zig-Zag is the brand name of a well-known line of rolling papers, but it is also a term that could describe the sharp twists and turns in the ever-evolving saga of medical marijuana rule implementation that has unfurled since voters approved State Question 788 in June.
The Oklahoma State Board of Health met Aug. 1 for a special meeting in which the group approved a new batch of rules and regulations that both rolled back controversial rules the board approved in July and set forth new regulations some say are more restrictive than what was previously in place.
An outright ban on the sale of smokeable products and a requirement that dispensaries hire an onsite pharmacist — which were both board-added amendments to Oklahoma State Department of Health rules approved by Gov. Mary Fallin — are now out.
There was always a question of whether the Board of Health had the authority to impose restrictions not listed in the language of SQ788, and the legitimacy of those amendments was further shaded after former Oklahoma State Board of Pharmacy director Chelsea Church's email and text-message attempts to influence the rules became public knowledge.
But the new rules introduce a variety of new specifications, this time formed by the health department with the advice and counsel of the Oklahoma Attorney General's office. Ron Durbin, an attorney representing Green the Vote in an injunctive lawsuit against the Oklahoma State Department of Health, said he believes the 20-page set of regulations includes contradictory language that would prohibit the sale of many products.
The newly approved rules treat edible cannabis products as food products with the same applicable standards. It is illegal to put a drug or non-nutritive substance, which Durbin said cannabis is defined as, into a food product and sell it.
"They just eliminated all edibles," Durbin said after the Board of Health's special meeting.
Furthermore, the new rules regulate marijuana growers in the same ways restaurants are regulated. This would eliminate open-air commercial growth and require a facility's walls, roof and lights be made with food-safe materials. Durbin argues this would eliminate the standard greenhouse.
Durbin met with interim health department commissioner Tom Bates the morning before the Board of Health meeting, where he raised concerns about the alleged contradictory language.
In a news conference after the meeting, Bates said the health department attempted to address Durbin's concerns with a stipulation that in cases where food regulations would conflict with the will of SQ788, the state question would take precedence.
"Is this structure today, is it perfect? No," Bates told the media. "There's some gaps here that the Legislature at some point will have to address, but it allows the health department to go forward with the licensing framework and so forth to get a medical marijuana program up and off the ground."
Patient need
Prior to Oklahoma Gazette's deadline, Oklahomans for Health founder Chip Paul stated his group's intention to join Green the Vote in its lawsuit against the Department of Health. Still, Paul said an injunction should not affect the implementation date for SQ788.
"Regardless of what we say to the Department of Health legally, we will all ensure that patients will be able to get their medicine Aug. 27," he said. "That is the biggest concern of everybody here."
Paul said his initial reaction to seeing a draft of the new rules for the first time was shock at their brevity. He said Oklahomans for Health had met with Bates and the health department in a three-hour meeting the week before in which the group presented their own 58-page proposal.
"I was stunned to see 20 pages of stipulation, and I was stunned not to see any testing suggestions," Paul said.
In addition to Oklahomans for Health, Paul also helped found the trade group Oklahoma Cannabis Trade Association, which will set its own membership standards separate from the state. Though once concerned about the possibility of over-regulation, Paul is now uneasy about a lack of regulatory substance.
"They stripped out a lot of the regulations we thought should be in there," he said, "so we're wearing different hats now."
After his first meetings with the Department of Health following the passage of SQ788, Paul was optimistic about its ability to craft framework for implementation. But the past month has helped change his mind.
"They've had two goes to get this all right, and they've screwed them both up," he said.
From here, Paul said there are two options to ensure better industry framework. One is through legal challenges. The other is waiting for the Legislature to statutorily fix it. Paul said Oklahomans for Health will likely pursue both routes simultaneously.
There is some thought that the legalization of recreational marijuana would simplify the battle over regulations. Paul does not believe this is necessarily the case. He said medical marijuana is taxed at a lower rate, which keeps costs down for people who need its relief. The institutional treatment of cannabis as medicine might also be beneficial to the patient.
"You're also going to have the relationship with your physician," Paul said. "You could use [the recreational marijuana] you buy medically, but it's different."
Ben Luschen
Attorney Ron Durbin left and Oklahomans for Health founder Chip Paul center watch a live broadcast of the Aug. 1 special State Board of Health meeting from an overflow room inside the health department offices.
Homegrown timetable
Max Walters, a medical marijuana advocate and dispensary employee who was present at the meeting, said he expected the Board of Health to approve the rules he deems unfavorable. But the vote came and went a lot faster than he thought it might.
"I was surprised on how abruptly they decided on it," he said after the meeting. "There was, like, no discussion on it at all."
The lack of consistency in regulatory framework has surely not done any favors for the growers and dispensaries hoping to start business in August. Norma Sapp, executive director for the Oklahoma chapter of the National Organization for the Reform of Marijuana Laws (NORML), the constant lack of certainty is as problematic as anything else.
"Everybody's already paying rent somewhere," Sapp said. "They've already been prepared to go and get seeds or they've already bought dirt or planters or whatever. And now they're on hold again."
Under some interpretations of the new rules, hopeful patients might be mostly limited to the medical cannabis they can grow themselves. Sapp said people who apply for their card in late August will have to wait around two weeks before it is approved and granted to them. Then they will need to get their seeds, plant them and wait at least 60 days for their plants to grow, with another two weeks for the drying and curing process.
"We're talking wintertime before they get relief," she said.
She said those who need more immediate assistance would have to either drive to Colorado or another state legally selling cannabis product every time they needed relief or bring product back to Oklahoma with them and possibly test SQ788's provision for the decriminalization of possession if they are without a card.
Sapp said her motivation is driven entirely by the needs of patients.
"I don't have any illness to be able to get a card for," she said. "I just want them to be able to get their own before the winter comes."
Walters agreed that time is of the essence for those who need to grow their own medicine.
"Winter will make it really hard," he said.