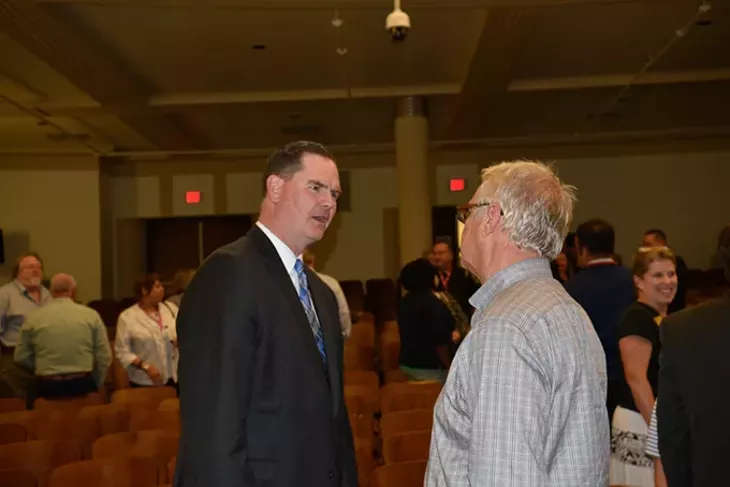 Ben Luschen
New Oklahoma City Public Schools superintendent Sean McDaniel will be the 13th person to hold the district title since 2000.
Oklahoma City Public Schools' Board of Education convened May 22 to approve the hiring of the district's newest superintendent. It has become a fairly common ritual for the state's largest school district, which has hired 13 different superintendents since 2000.
But unlike the July 2016 vote for the last superintendent hired, Aurora Lora, this vote was not unanimous.
The OKCPS board voted 5-2 in favor of hiring Sean McDaniel, the former superintendent of the suburban Mustang Public Schools district. OKCPS has signed McDaniel to a three-year, $240,000 annual contract, not including benefits.
Board Chair Paula Lewis began the meeting on a cheery note, calling it a "momentous afternoon." After thanking chief of staff Rebecca Kaye for stepping in as the interim superintendent during the selection process, Lewis named McDaniel as the board's final candidate. She touted his 30 years of experience in education and his time at Mustang, where he was awarded 2018 Superintendent of the Year by the Cooperative Council for Oklahoma School Administration and passed the largest bond issue in the school district's history.
"Beyond his resume," Lewis said during the meeting, "Sean shares our board's deep-seated passion to ensure all children receive a world-class education and to continue the collaborative work of building a premier school district."
But minutes later, when the board cast its final vote, members Charles Henry and Ruth Veales both voted against the hiring.
Veales, who represents the predominantly African-American District 5 in northeast OKC, spoke for several minutes prior to the board's vote. She indicated that she was not pleased with the way the superintendent search unfolded and did not feel right in supporting any of the final candidates.
"The candidates in our final interview have come from districts that do not have the same color disparity and have not had to overcome the challenges that we faced in Oklahoma City Public Schools," Veales said at the meeting.
Despite casting a vote against the hiring of McDaniel, Veales said she plans on giving the new superintendent her full cooperation moving forward.
"I will totally commit to working with them to turn around our district and give all the students in our district the education that they need and deserve to achieve the American dream," she said.
In a statement following the vote, McDaniel said he was grateful for the chance to lead the state's largest school district.
"I'm humbled by the opportunity to join with OKCPS employees, families and the community to focus our collective efforts on ensuring every Oklahoma City child receives an education that prepares them for a bright, promising future," McDaniel said. "I can't wait to get started."
Search concerns
Veales is the longest-serving member of the OKCPS board, having been first elected in 2010 and achieving reelection twice since then. During her remarks, she recalled a time shortly after her initial election eight years ago when the board heard a presentation on the district's academic performance by student race and other factors. What she saw was a disparity between black and other students that left a lasting impression on her.
"After the meeting was over, I went home and I cried," she said. "I still haven't forgotten about that startling disparity. I still am haunted to this day."
Veales could not be reached for comment prior to Oklahoma Gazette's deadline.
OKCPS has a diverse racial makeup. According to a 2016-17 statistical profile, 53.1 percent of students are Hispanic, 23 percent are African-American and 14.2 percent are white.
The district's overall academic struggles are also well documented. A 2017 ranking by NeighborhoodScout.com listed eastside schools F.D. Moon Elementary School (Academy), Oklahoma Centennial Middle School and Martin Luther King Elementary in the top 20 of its "100 Worst Public Schools" list.
F.D. Moon and Martin Luther King are both in Veales' district. Oklahoma Centennial is located in Henry's District 1.
In her comments, Veales said through the years, she has learned how important the superintendent role is in the fight to turn around academically challenged students. While she did not approve of the final group of candidates, she said she went into the interviews with an open mind.
"Nothing changed my feelings that they are not the candidates that should be selected to move our district forward," she said.
Though Veales was the first to congratulate McDaniel on his hiring after the vote was final, she said during the meeting that the board's candidate-hiring process could have been much more selective.
"I do not believe we have to choose a candidate based on hope and prayer," she said. "I think there are other candidates who could meet the challenges of this district."
Moving forward
Board vice chair Gloria Torres was out of the country and unable to attend the official vote to hire McDaniel, though she recently told Gazette that she would have voted yes if she attended.
Torres was aware of Veales' concerns over the superintendent selection process but declined to comment further. She did say that Veales' concerns over the selection process will not affect her willing participation moving forward.
"I can say without a doubt that I know [Veales] is going to be supportive of the superintendent once he is in place," Torres said.
Torres said the search for a new superintendent began shortly after Lora announced her resignation in January. By mid-February, the board had moved to contact the Oklahoma State School Boards Association to conduct a superintendent search.
Well over 30 applicants filed for the vacancy, Torres said. Candidates were fielded at both the state and national level. The field was narrowed over a series of at least three meetings, eventually whittling down the list to three final names.
Torres said the trait she was most looking for in a new superintendent was someone who already understood what it meant to lead a district.
"The comment that I made a number of times was, 'We can't afford to have someone with their training wheels leading this group,'" she said. "Our kids, our district and our city need somebody who has a good grasp of what the next step is on day one."
Aside from experience, Torres said finding someone committed to sticking with the district on a long-term basis was a priority. She also wanted someone who was familiar with the area and the challenge facing OKCPS students.
"I don't think anybody wants someone from wherever saying, 'Oh, I know how to solve your problems,'" she said.
The board felt that McDaniel had a proven and extensive record of success with positive outcomes. Torres said his in-person interview helped push his candidacy to the top.
"He came across as someone with a servant type of leadership," she said. "That's the type of leadership I have always aspired to, and I think there's a lot of value in supporting those around you, and it appears to me that he's going to be able to do that."
Torres expects there will be a retreat meeting between McDaniel and the board at a future date to plan the district's next steps forward. For now, board members are meeting with the superintendent on a one-on-one basis, discussing ways they might work together on a personal level.
If OKCPS has any specific priorities moving forward, Torres said it is to be thoughtful and intentional about what they do next. She does not want the district to rush into any plan of action to look accomplished without taking a measured look at the future.
"We're in this for the long haul," she said. "There's an urgency to start addressing things — not that we haven't been — but there's not an urgency to do it quickly. The urgency is to get it done right."