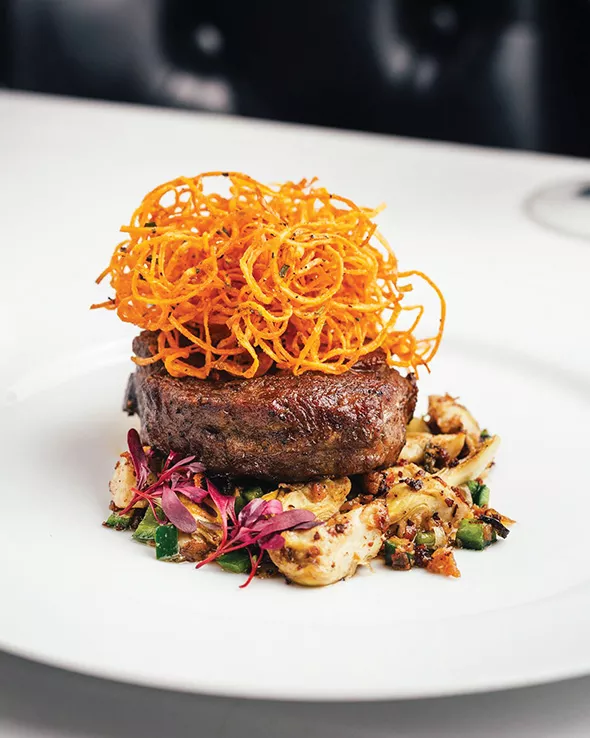 provided
St. Mark's pan-roasted veal
En Croûte
6460 Avondale Drive
405-607-6100
405-228-8386

What works: Omelets and seafood cioppino are great while beef bourguignon is the best deal.
What needs work: The chicken is oversalted, which is better than the alternative.
Tip: Check out half-priced cheese plates on Monday.
The joint kitchen is where sister restaurants En Croûte and St. Mark's Chop Room & Bar overlap in their corner of Nichols Hills Plaza, and it's where chef Kevin Ward has put his stamp on the pair.
Ward, 33, is a graduate of chef Kurt Fleischfresser's French-based Coach House apprenticeship program along with his two older brothers. Ward helped open Stella Modern Italian after also working at Saturn Grill and The Metro Wine Bar & Bistro and followed one of his brothers to San Francisco, where he worked for the organic and sustainability-focused restaurant The Perennial.
Ward moved back home to Oklahoma City, and after a brief stint with Rococo that did not work out, he contemplated leaving the industry entirely until he contacted Jonathon Stranger, co-owner of En Croûte and St. Mark's in addition to Osteria OKC, Prairie Wolf Spirits and upcoming Bar Cicchetti.
"I almost said, 'Screw it; I'm going back to school,'" Ward admitted. "The way it's worked out is a total universe thing."
Ward was installed as head chef at both En Croûte and St. Mark's and quickly set to work on new menus at each restaurant. In order to showcase Ward's collaboration with Stranger and ownership, En Croûte is now open 8 a.m.-11 p.m. every day.
Smoked tomato and basil bisque and green chile beef stew have replaced a seafood bisque on the menu, but if you are in the mood for seafood, try the new cioppino ($32) with bay scallops, shrimp and clams on the En Croûte dinner menu.
Other new dinner dishes include braised short rib beef bourguignon, a steal at $18, and it's one of the most popular items. The blackened redfish with Creole shrimp sauce, beet puree and carrots is $34, and En Croûte now offers another French classic, Chicken Cordon Bleu ($26) with artichoke, olives and mushrooms in a sherry pan sauce.
On its brunch menu, a pair of omelets, one avocado ($12) and another Maine lobster ($18) are show-stoppers, as is the mushrooms on truffle toast ($16) for those in search of a runny egg.
Before I ever ate at En Croûte, I pictured a pretentious French-style restaurant filled with folks in Nichols Hills who make more in a week than I do in a year. I could not have been more wrong.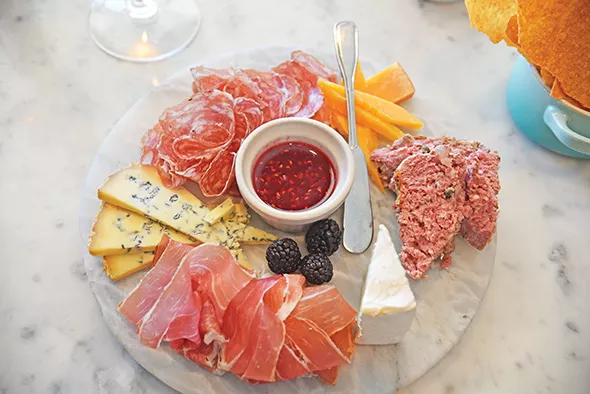 Alexa Ace
The Le Loup plate at En Croûte with a selection of meats and cheeses
The colorful, contemporary artwork near the entryway is completely disarming, and the truth is that En Croûte is a cozy corner bistro. Ward's menu additions accentuate what En Croûte does best: its rotating cheese and charcuterie program. You can put the trained cheesemongers on-site in control to pick out some of the best cheese, and it's now offering 50 percent off cheese plates (normally $18) on Mondays, which can be paired with a curated glass of wine.
En Croûte's ethos has remained the same under Ward, and the same is true for St. Mark's, but it has undergone a dramatic shift away from a la carte, family-style side dishes to feature its proteins as composed dishes.
I enjoyed previous visits to St. Mark's, where they cook the wagyu beef in cast iron skillets to get a perfect sear, but I have never been a fan of a la carte sides. I also never liked reading those Choose Your Own Adventure books as a kid.
I always get the feeling at a chop room that serving sides family-style is another way to up-charge. When else are you going to pay more than $10 for a bunch of mashed potatoes?
A mix-and-match style of eating robs the diner of the culinary arts aspect of leaving composition up to the professional, which should be part of the experience of a high-end meal.
"A lot of people don't do well with options, but if you give them a composed dish, they say, 'I want this and not that,'" Ward said. "I'm much more willing to work with that over someone that doesn't know what they want. I want them to say, 'This sounds great, but instead of carrots, I want broccolini.' That's so much easier and more accepting with customers instead of having so many options."
Entrees at St. Mark's now include lobster in pomodoro sauce with sweet potato gnocchi ($38) that has been one of the most popular. The tenderloin ($42) is paired with potato puree and wild mushroom demi-glace. The pan-fried pork shank ($32) gets a caramel-pear barbecue sauce, sweet potato puree and cocoa glazed cippolini. The veal ($39) is matched with barigoule, a braised artichoke dish from Provence, and sweet potato ribbons.
provided
The lobster pomodoro at St. Mark's Chop Room served with sweet potato gnocchi
On a recent visit, I tried the rib-eye ($38), which is pan-seared and topped with a bleu d'Auvergne espuma, which is basically a high-end and delicate blue cheese whipped cream that was an elegant highlight to the expertly cooked meat.
The half roasted chicken ($28) is topped in a tangy dijonnaise and served with a potato dill puree that is a portion large enough for two or three people.
My favorite dish on St. Mark's new menu is the appetizer bagna cauda ($11), which is a traditional Italian dip made with a mixture of anchovy, artichoke, celery roots, garlic, shallots and lots of olive oil. The celery root and artichoke provide a good textural base and mellow out the brininess of the anchovy while still retaining its fishy flavor.
The honey truffle chicken wings ($14) are served as only the flat part of the wing, which I prefer because it has less cartilage than the drum portion. The buttermilk breading is light, but the truffle oil gets lost in the mix, especially when paired with the garlic aioli.
The crème brûlée on the dessert menu is decadent, but I found myself returning to a gluten-free lemon olive oil cake made from almond flour.
Overall, En Croûte and St. Mark's Chop Room & Bar were already well-executed concepts that have benefitted from the new direction Ward is providing.

Visit encrouteokc.com.