Ben Felder
Sean Huss (left) talks with another passenger on the No. 23 route. Huss aid he sometimes had to walk 4 miles home from work.
Monday had been circled on Leno Rios' calendar for awhile.
"This is a day to make more money," Rios said while aboard the No. 11 bus in Oklahoma City.
Jan. 26 was the launch of Embark's new nighttime bus service, and for Rios, it meant getting a chance to work with the cleanup crew at Chesapeake Energy Arena.
"Maybe I would call a friend to get a ride, but he doesn't really have time," Rios said at 10:15 p.m., preparing for an evening shift at the arena that had just played host to a Thunder game. "I heard they were doing [night service], and I'm glad because it meant I could work."
For the first time since 1979, Oklahoma City's bus system ran past 9 p.m., ending the city's claim as America's largest city without evening service. The Monday rollout involved just two bus routes that form a loop through the city's core, and while transit officials realize it will take time for the new routes to reach full ridership potential, the first night was already making a difference for many residents who rely on public transit.
Ben Felder
Two buses meet at a western hub on the first day of evening service.
"This actually made me money tonight because now I can work nights as well as days," said Frank Cooper, who was headed home from his job at a Bricktown restaurant. "I usually have to leave work by 6:30 p.m. [to catch the last bus], but this is really good because I can work that later shift."
As the two bus routes snaked through the city Monday evening, there were dozens of passengers who boarded saying they now had a vital link to work and home that was previously not an option.
"I would just walk," said Sean Huss, who lives four miles from his employer. "I have a baby girl at home, so now I can get home quicker to see her."
Once an hour, the two bus lines depart the downtown transit hub and another hub on the city's west side. The No. 23 route includes the University of Oklahoma Health Sciences Center, Uptown 23rd Street and northwest Oklahoma City. The No. 11 travels on the southside through Capitol Hill.
Hearing stories of what evening bus service meant to Monday riders was a reminder that many take car ownership for granted.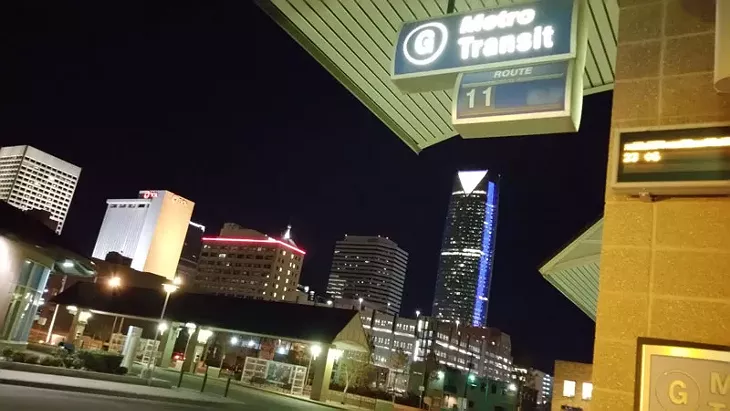 Ben Felder
The downtown transit hub had activity Monday night as Embark launched evening service on two routes.
There was the woman who would normally show up for her evening shift at Burger King four hours early because that's the only time she could catch a bus. Now she can arrive just before her 11 p.m. shift begins.
Another woman ends her shift at a hospital at 11 p.m. but would sometimes wait until 5:30 a.m. to get the next available bus. Now she can go home immediately after work.
The expanded evening service represents a goal by the city to increase bus service, including increasing funding for evening service.
"There continues to be momentum for enhanced public transit in Oklahoma City," said Jason Ferbrache, the transit system's administrator.
The new night service comes at a time when the bus system has made several changes, including a rebrand under the name Embark, a new website and a mobile app that can help riders quickly search route information and report issues.
"For me, this is big," Huss said. "I hope to grow it even bigger."