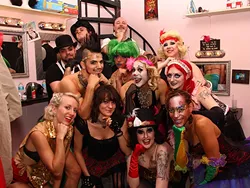 Provided
The cast of Nightmare on 39th Street.
When it comes to stage shows in Oklahoma, few can match the Bang Bang Queer Punk Variety Show's pageantry and breadth.
"We are queer because of the gender-bending aspect of some of the show," said Bang Bang cofounder Cassidy Carver, aka Cassidy Queerface. "We call ourselves punk because we're definitely not a mainstream type of entertainment. We're a bit gritty and like to be outrageous and weird, but always tongue-in-cheek."
Carver urges straight audiences not to fear, adding that the shows are accessible and have something to offer people of all persuasions.
While every act at Nightmare on 39th Street will be horror-centric, Bang Bang always features a few performances with darker sensibilities at any given show.
"We have a lot of horror acts peppered throughout the year," Carver said, "because we are spooky people that adore scary things and horror movie tropes. Movie monsters are often the most fascinating characters to us."
She admitted that she's not sure exactly where the fascination with horror comes from.
"Maybe we're just hilariously morbid people," she said.
As for Halloween, Carver said that it's the most fun holiday of the year for the group because they all live for being in costume.
"Most of us are the misfits from the regular scenes," she said, "so Halloween offers the opportunity to be even more creative than usual."
Equal parts creepy and comedic, Nightmare on 39th Street features dancing, burlesque, drag, singing, aerial arts, magic and comedy. The lineup includes Misty Snatch, Pyxis Deodara, Chase Vegas, Foxxi Chanell, Kennedie, Cat Carter, Michael King, Holli Would, Moe Dix, The Amazing Rando, Lady Giselle, Smokey Taboo and Presley Tweed.
"Each of us has a different take on horror characters and themes, so it's going to be a delightful mishmash of all sorts of things," Carver said. "Expect some monsters, some nods to classic movies and, of course, fake blood."
This will be Bang Bang's fourth performance at The Boom, a unique dinner theater that, thanks to the tall stage and sturdy rigging, allows for a full spectrum of performances, including pole dancing and aerial acrobatics.
While Bang Bang is grateful to have very supportive fans, Carver said that they are always looking to make new friends.
"If you like silly and fun and want to see a show that strays from the norm, you're our people and we'd love to entertain you," she said.
Print headline: Bloody Sunday The Bang Bang Queer Punk Variety Show returns to The Boom for a blood-soaked night of fun and frivolity.