Miguel Rios
Andrew Frederick and Jaely DeLeon-Wright said YesLove OKC has made them much more aware and sensitive of societal issues.
4th Annual Love Photoshoot
2-4:30 p.m. Saturday
Dunlap Codding
609 W. Sheridan Ave.
405-753-0885
Free
After the 2016 Pulse nightclub shooting in Orlando, two friends wanted to overwrite hatred with love and positivity. They hosted a photoshoot during which they encouraged strangers to get to know each other and take pictures together.
The #YesLove Photoshoot became an annual tradition, and almost four years later, YesLove OKC has become a state-recognized nonprofit organization that "focuses on bridging the intersectionality gap in society."
"It was just born out of wanting to spread love and positivity and light to people no matter the race, what you believe in, your political affiliation, no matter what," board secretary Jaely DeLeon-Wright said. "Our biggest goal is just to be in every community because everything is so diverse now, and our board is so diverse too."
YesLove OKC hosts its 4th Annual Love Photoshoot 2-4:30 p.m. Sept. 21 at Dunlap Codding, 609 W. Sheridan Ave. It is free and open to people of all ages.
Andrew Frederick, YesLove OKC board treasurer, helped organize the group's first event. He said the photoshoot, which is now the group's premiere event, really took off last year, outgrowing its venue because of so much interest.
"We weren't expecting that big of a turnout, but it was huge compared to previous years. We had no room in the building — standing room only," he said. "We have you sign in and everything, and we'll put everybody's names together. We'll draw two names and … those are the people that are going to have their photoshoot done together. And we have some events so people can understand each other better."
The event has been a success for the organization. Last year, Mike Allen attended the photoshoot alone, and by the end of it, he wanted to be involved with YesLove OKC. He is now the organization's president.
Bridging gaps
DeLeon-Wright began working with Albert Rios, the organization's co-founder and executive director, last fall and quickly became involved with YesLove OKC.
"I met Albert, and this beautiful friendship just grew with him. He's literally like my brother; you'd be surprised," she said. "I remember we were at Stella Nova, and I didn't know what I was really getting into. But I was listening, and then he was like, 'So what do you want to be?' … Then we started having meetings every month, and we work together so we would talk at work. And even though it's been around for a few years now, this past year has been when we've done the most."
YesLove OKC has had a particularly active year, hosting more events and forging more partnerships than it has previously. The group hosts various events including panels on topics like empowering people of color and toxic masculinity, volunteers with local charities and speaks to high school students.
The organization participated in various events for Oklahoma City Pride and continues creating LGBTQ+ events. In partnership with Free Mom Hugs, YesLove hosts trans empowerment resource fairs to help connect individuals with affirming doctors, therapists and lawyers. The group also partners with several local drag performers and hosts drag shows at bars that don't typically have them.
"Our mission statement is just we're here to spread love and celebrate diversity and, especially in marginalized communities, provide support and acceptance because acceptance is a huge deal for every community," DeLeon-Wright said. "We've had speed-friending events. We've had several of those. Those are kind of like speed dating, but instead of dating, you're meeting friends and talking. The point of it is to have difficult conversations in a safe space, so kind of going back to that acceptance. … That's what the purpose and goal of all of our events are: We can all still come together and have fun and talk and just be ourselves."
Spreading love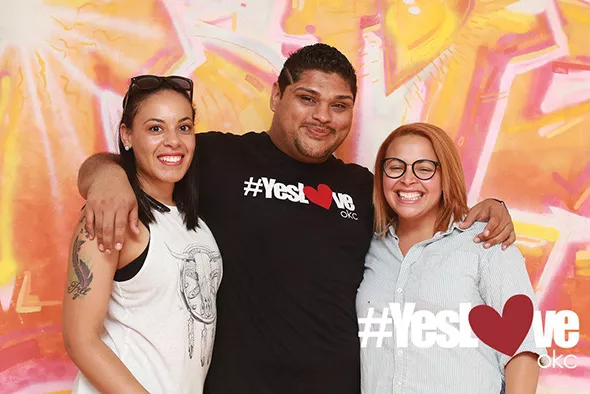 provided
Albert Rios, YesLove OKC executive director, poses with two attendees at a previous #YesLove Photoshoot.
YesLove OKC members hope to eventually carry out their mission on a national level. One of the co-founders lives in New York and is interested in organizing a similar photoshoot event there. The group also plans to meet with Deanna Muñoz, president and CEO of Latino Arts Foundation in Missouri who was recently featured on Netflix's
Queer Eye
.
"We're meeting with her to see if we can do something up there too," DeLeon-Wright said. "Everything this past year, I think, has happened so quickly. It is a lot of work sometimes because we do have to do certain things, but it is so worth it. It doesn't feel like work because you're just spreading love and you know you're providing a safe space and acceptance."
Eventually, the group also wants to have an office space of its own.
"I think that's the biggest thing we've talked about is hopefully having a physical location … because a lot of times we get asked, 'Where's your office?'" DeLeon-Wright said. "Our biggest goal is having that place, having an area where people of all different walks of life can come in and know they're accepted, they are loved, we're going to embrace you, we're going to empower you."
While not necessarily looking for additional board members, YesLove OKC is looking to expand its team to help with events. It also accepts monetary donations to help fund its events. The group is already organizing a convention-style event set for next spring that will need volunteers to run smoothly.
"All of our funds go toward bigger events like the DiversIcon. It's going to be a combination of Comic-Con, Beautycon and DragCon, so it's going to be pretty big," DeLeon-Wright said. "We're going to be needing a lot of funds for that and just for the little events we have like the drag shows and speed friending and stuff."
YesLove OKC focuses on encouraging "necessary conversation in a respectful manner" to bring people of different beliefs and backgrounds together. Frederick, who considers himself the most conservative board member, said the group helped him understand things he wouldn't otherwise even be exposed to.
"I came from the background that the law says this. You know, there's people fighting for their rights out there, but it's like the law says you have these rights already. But in practice, you really don't," he said. "Working with this group, I learned a lot about that. I always heard, you know, white privilege. But [I would be] like, 'What privilege? What are you talking about?' But then I started seeing the other side more. … The big thing is most people focus on how everybody's different, but we're all the same in very many different ways too, and that's where we come in."
Visit yesloveokc.com.