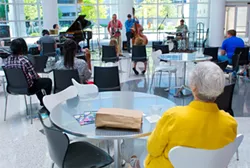 Shannon Cornman
Library patrons watch the Kanaga Piano Jazz Quartet's Noon Tunes performance.
The library many of us grew up with is a place associated with old books, card catalogues and the sound of pen on paper in pin-drop silence. But as technology and society evolves, so does the library. The sounds of keyboard clicks now fill the air, and the drawers of catalogued cards gave way to the blinking cursor of a search box.
There are also new ideas of the library's purpose, a modern model of not only a place to study but to further improve community. In this specific case, a place of education is also a venue to entertain.
For a little over two years, Noon Tunes has filled the air of the Ronald J. Norick Downtown Library. The event brings live music from across the spectrum of styles to the library's atrium every Thursday from noon to 1 p.m. It is free to the public.
Kim Terry, director of marketing and communications for the Downtown Library, thinks Noon Tunes fills a void in lunch-hour entertainment.
"It's an opportunity for people to take a break, bring food and listen to new music every week," Terry said. "There's nothing like it downtown, and it's better than a crazy, loud restaurant."
An eclectic mix of musical genres has graced the event: classical guitar, jazz, singer-songwriters and even a marching band.
"Yep, they were pretty loud," Terry said of the marching band. "But we received no complaints. We never received a single complaint from the event. Only compliments."
The artists are chosen through a list provided by the Oklahoma Arts Council, and all musicians are screened to ensure the acts are appropriate for the atmosphere. The Downtown Library has never experienced a shortage of interested artists and chooses a mix of new and known performers.
Two of these known performers are Oklahoma City's Sugar Free Allstars. Chris "Boom!" Wiser and Rob "Dr. Rock" Martin tour the country playing funk-influenced family music. Their performance history with the Downtown Library spans many years, as they regularly play for the Summer Reading Program. However, Noon Tunes offers a much different atmosphere.
"When we play for the Summer Reading Program, it's in the auditorium," Wiser said. "People come to us, to the auditorium, to see a show. Noon Tunes is in the atrium, and you have a combination of people. There are the families and kids who come to see us but also people who are there using the library or eating lunch."
In an interesting twist, the Noon Tunes idea of exposing visitors to a wide range of musical styles for new experiences goes both ways. The artists perform in an ever-changing, flexible environment where the audience's composition can drastically differ in a span of a few minutes. For performers like Sugar Free Allstars, who are interactive with the audience, the change in consistency and unfamiliar spectators offers an avenue of fun they usually are not afforded.
"I remember seeing people who were there for a break or lunch look up at us and begin to watch. I would talk to them and draw them in," Wiser said. "They would usually smile and talk back. It's just fun to help people relax and enjoy lunch."
Wiser is impressed with the event.
"It's a cool thing," he said. "There's a different type of entertainment every week; there's a lot of variety, which is really cool, and it's free. The library system has always been good at providing entertainment."
Terry is also happy about the event's success.
"We want to continue to be part of downtown's entertainment and continue to bring more community into the library," she said. "Everyone loves it."
Print headline:
Lunchtime live