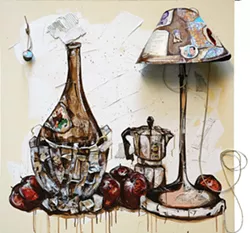 Norman Arts Council (NAC) brings more art to Norman by developing projects to design public bike racks and organizing a global design exchange plan.
NAC worked with Norman's four sister cities — in the countries of France, Mexico, Japan and Italy — to swap artists for a series of exhibits called Cultural Connections.
The first in the series is Arezzo in Norman, which brings in three artists from Arezzo, Italy, to showcase their work. An opening reception is 6-10 p.m. Friday at Mainsite Contemporary Art, 122 E. Main St. in Norman. The art will be on display through Nov. 30.
"The idea … originated when I went to Italy three years ago. I went to Arezzo, and knowing it was Norman's sister city, the mayor's office arranged to give me a tour," said Erinn Gavaghan, Norman Arts Council executive director.
The three artists showing locally are Enrique Moya Gonzalez, Sara Lovari and Massimiliano Luchetti. Gonzalez and Lovari arrived Sept. 24 to begin installing their work, and Luchetti will arrive just before the opening.
Three Oklahoma artists who will travel to Arezzo will be announced at the Friday reception. That exhibit opens May 2016.
Lovari works in different media, such as paper and found objects. She creates large installations, and Gavaghan anticipates her work here will likely be a domestic scene created from found objects.
Lovari also fabricates high-fashion clothing such as ball gowns, cocktail dresses and wedding dresses from paper.
Gonzalez also works in mixed media using some found objects but differs in that he works with compositions that involve figures and bound journals.
He also will create a performance piece on video that will play on a loop in the gallery.
Luchetti is the most traditional of the three in that his work features two-dimensional paintings on canvas. The large and colorful oil paintings appear to look into the future.
"His work will be like the anchor," Gavaghan said.
Many non-installation pieces will be for sale, and 30 percent of sale proceeds will benefit NAC.
Bike Rack Project
Artists and non-artists alike have until Monday to submit designs for the Norman Bike Rack Project.
In an ongoing venture between the Norman Public Arts Board, the City of Norman and NAC, 13 racks were designed and installed throughout downtown Norman over the past two years.
Up to five more will be added this year.
"You do not have to be an artist to submit a design because the designer does not do the fabrication of the bike rack," Gavaghan said. "You do have to be from Oklahoma, and to be considered, the design has to have a tie to Norman or Oklahoma history."
Each design winner will receive a $200 stipend.
Print Headline: Art exchange, Norman Arts Council brings in artists from abroad