Garett Fisbeck
Shawarma chicken sandwich at Sister's Mediterranean Taste in Norman, Thursday, Dec. 31, 2015.
We were getting falafel one way or another.
After trying (and failing) to get ahold of a pretty well thought of Middle Eastern restaurant by phone on New Year's Eve, we decided to drive on down to Norman anyway.
Norman is a silly little town. Ruled by the whims of college kids, the city was nearly vacant in the midst of winter break. Everything that wasn't crimson and cream was gray — except for the restaurant where we planned to eat, which was pitch black. A sign in the window informed us that it was closed until the students returned.
The restaurant was on strike.
At loose ends, we tried another spot, only to find that restaurant was for sale.
And then we saw Sisters Mediterranean Taste, 2804 Chautauqua Ave., wedged between a Sonic Drive-In and a 7-Eleven.
Sisters has all the signifiers of a great little restaurant. There are only four seats available. It's run by a small family (of sisters, if you can believe it). Only the pita bread looks less than homemade.
I can forgive that. Do you know how to make pita? I don't know how to make pita. So long as it tastes okay and it holds all the stuff the restaurant puts in it, it's fine by me.
Oh, and what tasty fillings are used to fill in those pitas.
The chicken shawarma sandwich ($6.45) is not very moist on its own, but the slices of chicken are seasoned well and pretty tender. Luckily, the garlic mayo lubes the works well and makes for a flavorful sandwich with lots of lettuce, pickles, mint and french fries inside.
Yes, most of the sandwiches come with fries inside. It is, perhaps, not the most traditional place for french fries. But it's not a terrible place for french fries, like Cold War-era Germany or the icy black depths of space.
And, really, what are you going to do with french fries anyway? Are you building some kind of carbohydrate-heavy Jenga game? You're just going to eat them, probably between bites of your sandwich. So if anything, this is just streamlining the process. You can't be eating lunch all day! This is the epitome of sandwich optimization.
If you order a beef shawarma gyro sandwich ($6.45), prepare yourself for a very different gyro than you've had before. Gone are the vertically shaved bits of gyro cone — you know, the kind almost every gyro place you've ever been served.
This is seasoned beef, still thinly cut, but far less homogenous than what you're used to eating. And "our sauce," which comes with it, is not the usual cucumber-yogurt tzatziki, either. It was thicker and creamier.
For an extra $2.20, sandwiches become combos with added hummus, half pita and a drink.
And if you'd like to try both, let me point you to the shawarma combo supreme ($12.30), which comes with beef and chicken, hummus, tabouli, pita bread, fries, sauce and a drink. It's a lot of food — at least three meals worth. You'll be scrambling eggs with leftover gyro beef the next morning and loving it.
But the stars of the show were the falafel sandwich ($6.20) and the kebbah, which were a daily special.
Garett Fisbeck
Falafel sandwich at Sister's Mediterranean Taste in Norman, Thursday, Dec. 31, 2015.
Falafel, for those uninitiated in this wonderful treat, are fried balls of seasoned, mashed chickpeas. The outer edge is crisp, hiding a wealth of steaming-hot goodness inside. The texture is not unlike a creamy cornbread, and I recommend smashing the falafel inside the sandwich before you start eating.
All too often, falafel are dry and flavorless. Sisters has some of the best I've had in Oklahoma, with great taste and excellent texture.
The kebbah, which come two to an order, are these gorgeous lemon-shaped fried glories full of minced onion, beef and spices. There was definitely some cinnamon in there. It's a warm, tantalizing few bites.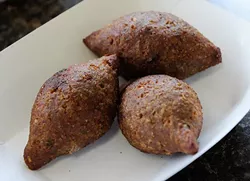 Garett Fisbeck
Kebbah at Sister's Mediterranean Taste in Norman, Thursday, Dec. 31, 2015.
Oh, and don't leave without a piece of baklava ($1.25). Crispy, gooey layers of pistachios and phyllo dough and honey give this sumptuous dessert an addictive feel. Sisters does a good job of balancing the ingredients, so it retains some crunch without being dry.
Sisters Mediterranean Taste is the best argument yet for getting lost in Norman. What other treasures are hiding there? I'm eager to find out.
Print headline: Family fare, Norman's Sisters isn't the usual gyro joint.