Provided
SportForward works in communities all over the world through sports development.
Trey Rudat is a 5-year-old boy who recently played baseball for the first time.
"They handed him a bat, and he grabbed it like he was supposed to," said his mother, Edmond resident Sheila Rudat. "He did pretty well. He likes to throw things."
Trey has a chromosome disorder. Developmentally, he's on the same level as a typical 1-year-old. He can walk with help but mostly uses a wheelchair. He doesn't speak, but he gets his point across.
"He likes everybody," Sheila Rudat said. "If you have a phone, you might want to hide it, because he will take it from you."
Trey and other children ages 4 to 16 who have physical and cognitive impairments will participate in a new adaptive sports camp at Norman Optimist Club on Saturday. Hosted by Norman nonprofit SportForward, the camp will introduce participants to adaptive sports like wheelchair basketball; sitting volleyball; and goalball, a form of soccer for the blind. Adaptive sports are tailored to work around a person's particular disability. Players in goalball, for example, attempt to score by throwing a ball with bells embedded inside into the opponents' goal.
"We are thrilled to introduce SportForward to the Norman community and provide a fun day for kids that may not have many opportunities to participate in sports and recreation," said Stephanie DeVoss, SportForward's director of strategic partnerships and adaptive sports coordinator. "Families that attend will have a unique chance to meet each other and get connected to our partner organizations already active in Oklahoma."
For 22 years, SportForward worked in more than 60 countries to elevate, empower, educate and build lasting peace in communities that are marginalized, oppressed and without hope. The organization is the nonprofit arm of a consulting company called Global Sports Partners, which works with countries around the world to develop Olympic-level sports programs. Started in Hong Kong in 1992 by Steve DeVoss, a former youth pastor at Norman's First Baptist Church, the company uses its influence to create grassroots sports programs for people who often are discouraged or outright banned from playing sports.
Whether it's holding youth baseball clinics for Arab Muslims and Israeli Jews to promote peace or teaching women's basketball in the Arabian Peninsula, SportForward uses sports as an indirect tool to affect cultural change, empowering young people to do what others say they should not or cannot.
"We believe it's more organic — more authentic and real, that they own the change more — if it comes from inside them," said Wyatt Worden, SportForward's director of operations. "For whatever reason they've been pushed aside, we try to create an opportunity to play."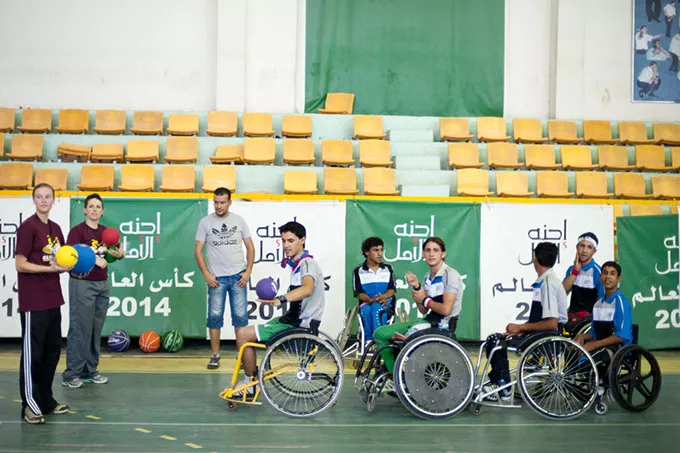 Needs at home
This will be the organization's first camp in the United States. After years of focusing its attention overseas, Worden said his staff discovered there is a need locally for adaptive sports programming. In 2010, according to the U.S. Census Bureau, 4.7 percent of Oklahoma City children ages 5 to 17 had a disability, and 3.6 percent of the city's school-age children had cognitive difficulty.
"One thing we realized right away, there are a lot of incredible organizations here in the (Oklahoma City) metro area that are doing long-term, consistent programming, but very few of the kids know about them," Worden said.
The camp's goal quickly changed from recruiting children to play sports to getting as many people as possible together working toward the common cause. To that end, several organizations have signed up to participate, including the Norman Optimist Club, the Greater Oklahoma Disabled Sports Association, Sooner State Adaptive Sports Association and the Norman Youth Soccer Association's TOPS (The Opportunity to Play Soccer) program.
"We want these other organizations to really be featured and highlighted," Worden said. "We just want them all together and get them plugged into each other."
Print headline: Forward thinking: Using the power of sport to empower and enrich, Norman nonprofit SportForward launches an adaptive sports camp for disabled youth.