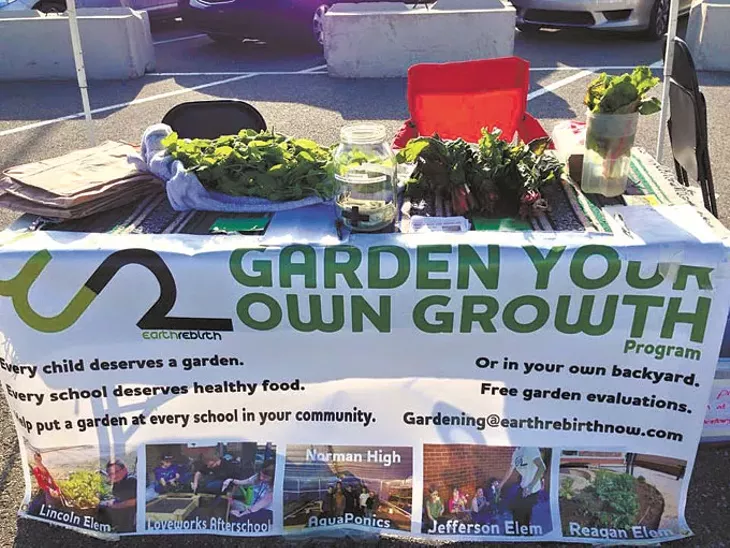 Earth Rebirth has established gardens at 15 schools in Norman. | Photo provided
After ending his wrestling career with the University of Oklahoma in 2011, Andrew Sartain established the nonprofit Earth Rebirth, but he has learned not to call himself an environmentalist.
"Don't use the word sustainability or environmentalism in Oklahoma," Sartain said. "There is no point because there are negative connotations that are too political."
Instead, Sartain prefers to use the terms "food," "energy" and "water" when discussing Earth Rebirth's two main goals: providing gardens and healthy food supplies for schools across Oklahoma and helping individuals and businesses achieve energy reduction goals.
"You won't convince the masses to make the major shifts we need to by telling them how guilty they should feel," he said.
The organization's Garden Your Own Growth program is designed to provide a sustainable garden for every school in Norman that can provide food for the school's cafeteria and eventually become a moneymaker for the school's curriculum.
Earth Rebirth has partnered with 15 area schools, including Norman High School, for which a Kickstarter campaign raised $10,000 to install an innovative aquaponics system that allows fish and plants to grow together and uses only 10 percent of the water of a normal garden.
The garden supplies foods like lettuce to the school's cafeteria, and Sartain said the goal in 2018 is to have associated schools have a permit through Earth Rebirth that would allow them to sell their garden produce for profit.
"Our education system is in peril," said Sartain, who noted that over 90 schools in the state have gone to a four-day week. "On average, three to four out of five students, depending on the district, are on assisted lunch programs. That fifth day becomes devastating for those kids trying to eat."
Andrew Sartain founded Earth Rebirth in 2011 at the University of Oklahoma. | Photo Jacob Threadgill
Personal involvement
The organization has a steady stream of student interns who receive course credit from OU and two commission-based employees that help individuals and businesses establish gardens and retrofit homes to reduce nonrenewable energy usage.
Sartain is the organization's only full-time employee. He spends a good portion of his time following up with schools that already have gardens, to work with students to install curriculum-based activities and involve each school's administration and parent-teacher association.
"If you set up a school garden, pat yourself on the back, and then come winter, it's overgrown, that's not a victory," he said.
The organization has grown since inception, moving into a building in downtown Norman, 325 E. Comanche St., in 2015, but Sartain has made the pledge not to pay himself a salary until every school in Norman has a sustainable garden.
Ironically, Sartain does bookkeeping for his grandfather's energy consulting business based in Midland-Odessa, Texas, to earn income. His grandfather Jim Trichell worked for Chevron for decades, but upon retirement, he established a firm that refurbishes discarded drilling equipment and consults to help reduce consumption.
"He realized how bloated the [oil and gas] industry has become," Sartain said. "I can be part of it just enough so that I can survive and still do what I want to do."
It's been a lifelong push and pull for Sartain, who developed a love for the environment as a child by being interested in animals, first thinking he would run a zoo. Sartain grew up in Atlanta, Georgia, but his family now lives in the Midland area.
"As I got older, it became clear how my family was impacting [the environment], and I couldn't look at them and say, 'You're evil,'" he said, noting that conversations with his family, like so many about environmentalism, ended by them saying, "The technology isn't there to help."
"It's easy to come up with an excuse when you remove yourself," he said. "People remove themselves and use terms like 'society' and 'human.' [Earth Rebirth wants] to put yourself in the problem and figure out where you can be a contributor to a solution."
In addition to expanding the Garden Your Own Growth program, which has 27 schools statewide on a waiting list, Sartain wants Earth Rebirth to follow-up with OG&E energy audits for homeowners and businesses.
"I'd like to see the statistic of how many people made changes brought up in the audit," he said. "Whether your goal is to cut your usage in half or go completely renewable, we can help them get to the finish line rather than just telling them."
Earth Rebirth hosts a volunteer meeting every Sunday and runs a sponsorship program that goes directly into its garden program.
Visit earthrebirthnow.org.
Print headline: Green dream; Norman's Earth Rebirth aims to put a garden in every Oklahoma school.