Trey Wiles / provided
Poet and writer Anthony Crawford entertains the crowd at oNE OKC in 2018.
oNE OKC
noon-4 p.m. May 18
NE 23rd Street and Rhode Island Avenue
neokcr.org
Free
A community is working together to ethically revitalize and develop its neighborhoods. Northeast Oklahoma City Renaissance (NEOKCR) aims to establish a commercial district on NE 23rd Street. It is hosting the fourth annual oNE OKC, a street festival that showcases different projects and supports NEOKCR's mission.
"The organization is really set up to be a representation of northeast Oklahoma City, to really have ethically placed development that's taking place in our community and to really be a liaison between the community," said Greg Jones, member of the NEOKCR board of directors and co-facilitator of the commercial district launch team. "Our organization was established really to be around and make sure that we have an opportunity to participate, provide input but also preserve the culture of the area."
NEOKCR wants to establish the commercial district through ethical development, making sure to honor the current community and its culture.
"A lot of what we see happening in the greater metro area people could call gentrification, where community members aren't being included in the building and conversations that are happening. … A lot of people are getting pushed out of those spaces," said Ashley Chatman, oNE OKC co-chair. "[NEOKCR] is trying to have ethical revitalization where community members have input and equity and ownership in their community. It's not just, 'OK, we're going to take some land, build on it and then things become too expensive for you to live there.' It's a conversation with community members."
The organization is bringing property owners, business owners and residents of the community together to collaborate and establish a district with goals centered on their needs.
"Myself, along with members of [Oklahoma City Black Chamber of Commerce] and other influential community leaders, came together about five to six months ago and said, 'How can we utilize our contacts to be able to come together to establish a commercial district very similar to the Plaza, The Paseo, Stockyards, Uptown?'" Jones said. "And so we put a call out the community to respond. We've had meetings now on a monthly basis since December."
On average, there are roughly 40 people at each meeting, contributing ideas and providing feedback to board members.
"The first step is a merchant association, so establishing the criteria, establishing some goals. The group has thought about different primary areas," he said. "The first one is business to business; how to do business with each other and ways of being able to promote businesses within the district. Second thing is that we have safety. Third thing is looking at beautification. There is a fourth thing, which is branding the actual community itself."
The NEOKCR board will also establish a board of directors for the commercial district, which would then establish bylaws, begin the application to become incorporated and narrow down the group's ideas.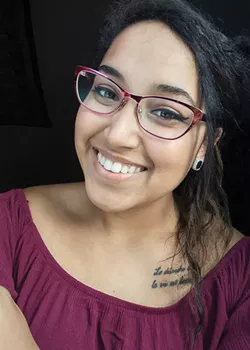 provided
Ashley Chatman, oNE OKC co-chair, said the event will showcase important development projects in northeast Oklahoma City.
"There are a lot of things that have been identified by this group that are needs for the community," Jones said. "A full-size grocery store's been talked about, a number of retail outlets, even knowing where to go get your tools and handyman-type of things. You know, there's not even a hardware store that's located within the community. So the reality of it is that by developing this commercial district hub, the assets that are within the community are able to be showcased … and it will draw and attract other businesses in this community that we desperately need."
NEOKCR hopes the merchant association will be formed in the next two months.
"Then we will move on to the process of establishing a business improvement district," Jones said. "We're doing that a couple of months, and easily by the end of this year, we hope that the business improvement district would be official."
Mission support
oNE OKC is noon-4 p.m. May 18 at NE 23rd Street and Rhode Island Avenue to raise money and engage people with new developments in the area. Oklahoma couple and nationally recognized music duo Adam & Kizzie headline the festival.
"The mission of oNE OKC is to pretty much bring greater unity with the eastside and the metro area as well as showcase and highlight all the really awesome revitalization projects that are happening," Chatman said. "It's just a free, family-friendly community block party that's going to have live music, entertainment, kids zones. And then there's also [the Building Tomorrow Tent], a giant space in which we will be showcasing the new developments and seeking feedback from community members to let us know and to let the stakeholders in the areas so everyone can have a conversation about 'What do you want to see in this area? What do we need? What do you want to see get impacted by any new projects?' Things like that."
Attendants will have a chance to provide feedback on what they think the commercial district should be like.
provided
Greg Jones is on the NEOKCR board of directors and serves as co-facilitator for the commercial district launch team.
"We're actually asking the community to help us name the district," she said. "At the event, we will have an opportunity for individuals that have ideas about naming the district to present their ideas. Write those ideas down so we can make that part of the consideration as the board is establishing the commercial district."
Various organizations will be showcasing projects, there will be feedback stations to receive input on what people would like to see in the community and artifacts from Oklahoma Historical Society will be presented.
"It's starting to come into summer; it's a good way to have fun on the weekend. Like I've mentioned, it's free, it's family-friendly," Chatman said. "But outside of that, I think it's important to see what's going on in the area around you. … If you don't know what's happening on the northeast side and you live near there, why would you want to go check it out? I think it's important to go and know your city, like know the space in which you live. And I think it's important to engage with different people. ... We've got all these great things that are already here, and we've got more coming. So I think it's important for the greater metro area to come and see all the awesome work that is happening on the northeast side."
Visit neokcr.org.