Alexa Ace
The interior of The Hamilton is surrounded by law books from the late 19th and early 20th centuries.
Entrance to The Hamilton Supperette & Lounge doesn't require a password, but the new restaurant and bar from the owners of Café 7 does feel like a speakeasy with its secluded location on the back side of Shoppes at Northpark.
Located at 12232 N. May Ave., on the eastern end of the mall, The Hamilton is a product of the partnership of Café 7 co-owners J. Mays, Chris Kana and Stephanie Miller, who is the operating partner of the downtown Café 7 location.
"We'd been looking for a space to put a new concept, and we were driving around the back side of Northpark and saw this gate with an H on it," Kana said. "We thought it might be a hidden gem that the city can enjoy. It used to be the S. J. Haggard [& Co.] clothing store, so we decided to keep the H on the gate and came up with the name Hamilton."
Mays said they exhausted ideas for H names — everything from potentially naming it Hubies after his great-grandfather Hubert to Hagrid's after the Harry Potter character, but he said those seemed too informal for the supper club vibe they wanted to bestow on the space.
"There were so many themes we could've pulled off, and we landed on Hamilton for a couple of reasons," Mays said. "No. 1, it's kind of on everyone's minds right now, and No. 2, we thought it would be fun to do Alexander Hamilton because there are so many fun little quirks that he had."
The restaurant incorporates Hamilton's early life in the British West Indies with three tiki drinks on the menu. Its signature cocktail is the Hey Betsey, his pet name for his wife Elizabeth. The drink mixes champagne, Lillet Blanc, Giffard Crème de Pamplemousse, Cappelletti, elderflower and strawberry.
The Hamilton has placed an emphasis on doing classic cocktails with high-quality spirits and nontraditional ingredients. Its Negroni uses Barolo Chinato instead of regular vermouth. The Cosmopolitan has Effen yuzu citrus vodka.
"The drink menu isn't full-on craft cocktail with 15 ingredients; we just wanted to update classics to using some ingredients that we like," Mays said. "The Cosmo is made with gum syrup, which gives it different mouthfeel; a texture to it, if you will. … It's a reflection of what we like and how we like to drink."
As Café 7 celebrates its 11th anniversary this November, The Hamilton's cocktail-focused and full-service menu is in contrast to Café 7's fast-casual approach. Management turned to longtime Café 7 and Coach House graduate Michael Paske to deliver an Oklahoma menu that delivers familiar food in a recalibrated sense.
"As we went down the avenue of the menu, we wanted to focus on Oklahoma cuisine, but not your typical chicken-fried steak and the things people think of," Mays said. "It's an Okie-centric menu focused on elegant comfort, killer cocktails, great wine and beer."
Mays' mother owns Bill's Fish House, an institution in Waurika since 1962. The Hamilton pays homage to that tradition with Okie "scallops," which are catfish medallions with capers and piccata sauce with tomato and lemon butter.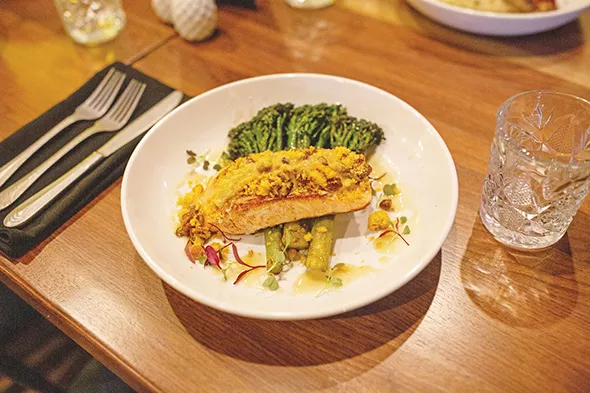 Alexa Ace
Cornbread and pecan-crusted salmon
Paske said he made bacon-wrapped scallops early in his career and wanted to return to that idea with catfish instead as a way to honor Bill's Fish House.
"We wanted to try something different," Paske said. "[At Café 7,] we always talked about doing something more upscale. The menu is Okie-centric, so instead of Southern-fried quail, it's Okie-fried."
The quail is served fried like drumsticks with cream gravy, pickled okra and orange gastrique. Instead of beef tartare, it offers bison with pickled mustard seeds replacing traditional capers and a smoked egg yolk topping with fried shallots and toast points.
"The smoked egg yolk is like a deviled egg," Paske said. "Oklahomans like to cook out and smoke things, so it's a twist on it."
Smoked meat also makes an appearance with the Tomahawk Pork Chop served with red onion marmalade and whipped potatoes.
"My grandfather always did smoked pork chops with caraways and coriander, but we went all-out with the Tomahawk," Paske said.
Cornbread and pecan-crusted salmon is served with broccolini with an acidic finish.
Rachael Gruntmeir, owner of The Black Scintilla clothing store, 1112 N. Walker Ave., Suite 104, designed the décor of The Hamilton. Over the course of eight months, the former clothing store was stripped to the studs and turned into a lush space with green felt booths, hardwood floors and a fireplace. Leatherbound books — the majority of which come from an old law practice in Tecumseh — surround the entire space.
"We knew we wanted it to have a speakeasy vibe, and when I did research on the décor,"
Alexa Ace
The Hey Betsey is champagne, Lillet blanc, Giffard Crème de Pamplemousse, Cappelletti, elderflower and strawberry with a rock sugar garnish.
Gruntmeir said, "I kept going back to old law books or old books in general that have the cloth bind or the gold metallic engravings. It adds great color and texture to the space."
She started to look for books in thrift shops and was worried that buying so many books would get too expensive until she saw a post offering 3,000 free books as a woman turned a former law practice into a saloon — they just had to pick them up.
"People love to look at the subjects on there, and there are some funny ones from early 1890s taped with notes in there," she said. "They've been neat to look through and give you the older feel, so you know they're genuine."
The Hamilton opened in late August and represents a new chapter in Oklahoma City for Mays, who also owns R Bar & Grill and Roosevelt's in Tulsa in addition to the two Café 7 locations in Oklahoma City.
"We wanted something older with more character, and in north Oklahoma City, that is pretty hard to find," Mays said. "We've got a great team that has been lights-out, and we're fortunate the pieces have come together."
Visit thehamiltonokc.com.