Any diner will be hard-pressed to find better sushi out of an old Blockbuster Video than they will at Sake House Japanese Sushi & Steak House.
During my misspent youth, I was fired from a Blockbuster Video. It wasn't the first in a long line of firings: That honor belongs to Little Caesar's Pizza, where a future Oklahoma State Representative was a coworker. Needless to say there are — at best — mixed feelings about those businesses.
So you can imagine the glee upon seeing the Blockbuster at 7001 W. Hefner Road slowly fade into nothingness with only the dirty outline of its name remaining on the building and replaced by three of my favorite things: 1. Sushi. 2. Steak. 3. More sushi.
While both teppanyaki cooking (that giant griddle they put the onion volcano on) and sushi are both Japanese, they don't always mesh together perfectly. Focus too much in either direction and you have a recipe for lackluster food. But those who can excel at both will hit the jackpot — namely, lots of hungry customers.
Sake House makes me a very hungry customer, especially with rolls like the Tuna Amazing ($10.95). Do you like tuna?
Of course you do. Tuna, salmon and tilapia are the three fish that people who don't eat fish will eat. Tuna Amazing is so named because it tastes amazing and combines white tuna, spicy tuna, avocado and peppered tuna. Is it too much tuna?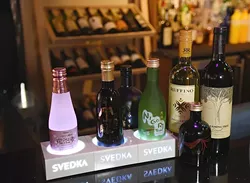 You know that's not a thing. Stop being weird, man.
As is customary, the mackerel nigiri (two for $4.50) was also ordered. Mackerel is firm and fresh and a little salty and tastes like actual fish. It's so good. It is also something that doesn't get ordered all the time, so if you want to see how often a sushi place replenishes its stock, it's a good choice. This was some tasty fish.
I would have ordered more, but I also had steak coming my way.
Miso soup ($2) is fine, but better was Sake House's clear soup ($2), which is a flavorful broth that clears the palate for what's to come.
In this case, what came was a salad with ginger dressing because that's the salad you get with a hibachi/teppanyaki meal. The lettuce was okay, but the ginger dressing was a happy surprise, because it tasted fresh and was not as overpowering as some versions can be.
The real show, as always, is on the grill. As someone who believes in equality, I want to destroy animals on the land and in the sea in roughly the same amounts, which is why the shrimp and steak hibachi dinner ($20.50) is such a great deal. Plus, you can't beat the show. Seriously; don't try to beat these guys. They have knives. You will get hurt.
The chef at the table was a delight. Not only did he have a few fresh hibachi jokes, his skills at tossing broccoli into mouths are unparalleled. You have to trust the man with the knife and spatula. Just open up and let him throw food in there.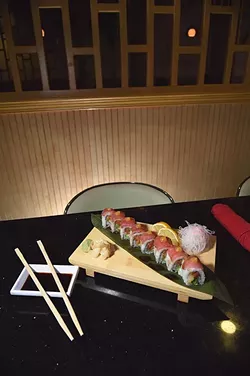 (If you're lucky, he might also squirt some sake down your throat. Score!)
Speaking of beverages, drink some. The sake bloody mary ($6) tastes like a bloody mary with wasabi, which is exactly what it should be. The nigori sake ($10 for a small bottle) was served cool, had a nice unfiltered texture and tasted slightly sweet. It's recommended for sake virgins and also just regular virgins. Or anybody over 21 who likes a drink now and again.
Print headline: Sake to me, Not every place can do sushi and steak correctly. Sake House definitely does.