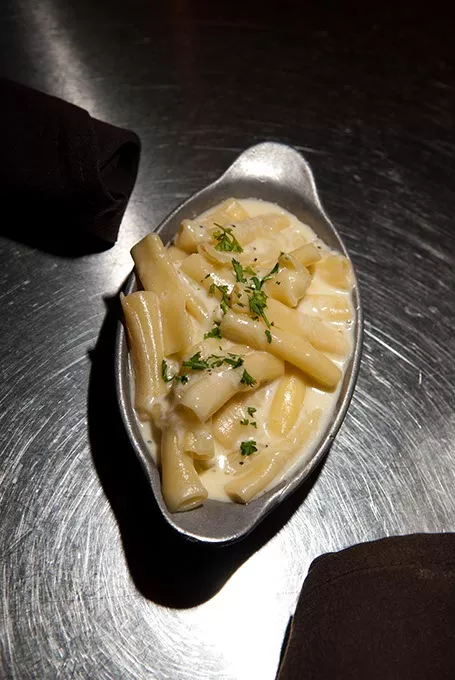 Macaroni and cheese is most commonly a simple mixture of cheddar cheese and pasta that's baked in an oven. Thomas Jefferson fell in love with the dish when visiting France and first served this gourmet delicacy in 1802 at a state dinner.
Most likely our first childhood experience of mac and cheese came from a box. In 1937, Kraft Foods introduced its boxed macaroni and cheese for 19 cents and advertised it as "a meal for four in nine minutes." It has been popular ever since.
Lately, more sophisticated versions have appeared on metro menus, raising the profile of the much-loved dish.
It's listed as a Side Action ($4.50) item on Republic Gastropub's, 5830 N. Classen Blvd., menu, but it clearly takes center stage. A hearty, cheesy elbow pasta with bacon and andouille sausage, it's easily enough for a meal. Pair it with a Marshall Brewing Company Sundown Wheat, a golden Tulsa beer with hints of coriander and dried orange peel, for a perfect fall dinner.
Seven 47, 747 Asp Ave., in Norman has something for everyone with five mac and cheese entrees on its dinner menu.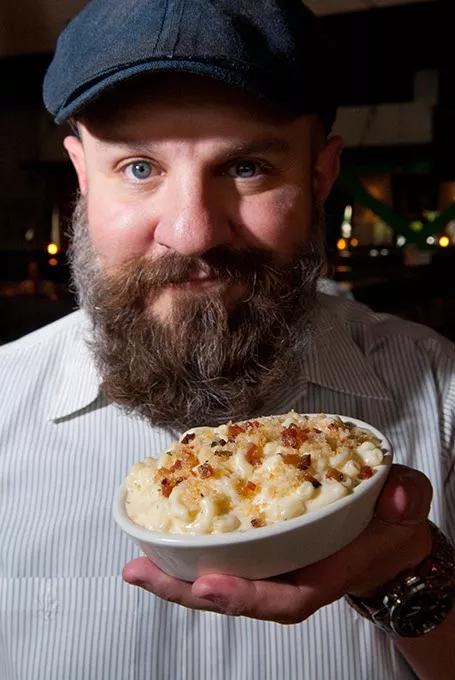 General Manager Tanner Fleming with Mac & Cheese at Whiskey Cake Kitchen & Bar. mh
The Big Boy ($12) includes Roma tomatoes, giant rigatoni pasta and grilled chicken. The Sriracha Spicy Shrimp Mac (who does not like Sriracha?) is $14 and includes grilled shrimp, Sriracha sauce, red pepper flakes and toasted Panko breadcrumbs.
Another Seven 47 favorite is the mystical Magic Mushroom Mac ($12) made with juicy and tender baby portobello mushrooms, truffle oil and crispy spinach. Also try the Buffalo Chicken Mac ($12), buttermilk breaded, boneless chicken with wing sauce, chopped celery and diced carrots or the 3 Little Pigs Mac ($12) with pulled pork, sweet pepper bacon and diced ham topped with Ponca City-produced Head Country Bar-B-Q Sauce.
If you prefer more bread with your pasta carbs, however, you need to go to the Plaza District.
Order the dish on a sandwich at The Mule, 1630 N. Blackwelder Ave. The Macaroni Pony ($10) is a three-cheese mac filling served in between slabs of jalapeño cornbread with chipotle barbecue pulled pork and a pickle.
"People return to The Mule again and again just for the popular Macaroni Pony," said manager Kyle Pallard.
Iron Starr Urban Barbeque, 3700 N. Shartel Ave., offers Fancy Mac & Cheese. At $4.34, it's dinner panache at a bargain price. The penne pasta, a welcome departure from the usual elbow variety, is covered with a rich, creamy white cheddar and Parmesan cheese sauce and topped with parsley. It's understated elegance.
Your grandmother would have been envious at Whiskey Cake Kitchen & Bar, 1845 Northwest Expressway. This regional restaurant serves up Adult Mac n' Cheese ($3.79) crowned with crunchy cheese goodness and delectable, luscious cheese underneath.
For something fun to do, bring three friends and pair the dish with the venue's First Class tapped wine flights for $18 more. A Nobilo Sauvignon Blanc, Franciscan Chardonnay, Diseño Malbec and Simi Cabernet all arrive in four glasses served on a seriously cool wooden plank.
Print headline: Epicurean mac and cheese , Everyone loves comfort food. And here in OKC, you can find gourmet versions of the creamy indulgence.