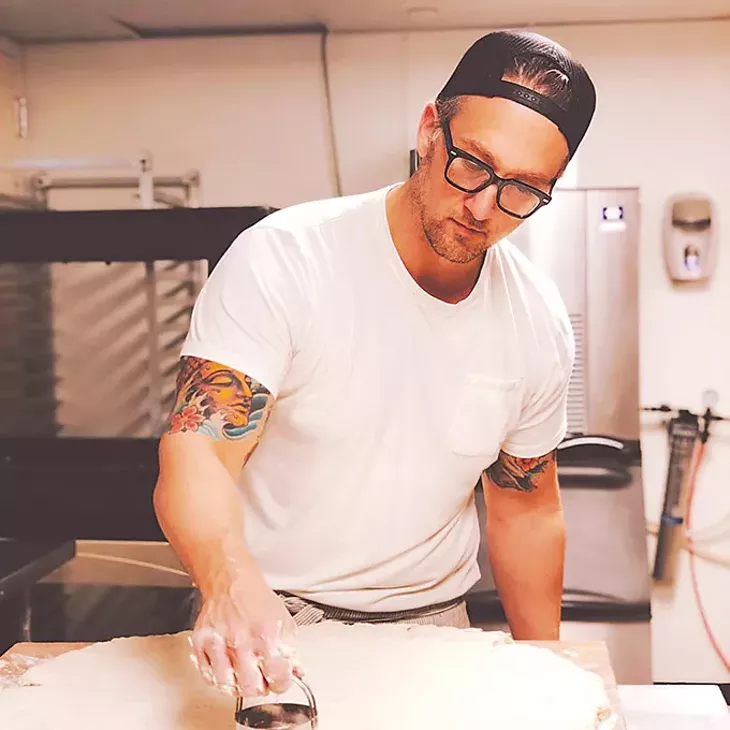 provided
Todd Woodruff's biscuit recipe at Buttermilk is inspired by Seattle restaurant Morsel and Charleston chef Sean Brock.
Since Todd Woodruff opened the brick-and-mortar location of Waffle Champion in Midtown to long weekend brunch lines in 2013, he has heard from people that there needs to be another location.

They'll get their wish, but not until after Woodruff and his Day One Concepts team finishes a nearly yearlong stretch that saw him open the innovative tasting restaurant Nonesuch, 803 N. Hudson Ave., last November; the permanent location of Buttermilk, 605 NW 28th St, Suite A; and the upcoming Maples Barbecue brick-and-mortar at 1800 16th Street, which is scheduled for an August or September opening.

"It's been very rewarding. I had a lot of people tell me to just continue to open Waffle Champions," Woodruff said. "They said I was making a mistake trying to do new concepts. It's been rewarding to do creative new concepts. They all fill a void in the market and elevate the scene, which is what we want to do."

Woodruff was an accounting major at the University of Central Oklahoma when he had the epiphany that he didn't want to be an accountant. Before he started his senior year, he decided to get a job at a steakhouse in Edmond. Within a few years, he was at Cheever's Café, and he moved to the Waffle Champion food truck concept within a few years.

Food truck start
Buttermilk opened its permanent location in the Pueblo development in the Paseo in the middle of March, but it started its life as a food truck, the same truck Woodruff used to start Waffle Champion in 2011.
Woodruff planned to sell the truck, but after six months of no decent offers, he took heed of his employees who were looking for extra hours. He came up with the Buttermilk concept, and it gave employees an outlet, especially for those interested in the food truck model.
provided
Four of the seven biscuit sandwiches on the menu at Buttermilk.
He said that he wrote 12 different biscuit recipes but ultimately settled on the first one, which is inspired by Seattle restaurant Morsel and award-winning Charleston, South Carolina, chef Sean Brock. It's a black pepper buttermilk biscuit that's heavy on the butter and doesn't use lard.
"We cook them just under burnt," Woodruff said. "We like a real golden brown. We like the flavor profile and what that does to the texture. When we're building a sandwich, we're thinking about where is the crispy element, and it's built into the biscuit."
The permanent Buttermilk concept came together quickly, going from ground breaking to opening in about 75 days. Its menu is built around seven biscuit sandwiches and a variety of sweet biscuit minis topped with buttercream and macerated berries.
A vegan smoothie bowl is joined by a side salad and hash brown bites on the Buttermilk menu.
Maples Barbecue
Much like Waffle Champion and Buttermilk, Maples Barbecue began as mobile food truck — albeit a much more fancy version — at the beginning of 2017. The central Texas-inspired barbecue features large briskets and baby-back ribs cooked in a smoker designed after Austin's Franklin Barbecue set up shop in food truck parks around the city.
Woodruff is confident in the quality of the barbecue, but not the food trailer concept. A year later, the trailer is on the market and a permanent Maples location is opening in the 16th Street Plaza District location formerly housing Chiltepes in August or September.
"Trucks are hard business, really hard. If anyone asks, I tell them not to do it because it is very hard work for very little reward," Woodruff said. "It's hard to make a living. … Oklahoma weather is unpredictable, and if there is rain or too much wind, people don't want to eat at the trailer."
The former Chiltepes location is undergoing a heavy renovation that will include the installation of steel H beams painted black on its patio that will create an eye-opening view along 16th Street, Woodruff said. It will also feature a giant mural of a cow with angel wings, in honor of one of its star products: brisket.
In the meantime, Maples is hosting periodic pop-ups at Stonecloud Brewing Co., 1012 NW First St., every two weeks. Information about the pop-ups can be found through its Facebook page.

2019 and beyond
Nonesuch moved to its standalone location at the end of 2017 after spending more than a year operating as a pop-up inside Waffle Champion. Chefs Colin Stringer, Jeremy Wolfe and Paul Wang are turning out multi-course tasting menus with a commitment to using 100 percent Oklahoma ingredients.
Woodruff has moved away from being in the kitchen every day, relying instead on his trained staff to execute the menus he has created. It has allowed him more time to facilitate concepts and grow the brand of Day One Concepts.
"I like to have a lot of input in floor plan and design [at my restaurants]," he said. " It is a guilty pleasure. My favorite part of being an operator is to be creative."
Once the calendar turns to 2019, Woodruff will begin to entertain the people that told him to open more Waffle Champion restaurants. He said that it might be in north Oklahoma City or Tulsa or even Fort Worth.
"Waffle Champion has been a gift because it has allowed us to do other projects," Woodruff said. "In 2019, we will shift back to Waffle Champion being the No. 1 priority."