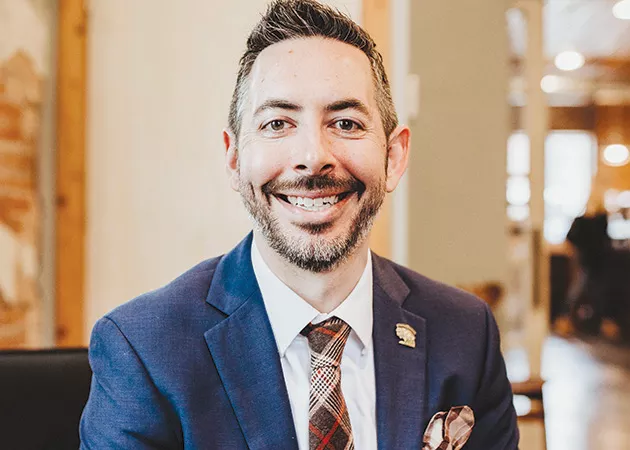 Alexa Ace
Andy Moore, Let's Fix This founder and executive director, said gerrymandering allows politicians to pick their voters.
A coalition of citizens wants to end partisan redistricting. Members argue that the practice, known as gerrymandering, essentially lets politicians pick their voters instead of the other way around.
People Not Politicians, the coalition led by Let's Fix This and League of Women Voters of Oklahoma, filed an initiative petition last week in hopes of changing the way redistricting is done. Oklahoma Secretary of State must review the petition before setting a date for signature collection to begin. Proponents will then have 90 days to gather nearly 180,000 signatures.
Andy Moore, founder and executive director of Let's Fix This, said gerrymandering was a concern he heard repeatedly when talking to citizens.
"We did kind of a listening tour around the state to see what issues people cared about, and gerrymandering was one of those things that kept coming up," he said. "I thought that was kind of odd because most people don't even necessarily know about it, but it's been in the news in other states and people, I think, just look at the maps here and can see that there's weird-looking districts."
Senate District 30, represented by Julia Kirt (D), is perhaps the most well-known "weird-looking district," as it is commonly compared to a laboratory microscope. The district includes nine different ZIP codes and actually encompasses all of Lake Hefner. However, Moore said gerrymandering happens from both sides of the aisle.
"It's important for people to know that both parties have gerrymandered forever," he said. "Whoever is in power gerrymanders to try to stay in power. In years past, both parties have filed legislation trying to create something like this (independent redistricting). … Of course, the majority party, whoever it is, doesn't ever hear those bills."
How it works
The coalition hopes to get the initiative on the November 2020 ballot, as redistricting is set for 2021 — it happens the year after the U.S. Census each decade.
Currently, the Republican-led state Legislature alone is in charge of redistricting. People Not Politicians' initiative — State Question 804 — would amend the state constitution and create a nine-member independent commission to redraw districts.
"Politicians draw districts in a way that virtually ensures they get reelected regardless of how they performed in office, and if they know their seat is safe, then they are by very nature less accountable to voters," Moore said. "If they're worried about gerrymandering their own districts, they are maybe less concerned about addressing our real problems like roads and bridges and schools that are still underfunded and rural hospitals closing. The other thing is that the current process where politicians get to pick their own voters happens totally in the dark. We don't know who is drawing the maps. We don't know how much they're being paid. We don't know what data they're using. They go into a back room, they do it and there's no accountability."
A handful of states have fully independent redistricting commission, but the practice is relatively new. Only four years ago, in an Arizona case, the Supreme Court of the United States ruled that independent commissions do not violate the U.S. Constitution. Across the country, more states are being challenged over what some call unfair maps and unconstitutional gerrymandering.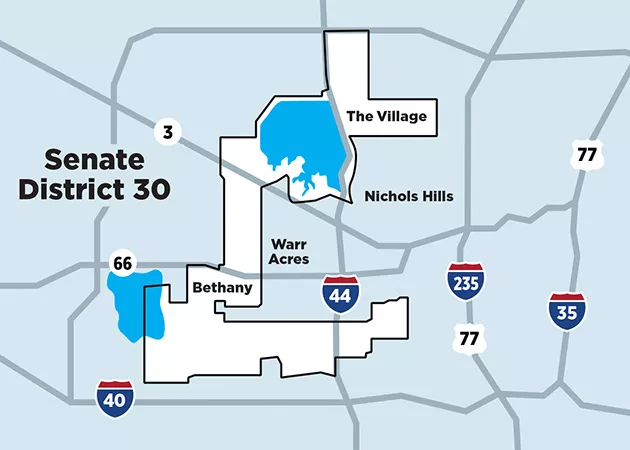 Oklahoma State Legislature / provided
Senate District 30 is commonly compared to a laboratory microscope for its odd shape.
"There have been lawsuits in the past about unfair maps that were unsuccessful," Moore said. "I think it's clear that the Legislature, the politicians themselves, have no interest in policing themselves on this issue, so it's left to the people, which is why we have the ballot initiative process. When legislators are unable or unwilling to make the changes that we think they need to, we have a way to make it happen."
New method
To create the commission, the chief justice of the Oklahoma Supreme Court would designate a panel of three retired judges to review applications and unanimously narrow down prospective commissioners. Judges are to make decisions based on who they believe best demonstrates "experience in organizing, representing, advocating for, adjudicating the interest of, or actively participating in groups, organizations or associations in Oklahoma" and have relevant "analytical skills, the ability to be impartial and the ability to promote consensus on the commission."
Judges then hold a random drawing to select two Republican, two Democratic and two Independent members of the commission. The six commissioners would then, with approval of at least four of them, appoint one additional commissioner from each party. But to ensure as much independence as possible, citizens can't have been involved in partisan politics for five years before applying and can't run for office in a district they redrew.
"No lobbyist, no partisan elected officials, no legislative staffers, no party staffers and no one who is an immediate family member of one of those groups [can be on the commission]. And once you're on the commission, you can't run for one of those offices — legislative or congressional. You can't run for office where you draw the lines for that 10 years," Moore said. "We want this commission to be entirely independent of the Legislature. We're not trying to make it nonpartisan; we're partisan people. We have parties; that's how the system is structured. That's why we have the three groups. … It's almost impossible to make it nonpartisan; we want it to be independent from the politicians who serve in those districts."
Reaction
House Speaker Charles McCall (R) criticized the initiative, saying it was a "solution in search of a problem."
"The convoluted 14-page process the petitioners want makes the system more complicated and less accountable to voters. The existing process is much simpler and more accountable because the buck stops with the legislators who the voters can keep or replace depending on how they feel about their work," he said in a statement.
Senate President Pro Tempore Greg Treat (R) also criticized the initiative, saying liberal politicians use the proposals "as a way to support radical progressive viewpoints in Oklahoma and other states."
"This is a redistricting coup, not an attempt at fair maps. This is a power play by out-of-state liberals in an attempt to force an agenda on Oklahomans," Treat said in a statement. "The Oklahoma Senate will do its job and handle redistricting in a fair manner."
But Moore points out that the only pushback he has heard comes from those who benefit from the current system, including Republican leadership and lobbyists.
"The criticism is kind of ridiculous. This commission is required to hold public meetings in all congressional districts," he said. "I'm certain that the commission will engage in some kind of outreach and due diligence that we would expect from an independent commission of people who want to do the right thing."
People Not Politicians hosts a statewide town hall tour throughout the rest of the year. The next one is 6-8 p.m. Thursday at Cole Community Center, 4400 Northwest Expressway, in Oklahoma City. After that, the group will be in Norman 6-8 p.m. Monday at University of Oklahoma's Tom Love Innovation Hub, 201 David L. Boren Blvd.
The coalition will also host town halls in Woodward, Tulsa, McAlester, Ardmore, Ada and Enid. Visit peoplenotpoliticians.org.