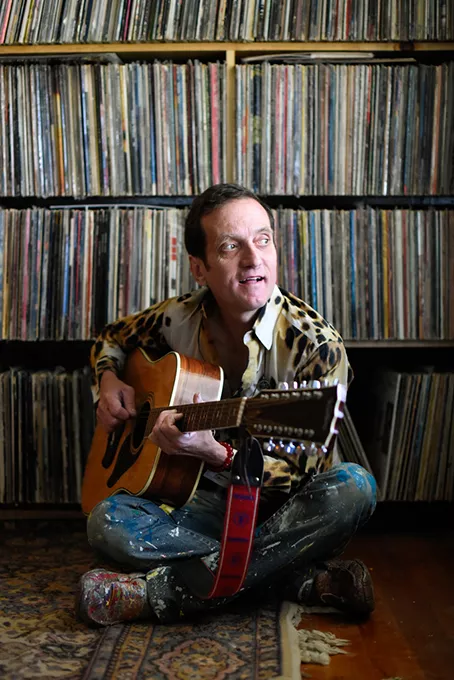 Gazette / file
Tyson Meade
He is often called the godfather of alternative rock music, but if a few things go in his favor this year, Tyson Meade could soon be called something very different: United States Congressman.

In April, Meade — most known as frontman of the late-1980s and '90s bands Defenestration and Chainsaw Kittens, which have been cited as influences to seminal groups like The Smashing Pumpkins and Nirvana — officially filed as a Democrat to run against Republican incumbent Steve Russell for the seat in Oklahoma's Fifth Congressional District. Meade is one of five Democrats vying to run against Russell, including Elysabeth Britt, Tom Guild, Kendra Horn and Eddie Porter.

A primary election will be held June 26. The general election is Nov. 6.

Meade's surprising candidacy in the district came right around the vinyl release of his newest solo album Robbing the Nuclear Family, which is the follow-up to 2014's Tomorrow in Progress. Prior to that, Meade was on musical hiatus for a decade while teaching English in China.

Robbing the Nuclear Family made its debut in record shops as an official Record Store Day release and will be made available on digital formats at a later date.

Needless to say, 2018 is stacking up as a busy year for Meade. Oklahoma Gazette recently caught up with the musician to talk about his newest release and his decision to pursue political office.

Oklahoma Gazette: When did you begin working on the album?

Tyson Meade: Usually, when I have enough songs for an album — give or take a few — I would just stop writing and focus on the release. But I was still in China when I finished [my last album]. I just kept writing songs, and they weren't far enough along to be on Tomorrow in Progress. Half of [Robbing the Nuclear Family] I wrote during that time. This switch just sort of went off in my head after not making music for so long. So I started working on it five or six years ago, but I put those songs aside. But when I started working on this album later, I knew those songs would become the cornerpieces of it.

There are a lot of songs about how I really hadn't found home yet. In China, I was still trying to figure out where my home was and if I had a home. Leaving the United States for basically 10 years and then coming back, it was like my home had changed so much and I had to go through this culture shock or aligning myself to the culture that I had left.

It's odd that I'm in the political arena now because the new record is so universally political. There were a lot of things happening at the time with rights to same-sex marriage and all of that. At the time, it was like this new dawn of equality that I don't think we had seen since the ancient Greeks or something.

OKG: Universally political is a good way of putting it. The album is not totally political, but there are a lot of political elements to it.

Meade: Yeah. A lot of it is looking at myself politically and finding out what do I believe. I don't know if it really comes across on the album, but it's about trying to understand the opposing view as well. A lot of my family is very aligned with Trump America, and I try to understand that viewpoint and it's really hard. They're like, 'Well, we don't like everything he does, but we're completely behind him.' I'm like, 'Why?'

OKG: What does the album title Robbing the Nuclear Family mean?

Meade:
A friend and I were talking about some of my dangerous liaisons of sorts. I was telling him how things seemed to go with me romantically, or however you want to say it. He said, 'You're not robbing the cradle; you're robbing the nuclear family!' I thought it was a brilliant term, and I thought, 'Well, I'm going to write a song around that.' And then also it's my whole political stance, sort of tongue-in-cheek. The other side sees anyone who's not man and wife, they see them as, 'They're going to come and rob our home and make our husbands homosexual.' It's this ludicrous argument, and you can't argue with them because they really believe that as fact.
OKG: You said you wrote a lot of these songs five or so years ago. But the world has changed a lot since then.

Meade:
Exactly. And in Oklahoma, you get this bird's-eye view of the change. I love Oklahoma and I love the people in Oklahoma, but I know a lot of people who want to move forward and be a more progressive state. There are people who are afraid of progress and want to hold it back, as we've seen from Mary Fallin and the [state] legislators.
OKG: When did you first think of running for U.S. Congress?

Meade:
I just saw the teachers organizing and taking a stand. You could say, 'Oh, well, they lost,' but in the big picture, they didn't because I feel like they got people's attention. Now people like me and more people have registered for office than in many years. But seeing this educated group of people and all they want to do is help children and raise the future — shame on Mary Fallin and the legislators for marginalizing them. First, it got me angry, and then I thought, 'Well, I can do something.' Then I was presented with the idea of running for Congress. Some people were like, 'Well, why don't you run at a local level instead of a national level?' And my response is that this is national and I'm a national artist. Once we get past primaries, I've already got people across the country ready to pick up the fight. I know we can make this a massive campaign. I'm the face of it, but everyone not being represented is the voice. I'm the servant and the messenger.
OKG: Could you have ever imagined in your Chainsaw Kittens days that you would be running for national office?

Meade:
I couldn't have even imagined it a month ago. No; never. But it's one of those things where my heart won't give me a choice. My heart is telling me, 'You have to do this. If you don't do this, you're as bad as the opposite side because you're not taking a stand and just letting your home state suffer.' As you know, all the people here have been so good to me. I feel like I owe the people something and it's just me trying to figure out a way to do something good.
OKG: Has there been anyone who told you that you shouldn't use your celebrity to try and get into office?

Meade:
No one has said that to me because I think everyone knows that I'm coming from a pure heart, like I've always done with my music. The Kittens, we were always that band on the periphery that everyone wanted to see get as big as The [Smashing] Pumpkins or The Flaming Lips, and it just didn't happen. It was great because I got to live and teach abroad for several years and have all these adventures I wouldn't have had as a lifer rock 'n' roller. Most of the people who know me know that when I do something, it's not for any sort of real gain other than the experience of doing it. But I think that's a valid question because I ask myself that.
OKG: Do you think this album put you in the mindset to run for office

Meade:
Yeah, I think so. Everything that's happening around me musically and my whole environment, it all contributes to what I'm doing at the time. … Everything I do just leads to the next thing, and I never know what the next thing is. That's the thing about my latest passion — it's also educating me. I'm carrying this book of the Constitution around and I'm learning a lot that I didn't know. I feel like the selfish reason that I'm doing this is that I'm expanding my mind, more than anything. I would encourage everyone to do that, no matter what age.