Alexa Ace
A budtender serves patients through a drive-thru at Stellar Herb.
While the summer's first heat wave has abated, Oklahomans know good and well that it will not be the last one the state sees this season. For cannabis patients who do not want to leave the comfort of their vehicles, there is an alternative: At least two dispensaries in the metro area now offer drive-thru service.
The most recent to open is Stellar Herb, 11925 N. Interstate 35 Service Road.
"As soon as I saw this building, I saw a drive-thru," owner Sandy Corzine said. "And I knew that there weren't any drive-thrus in Oklahoma. … I've lived here now a year and the weather in Oklahoma is probably the worst of any place in the United States. The drive-thru was like automatic. And that's what drove me to purchase that building.
"We found this location next to Frontier City. I wasn't really interested in doing retail, but the location spoke volumes to me and specifically the location with regard to recreation when it finally does go legal nationwide."
Corzine said he got his start in the cannabis business in California and brought his knowledge and contacts to Oklahoma to begin production. His Stellar Herb vape cartridges that retail for $50 are produced by his processing facility, and Corzine will be starting his grow operation in a nearby building under the name Supersonic Hydroponic. He also plans to bring popular California brand Los Angeles Kush to Oklahoma soon.
In addition to cannabis, Corzine's family also knows something about successful drive-thrus.
"My family comes from McDonald's," he said. "We own franchises, and so I know about speed and I'm all about getting that down to, literally, you pull up and 30 seconds later, you're pulling away with your already ordered product. ... I want you to be literally able to buy, order the product and pull up and get the product without taking money out of your wallet. All you've got to do is order it and pick it up. You don't get out of your car or you don't have to take money out of your wallet or get money out of an ATM. That's my ultimate goal. And you're in there and out of there in 30 seconds to a minute."
Currently, Stellar Herb is attempting to fill drive-thru orders within three minutes. But ordering directly from the window is just the first phase of Stellar Herb's drive-thru. In coming months, the process will become even more streamlined.
"I work with a company called APOP," Corzine said. "They're out of California. They're one of my good friends. Long story short, I want to have it be app-based ultimately, but we're not there technologically yet. We're about two months away. So as of right now, you pull up to the drive-thru. I send out like a sushi menu. It's got all the strains on it, double-sided. I give you a dry erase pen and you just circle what you want, and then it goes back in my little drive-thru and we fill the order. But ultimately it's going to go through our website, stellarherb.com, and you'll be able to go right there, order, and then it'll be ready for your pick-up either in the drive-thru or walk in.
"I don't have the ability yet to order online, which is really what I'm driving for. And then I'm going to put up a 'McDonald's,' some sort of signage that you can, like, talk into the box. But when you pull up to the window, you're talking through a speaker to the budtender."
As it stands, customers can converse with the budtender through a speaker system at the window about their orders and the products available.
In addition to its own branded vape cartridges, Stellar Herb also carries other premier Oklahoma lines.
"I've got Xen in there; I've got Caviar Gold in there," Corzine said. "Variety is the key. My focus is, again, for legalization and recreation. I'm a marketing guy. I'm driven by sales."
Stellar Herb currently buys its flower from other growers and has $12 grams of flower. However, Corzine said he is willing to honor any other dispensary's prices.
"I just opened up, which means either I'm signing up new patients and patient drives or I'm stealing other patients away from other dispensaries. ... I just want everybody to know that there's literally no deal that I won't beat," Corzine said. "I'm ready to run and gun and be literally the best dispensary in the state and I'm not done opening dispensaries. We're looking towards OU, where people like weed."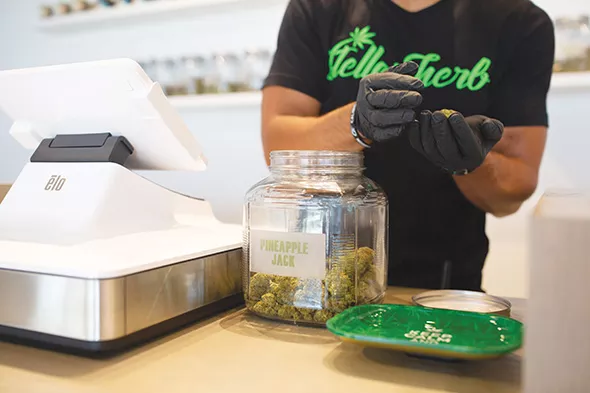 Alexa Ace
Pineapple Jack is one of the strains available at Stellar Herb's drive-thru.
Sweet convenience
Jimmie Smith owns The Honeypot, 1035 36th Ave. NW, in Norman. His dispensary started its drive-thru operation in February.
"You can order on Weedmaps, you can order off Leafly, you can call us right here on the phone or you can just pull up to the window," Smith said. "Make sure you have your medical card, all that stuff. We still have to have the same identification. We've got pretty much everything you could imagine. We've got 20-plus different flowers, about every edible they make."
Smith said the average time for a drive-thru customer who does not have a selection made before getting to the window is six minutes. The dispensary's drive-thru is styled like a bank window, with bulletproof glass and a drawer rather than an open window.
"It's just an extra to help the customers out who have trouble getting in or whatever," he said. "Maybe they're handicapped or they have kids with them. It helps them."
There are also customers who have no idea what they want who just show up to the window.
"We definitely have some. It happens," Smith said. "It definitely happens. And we print off the menu off of, say, Leafly or whatever, and show it to them. We've had a few cars. On a Friday night, we stay open until midnight, and Saturday night we're open until midnight. Come about 11:30, gets four or five deep. They're in and out of here probably in six, seven minutes. The people that know what they want and call ahead, they're literally in and out of here in a minute. It's pretty quick."