Mark Hancock
Trivia Night at the 51st Street Speakeasy, 10-20-2015.
Speakeasy saved
New Year's Eve was going to be the final night for 51st Street Speakeasy, 1114 NW 51st St., until three employees came together to get the torch from former owner Kevin Sine.
The business will close as Sine moves on, but only for a little while, said Greg Bustamante, who purchased it with his brother Mike and partner Henri Bailey.
The bar will retain its name while making a few changes to improve the customer experience. When it opens again in mid-January, they'll have done some remodeling work and made the entire first floor nonsmoking.
Going forward, they're planning to bring more live music shows to the Speakeasy while keeping the ever-popular Lost Ogle Trivia. And the kitchen will return in time, including future plans for lunch hours.
"My brother and I have been here almost since the beginning, for eight years, and we'd never done lunch," Bustamante said.
For Sine, it's a bittersweet reprieve. He said he's glad the bar will remain open, "though [he will] have to pay for [his] drinks, now."
Champion changes
A few years in, Waffle Champion, 1212 N. Walker Ave., Suite 100, has become the champion of Midtown breakfasts, inspiring long lines of folks waiting patiently for sweet and savory waffle sandwiches. But to the chagrin of many, the hours shut out the late-night crowd.
Owner Todd Woodruff is now opening things up with an updated menu and a new nighttime waffle window for diners looking for a pre- or post-bar snack.
Pizza Grilled Cheese, Cheeseburger Mac with grass-fed bison and Ancho BBQ Pulled Pork, as well as a host of new dessert options, have been added to the menu. Gone are a few of the make-your-own options.
"It started off, I wanted to take the restaurant 24 hours. I think OKC is ready for a locally owned, independent, 24-hour restaurant," he said. "But the staff thought I was insane."
Adding a walk-up window on Friday and Saturday nights from 7 p.m. to 2 a.m. is a way to expand organically. Once the new night window catches on, Waffle Champion will open the service on more nights.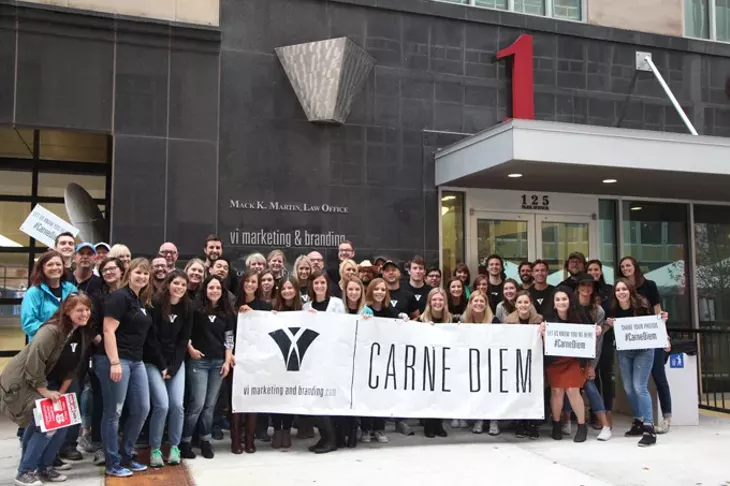 Hot help
VI Marketing and Branding's 13th annual Carne Diem Chili Cook-Off filled a lot of bellies and broke records with its biggest ever donation to United Way of Central Oklahoma.
More than 600 people came out in October to sample chili from local restaurants and amateur competitors to help raise the funds. The professional division's Carne Cup went to the Flying Pig food truck, while VI employee Brooke Ouzts won the amateur title.
Second place in the professional division went to Bricktown Brewery and third to Toby Keith's I Love This Bar & Grill. Amateur runners-up were Clay Miller in second and Jonathan Blevins in third. David Hinds won best booth décor for his ingenious Netflix and Chili theme.