Mark Hancock
Frank Sweiss, owner of All American Pizza with eight metro locations, takes a fresh baked pepperoni and mushroom pizza out of the oven and into a box, at the 16726 N. Pennsylvania location, 12-8-15.
American pie
Edmond loves All-American Pizza so much that owner Frank Sweiss (pictured) is opening a third store there early next year.
Located at 3325 S. Boulevard in Edmond, the new store comes as demand for pies continues to grow.
"We do pick-up only. We can't handle delivery yet," Sweiss said. "We connect with customers by word of mouth, and it's working."
While chains are constantly popping up, Sweiss said he doesn't consider them competition. Pizzas are $5.99 and $7.99, and he said food costs are at 50 percent because people care about quality.
"Good food and low costs. That's why we succeed," he said.
Frank and his brother Mark Sweiss started the business in 2000 and now have eight locations across the metro. Originally, the business started as Pizza Grandiosa.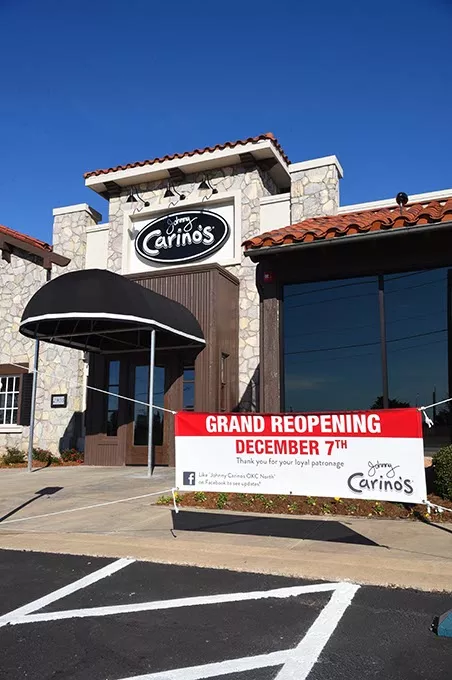 Mark Hancock
Johnny Carino's, 2905 W. Memorial Rd., 12-7-15, in OKC.
Carino's reopens
It took nine months, but Randall Kamp's baby is back.
An electrical fire gutted Johnny Carino's Italian Grill, 2905 W. Memorial Road, on March 7, shutting down the popular chain's location. On December 7, it officially reopened.
Owner Kamp said he knew the damage was too severe to reopen quickly, so the restaurant underwent a full remodel. Despite the major work needed, he said closing the restaurant down permanently was never a consideration.
Every week they were closed, Kamp said he received phone calls and emails from diners eagerly awaiting Johnny Carino's return.
In addition to a few new menu items, the restaurant also features an updated bar area with several TVs to show sports.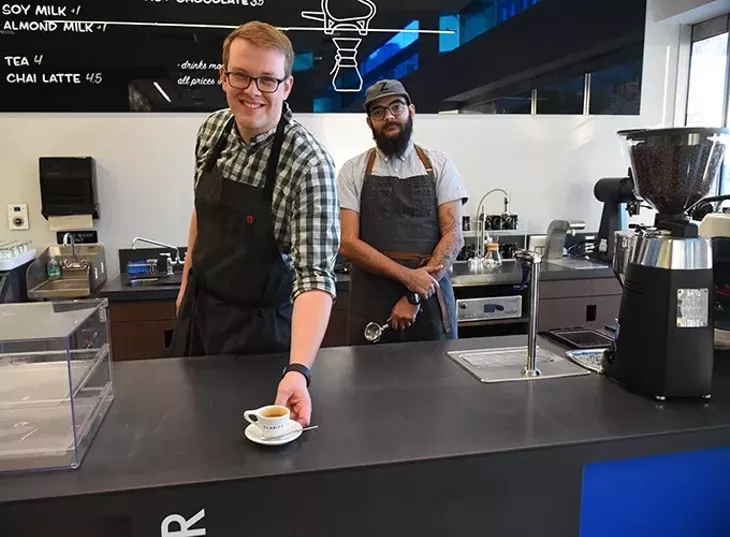 Mark Hancock
Steve Willingham, owner, and Paul Zimmerman with a espresso coffee drink at the new Clarity Coffee the day before the grand opening, located at the east end of the Arts District parking garage, 12-7-15.
Clarity Coffee
Coffee can be a chore sometimes. That's something owner Steve Willingham hopes to change with his new shop, Clarity Coffee, 431 W. Main St.
"We're focused on quality with speedy, pleasant service," said Willingham, whose history includes time roasting beans for Elemental Coffee Roasters. "We love what we do, but we're not here to be preachy."
Whether you're a coffee fanatic or a novice, he said, all are welcome. And there are no judgments about your order, either.
Barista Paul Zimmerman said if someone orders a vanilla latte, his goal is to make that vanilla latte "hella dope."
"If that's all they drink, I want to make the best version of that for them," he said.
The welcoming interior has lots of counter space, chairs and, most importantly, plug-ins for computers and USB cords. If people want to treat his office like their office, Willingham is happy to oblige.
Those interested in latte art should mark Jan. 21 on their calendars for Clarity's latte art competition and party.
Holiday Spirits
Continuing its slate of themed cocktail dinners, Cafe 501, 501 S. Boulevard in Edmond hosts a Holiday Spirits Dinner Dec. 17.
The five-course menu is $59 and filled with seasonal culinary delights, including a cranberry and Boursin bite, crab and artichoke in puff pastry, butternut squash soup, beef tenderloin and barley stew and black forest cherry cake — each with a paired cocktail, like the rosemary-maple bourbon sour and cherry chocolatini.
Unlike many set-menu dinners in the city, Cafe 501 does a "dine at your pace" meal, meaning it is served through the evening. Reservations are required by calling 359-1501.