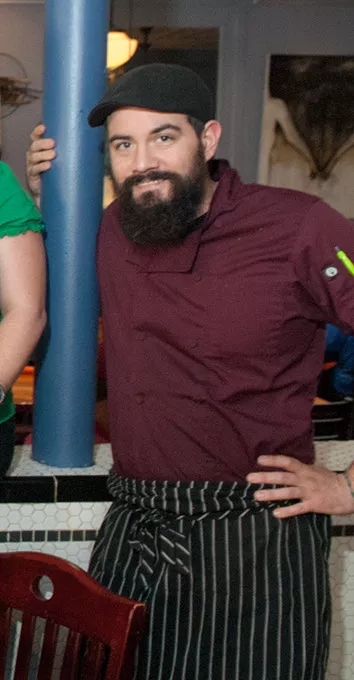 Mark Hancock / File
John Madore
Chef dinner
Tickets are on sale for April's Francis Tuttle Guest Chef Dinner with John Madore (pictured), executive chef at Picasso Cafe. Seatings are 6-8 p.m. Friday.
Madore is a U.S. Navy veteran who trained in kitchens in Florida and Pennsylvania before returning to Oklahoma and joining Platt College's culinary arts program.
In 2010, Madore became nighttime sauté cook at Picasso Cafe and quickly moved up the ranks to become executive chef in February 2011. Tickets are $50 ($60 with wine pairings) and can be purchased at francistuttle.edu/district21.
Beer bash The party will be hearty on Saturday as Midwest City-based Roughtail Brewing Co. celebrates its second birthday with food trucks, live music and, of course, beer.
It runs 6-10 p.m. on the brewery grounds, 1279 N. Air Depot Blvd., in Midwest City and features music from Attica State and concessions from MOB Grill and Frank's Wurst. The event's main draw, however, is a selection of 10 beers — some of which won't be available again.
General admission tickets are $10 ($5 for designated drivers) and come with four drink tickets, each good for one 6 oz. beverage. Roughtail will pour its signature IPA, 12th Round, Hoptometrist and Polar Night brews and its limited release 2nd Anniversary Ale. Nonalcoholic drinks will also be available, but the event is for ages 21 and older.
Eva Trejo Acevedo with a tray of goodies, the bacon cheeseburger and onion rings will be featured at Taste of Midwest City, from Judge's Char Grill. mh
Tasty city
Leadership Midwest City hosts Taste of Midwest City 6-9 p.m. Monday at the Reed Center, 5800 Will Rogers Road, in Midwest City.
The event features food from more than 20 area restaurants — including Judge's Char-Grill and Chequers Restaurant & Pub — entertainment, a silent auction and a wine pull. Tickets are $20 in advance or $25 at the door. Learn more at tasteofmidwestcity.com.
Proceeds from this year's event benefit Mid-Del Food Pantry, City of Midwest City Animal Welfare, Midwest City Fire Department's Public Education Department, Midwest City YMCA, Mid-Del Youth & Family Shelter, Mid-Del Public Schools and the Rose State College Foundation, which were chosen by the Leadership Midwest City class.
In 2014, Taste of Midwest City generated more than $22,000 in proceeds.
Special delivery
Krystal Russell wants more people to learn about and try what small Oklahoma businesses have to offer. Her company, Okie Goodies Box, delivers a monthly sampler of locally made foods.
Each month's package is themed and filled with snacks, condiments and sweets.
Featured local brands include Healthy Cravings, LLC snacks, Head Country and Daddy Hinkle's seasonings and marinades. Learn more at okiegoodies.cratejoy.com.