Paulette Nicole, aka Fat Nikki, in the Plaza District, site of an up-comming food tour. mh
Walk hard
Step lively, Oklahoma City, because Paulette Nicole (pictured) is looking to introduce diners to the stories behind the restaurants they love, even if they haven't discovered them yet.
Svelte Nicole is starting a new business called Fat Nikki Food Tours to bring her favorite restaurants to a new audience starting next month.
"I'm an Army brat. I lived all over the U.S. I was born in Germany," she said. "Every three years since I was 5, my family moved to a new state, and each one has its own food and culture."
Her love of food started on military bases, where she was introduced to every kind of cuisine imaginable by her neighbors.
"I'm not fat, but I have an inner fat girl named Fat Nikki," she said. "She gets overly excited about food. Seriously, the way I eat, I should weigh 600 pounds."
She's looking to share that enthusiasm and love for her new home (she moved to Oklahoma City in 2012) by taking guests on tours of OKC's burgeoning food districts. Prices are not yet set, but tickets will include tapas-sized portions at a number of restaurants. Information on upcoming tours will be featured at fatnikkifoodtours.com and on Twitter (@FatNikkiFoodie).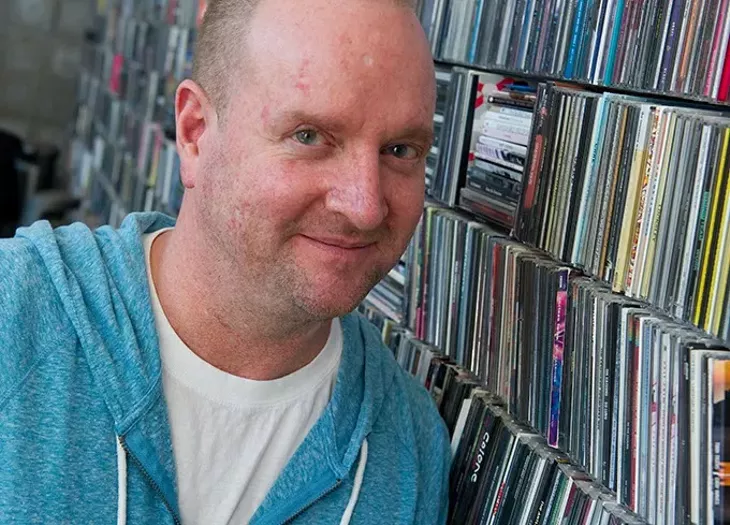 Shannon Cornman
Feris O'Brien On Air at the Spy studio.Photo/Shannon Cornman
Celeb-wich
Following in the footsteps of local celebrities Jabee, Dave Cathey and Lacey Lett, radio shock jock Ferris O'Brien (pictured) has created a sandwich for Slaughter's Hall, 221 N Central Ave., to help raise money for charity.
The Ferris O'Brinner — corned beef, Mornay sauce, onions and peppers, chipotle vinaigrette, pepper jack cheese and a fried egg on two slices of toasted potato bread — will be on the menu throughout July.
Each sandwich ordered sends $1 to Hounds of the Heartland, a nonprofit program that finds good homes for retired racing greyhounds and young greyhounds that never raced.
O'Brien, who owns The Spy FM, said the sandwich is inspired by his intense love of breakfast foods.
A well-known dog lover, he chose Hounds of the Heartland because it's a great group that really cares about retired racing greyhounds.
"I've owned an ex-racer, Mr. Moose, and I can tell you they are one of the best canines in the world," he said. "[Hounds of the Heartland] often have to inform people of misconceptions about owning greyhounds and give the potential adopters such a great head start into their new life with the 50 mph couch potato!"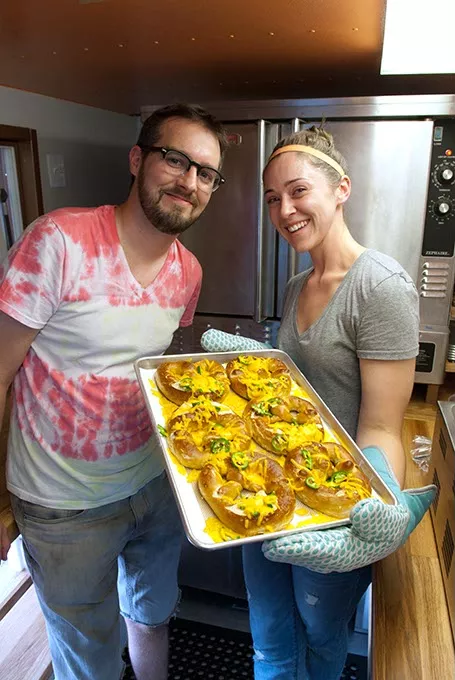 Lance and Becky King with fresh pretzels inside their Twist Gourmet Pretzel Truck which they just parked for Live on the Plaza, 7-11-14.
Playing Hurd
The monthly Heard on Hurd street festival broke records in June as more than 13,000 people descended on downtown Edmond to listen, shop and eat.
The event is organized and manned by Citizens Bank of Edmond volunteers, and its success is a testament to the hard work and enthusiasm of the community, said bank CEO Jill Castilla. In recent months, she said, the roster of volunteers has expanded to include churches, schools and University of Central Oklahoma students.
In addition to musical acts and local retail, Heard on Hurd has become a major attraction because of a wide variety of food trucks.
Organizers are finalizing performers and food trucks for the July 18 event, but they've confirmed that 2 Brothers Bistro, Bricktown Brewery Truckburger, Café Bella on Wheels, Epic Pops, Evoke Sip Truck, Jerky.com, Katiebug's Shaved Ice, Klemm's Smoke Haus, La Gumbo Ya Ya, Lalo's I Love My Taco Chop & Grill, MOB Grill, Off the Hook Seafood & More, Phill Me Up Cheesesteaks, Roxy's Ice Cream Social, Smokin' Okies Mobile BBQ Smokehouse, Taste of Soul Egg Roll, The Flying Pig BBQ, The Patriarch, The Saucee Sicilian and Twist Gourmet Pretzels will be there.
The event begins at 6 p.m. at the corner of N. Broadway and Hurd Street in Edmond. Learn more at facebook.com/heardonhurd.