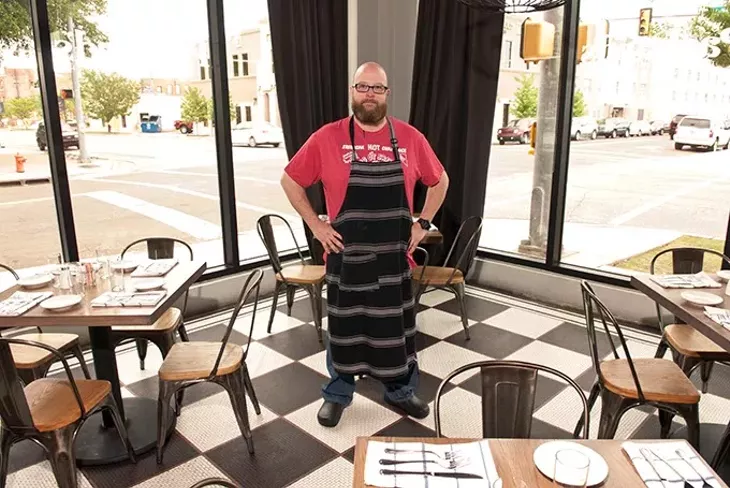 Mark Hancock / FILE
Packard's New American Kitchen chef Chris McKenna in the spacious dining area of Packard's Oklahoma Gazette's Downtown Restaurant Week presented by Downtown OKC, Inc. (DRW).
It's time to re-experience downtown Oklahoma City dining. In recent years, restaurants multiplied like rabbits (delicious, cooked rabbits), and Oklahoma Gazette's Downtown Restaurant Week presented by Downtown OKC, Inc. (DRW) is a weeklong party that celebrates the vibrant variety of dining options available across the district.
More than a dozen restaurants joined Oklahoma Gazette and Downtown OKC, Inc. to present DRW, a celebration of dining culture.
Downtown OKC, Inc. is a nonprofit devoted to improving and empowering the public and private sector of Oklahoma City's urban core. Gazette recently celebrated its 35th anniversary in its mission to promote quality of life and remain the authority on what's out there to enjoy.
Jan. 18-24, participating restaurants will feature three prix fixe menus that include a two-course lunch ($12) and a three-course dinner ($35). The meals showcase each venue's menu highlights.
Yes, that's a three-course dinner at Vast for two for $70. We think that alone is worth getting out for, even in the chilliest of weather.
With all the participating venues, you could eat out all week without breaking the bank. From classic favorite The Wedge Pizzeria, Deep Deuce, 230 NE First St., to the new Broadway 10 Bar & Chophouse, 1101 N. Broadway Ave., there are many possibilities.
You might just find your new favorite spot for a quick bite or a romantic evening.
DRW restaurants include:
Broadway 10 Bar & Chophouse Hillbillies Po'Boys & Oysters Flint In the Raw Sushi Let's Do Greek Packard's New American Kitchen The Basement Modern Diner, inside RedPin S&B's Burger Joint The Melting Pot Urban Johnnie Bar & Grille Vast The Wedge Pizzeria, Deep Deuce 10 North Grille, inside Renaissance Hotel
Provided
Norman's Chocolate Festival readies for its 33rd year.
Chocolaty
Now that the holiday madness has subsided, it's time to think about what you're going to do next.
Firehouse Art Center wants to lure you out with an entire festival celebrating chocolate. Tickets are on sale for the 33rd Annual Chocolate Festival fundraiser, which helps support the art center's education programming throughout the year.
From 10 a.m.-2 p.m. Jan. 31, sample delectable chocolate creations contributed by local food masters. The event is hosted at the NCED Conference Center and Hotel, 2801 E. State Highway 9, in Norman.
The festival has been featured in both Southern Living and Bon Appétite magazines.
Guests will sample a range of things to be created with the humble cocoa bean, both savory and sweet, by area chefs and restaurants. Past winners include Norman favorites Local and Legend's Restaurant.
This event is the art center's only fundraiser. Activities include foil sculpting for all ages and Creative Cube, a painting project for children.
For more information, visit normanfirehouse.com or call 329-4523.
Cooking big
Sandi Sheppard-Dailey, a local competitive cook and Norman resident, recently placed in the top 10 at the World Food Championships (WFC) in Las Vegas.
The tournament was the culmination of local and regional cooking competitions that took place throughout 2014. The WFC is a whirlwind of cooking contests in several categories. The six-day championships consist of hundreds of cook-offs in a bracketed system to determine the top 10 winners in each category.
"There are nine categories with up to 50 competitors in each, and those competitors are both professionals and home cooks," Sheppard-Dailey said.
Sheppard-Dailey has been a competitive home cook since 2010. To qualify for the WFC, she won a regional contest called Strut Your Duck Recipe Contest for Maple Leaf Farms.
Sheppard-Dailey wowed judges with her Top 10 dish of Scotch bonnet roasted corn and crab relish on smoked cheddar duck poutine with cognac and cipollini (bulbs of grape hyacinth) with duck nage (a light broth flavored with white wine, vegetables and herbs then reduced with cream or butter).
The top 10 winners received $10,000 dollars, a medal and, of course, bragging rights. This honor also allowed those winners to compete at The Final Table, where the cooks competed for the grand prize of $100,000. However, she did not win the grand prize.
"It was an honor just to make it there, especially when you're up against the pros," she said.
When not challenging her creativity with gorgeous dishes, Sheppard-Dailey is a graphic designer at Dailey Digital Signs & Designs in Norman.
Print headline: Are you huuuungry?, Fill up with Downtown Restaurant Week, which runs Jan. 18-24.