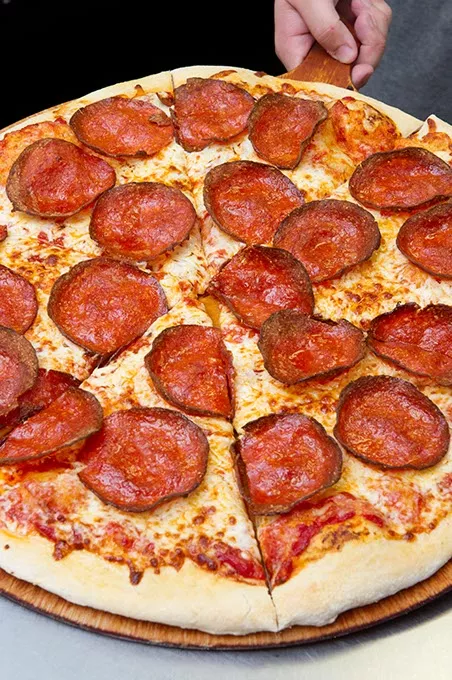 Pepperoni Pizza at Knuck's Wheelhouse. sc
Knucks given
A dollar donation can get some of Oklahoma City's residents in need a welcome treat. With their Random Acts of Pizza campaign, Knucks Wheelhouse, 103 E. California Ave., is asking diners to chip in to help feed people with The Homeless Alliance.
For every $8 raised, the restaurant gives a gift certificate for a pizza to The Homeless Alliance, which passes it on to transitioning families in need, said Knucks chief operating officer Seth Lewis.
"It started by giving random pizzas to other business," Lewis said. "But Drew and Anna (Mains, owners of Knucks and In the Raw Bricktown) wanted to do more."
Families who are moving back into their own housing rarely get the opportunity to have a meal out at a restaurant, Lewis said. This helps the community and helps less fortunate families enjoy something others might take for granted.
Knucks still gives random pizzas to community businesses and their employees. Lewis said it's part of the Oklahoma way to say thank you to people who work hard for others.
Deli director
Oklahoma-owned Buy For Less announced the hiring of J. Longley as its new director of Culinary and Deli Experience.
An Edmond native, Longley has national restaurant and grocery experience but said he's proud to join a locally owned company. His new role will focus on making Buy For Less and Uptown Grocery's deli and catering programs more efficient and effective.
"I look forward to pushing the boundaries of what is possible in the food service industry by helping create exciting new concepts and venues that help ensure that Oklahoma City further solidifies itself as an up-and-coming culinary city," said Longley in a press release.
MIO Festival
Midwest City once again hosts the Made In Oklahoma (MIO) Wine, Beer and Food Festival. In its fourth year, the event runs 11 a.m.-8 p.m. Saturday at Sheraton Midwest City Hotel at Reed Conference Center, 5800 Will Rogers Road, in Midwest City.
It features culinary presentations, a grilled cheese competition, a Wine & Palette art class, live music and a classic car show. It's free and open to the public, though wine and beer tastings require the purchase of commemorative glassware and 10 tasting tokens for $20. Additional tokens can be purchased.
Event attendance has nearly doubled each year, and organizers expect a crowd of about 7,500. In addition to wine and beer, vendors will do food tastings and showcase their products for sale.
More information, including a music schedule and how to take part in The Great Grilled Cheese Challenge, is available online at madeinoklahomafestival.com. Organizers ask that guests do not bring pets into the festival.