Pumpkinville detail at the Myriad Botanical Gardens, 10-8-2014 (Mark Hancock) more info from press release below https://www.dropbox.com/sh/idau704ey1hn9q4/AADp79snd335ajh5z63wlBV-a?dl=0 Pumpkinville, presented by OGE Energy Corp., Returns to Myriad Botanical Gardens Oct. 10 – 31: Opens at Noon, October 10 Oklahoma City - For the third year in a row, something fall-tastic is happening in the Children's Garden at Myriad Botanical Gardens. Pumpkinville, presented by OGE Energy Corp., makes its return Oct. 10-31. Daily hours are 10 a.m. to 5 p.m. Sun. – Thurs. and 10 a.m. to 7 p.m. Friday and Saturday. On opening day, Friday, Oct. 10, Pumpkinville will open at noon. Admission is free for Myriad Botanical Gardens members. Nonmembers pay $5 per child and $3 per adult.
Pumpkin spice
October means Pumpkinville returns to the Children's Garden at Myriad Botanical Gardens, and this year's calendar is full of tasty treats for children and adults.
Each Friday of Pumpkinville (1-1:30 p.m. Oct. 9, 16 and 23) there will be a cider press demonstration and tasting in the pavilion, 115 S. Hudson Ave. The staff will use an old-fashioned cider press to show how cider is made, with a taste of juice for guests when it's done. A $1 donation is suggested.
Pumpkins are more than just a canvas for carving. From 11 a.m. to noon Saturday, Pumpkinville hosts Truly Tasty Pumpkins in the pavilion. Teachers will show children a few of the scrumptious snacks that can be made from pumpkins, including pie, pancakes and toasted pumpkin seeds. A $2 donation is suggested for each child.
Pumpkinville project manager Ashley Elkins said it takes a team of 10 months to plan and create the annual event, and everyone works up to the last minute.
"Right now, we're figuring out how to unload 11,000 pumpkins in the garden," she said.
Because Myriad Botanical Gardens is a nonprofit, all the money raised through Pumpkinville helps sustain the gardens, especially the youth area, and keep it open the rest of the year.
"We really want to drive membership to gardens," she said. "We have stuff like this going on all year for our members."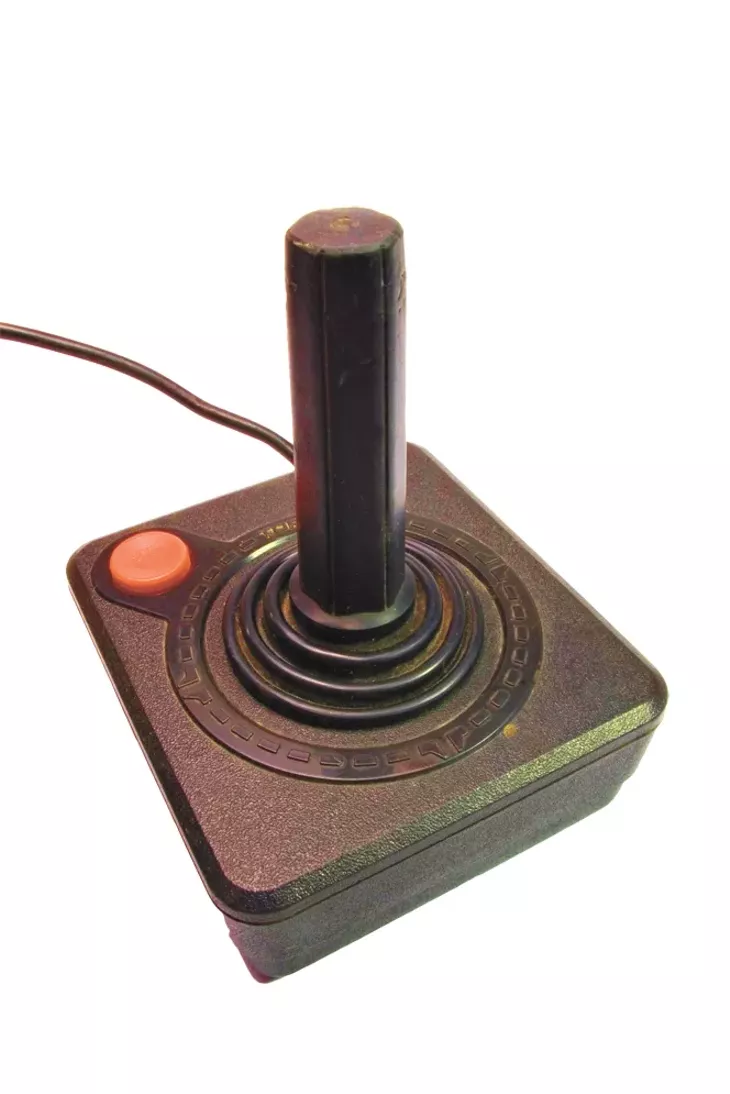 Bigstock
vintage joystick with red boton on white background
Time warp
FlashBack RetroPub has been such a long time coming that owner Jose Rodriguez might be getting nostalgic for when he first started working on his arcade bar concept.
But after years of dreaming, the 1980s are finally back in Oklahoma City.
"It's '80s nostalgia from the minute you walk in the door," he said.
Located at 814 W. Sheridan Ave., Suite A, FlashBack features Rubik's Cube cocktail tables, cassette tapes, lunchboxes and old-school lockers. Most importantly, it has video games — lots of video games.
Though the most recent game is '90s hit NBA Jam, the bar belongs squarely in the 1980s. Even the old token machine is a little squirrely, which is why tokens are available on your bar tab, Rodriguez said. Patrons get 25 tokens for $5, as well as access to the kinds of drinks most of us weren't allowed to have in the Reagan era.
The bar teamed up with food trucks to provide weekend dinner service. If games aren't your thing, Rodriguez said there's a DJ booth and a dance floor, which is where the party moves as the evening progresses.
Head Chef Chad Willis with a fish, sorry, forgot to ask what kind, in the brand new kitchen at The Drake. mh
See? Food
October is National Seafood Month, and Oklahomans are joining the celebration with the Seafood Nutrition Partnership (SNP), Oklahoma City's locally led campaign to raise awareness about the health benefits of seafood.
One benefit is omega-3 fatty acids, which the U.S. Food and Drug Administration credits with saving thousands of lives annually, just from people eating the recommended amount of seafood. A 2009 National Institutes of Health study said low omega-3 intake contributes to 84,000 deaths each year.
Oklahoma City residents can get free omega-3 testing, which helps check heart health, during Open Streets OKC on Oct. 18. SNP is asking Oklahomans to take the Healthy Heart Pledge to add seafood in their diets twice per week.
The SNP campaign launch is 10 a.m. Oct. 16 at Chesapeake Finish Line Tower in the Boathouse District, 725 S. Lincoln Blvd.