Provided
from left Chefs Beth Ann Lyon and Jill Woods outside The Tin Can.
It was only a matter of time until serving food out of a tin can became popular. Well, now you can be the first on your block to eat from one.
What eating from The Tin Can food truck means is that you're also eating fresh menu creations made with local ingredients provided by Urban Agrarian. They are lovingly combined by Beth Ann Lyon, formerly of Kitchen 324, and her partners. Brent Van Meter, who works at Urban Agrarian, purchased Tin Can's gorgeous Airstream trailer (hence the name).
You can find The Tin Can every weekend from 10 a.m. to 2 p.m. in the Farmers Market district at SW Second Street and S. Klein Avenue. The truck will set up outside Ludivine, 805 N. Hudson Ave., Friday for the monthly H&8th Night Market festival.
Their plan is to gradually expand to seven days a week at locations throughout the metro.
"And we've decided if all else fails, we'll just pack up and live in it," Van Meter said.
From the look of the food and the lines on weekends, we don't think he's on his way to the poor house anytime soon.
A recent weekend menu featured pink donuts, chicken biscuit, biscuits and gravy and cinnamon rolls. Like all self-respecting food nuts, they'll put an egg on just about anything.
To reserve the truck for private events, call Van Meter at 535-9744. Follow The Tin Can on Twitter @TheTinCanOKC, on Facebook at facebook.com/thetincanokc and on Instagram at @thetincanokc.
When in doubt, add a bar
Whenever you think
The Paramount OKC
couldn't possibly be a cooler place to hang out, you're wrong. Melodie Garneau and her partners have carved out a haven for film and culture junkies at 7 N. Lee Ave. Garneau recently purchased the building, ensuring that it will be an enduring part of our state's rich film heritage and history.
Now, Garneau is also adding a bar.
It will be on the second floor and will feature booze and projector screens. Basically, it's the alternative to hanging out downstairs with all those pie-and-coffee people. But with booze. (Did we mention booze?) Garneau said the new bar area, designed and built with help from local artist Hugh Meade of Oddfab Design Lab, will be up and running in a few weeks.
While you're waiting, grab a slice of The Paramount, an indescribably delicious custom-made pie that Pie Junkie created for the movie house.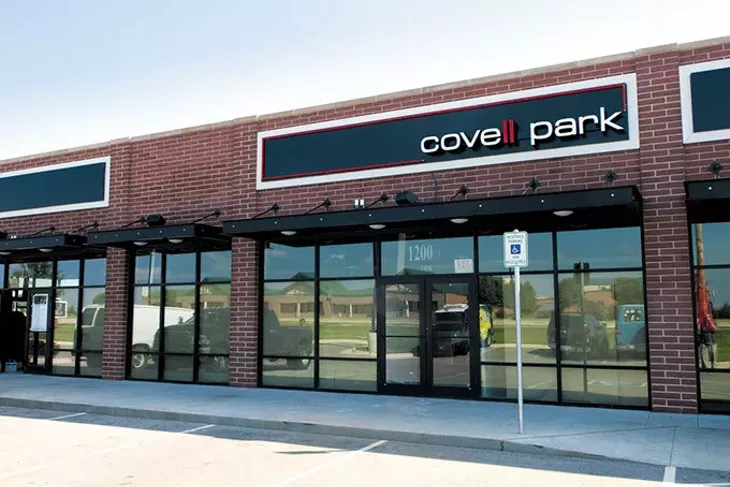 Mark Hancock
Located at 1200 West Covell in Edmond, Covell Park is coming soon.
Edmond, get your Park
Edmond diners will have a chance to experience what the Uptown crowd already knows when Covell Park restaurant opens mid-fall in Edmond. It will be at 1200 W. Covell Road, Suite 100, between Santa Fe and Kelly avenues. The concept is the brainchild of the owners of Guernsey Park here in Oklahoma City. Co-owner Truong Le said construction should be done mid-October.
"Foodwise, the concept will be very similar to Guernsey Park," he said. "Inside will be a very different yet very similar format."
Le explained that he wants the restaurant to remain true to what Guernsey Park is all about but also wants to expand on his concept.
Print headline: Tin Can alley: The best chicken biscuit on wheels may come from this startup food truck.