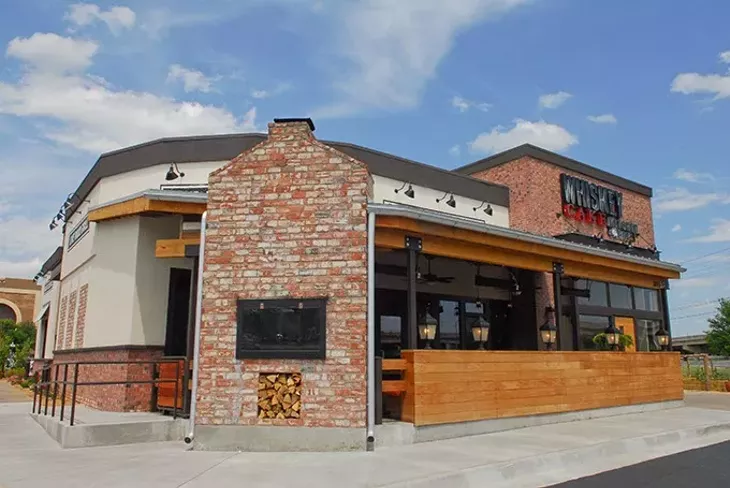 Mark Hancock
Whiskey Cake Kitchen & Bar, in the Penn Square Mall parking lot, in OKC, FILE, 5-8-2013.
Heaven sent
Whiskey Cake Kitchen & Bar, 1845 Northwest Expressway, hosts a Heaven Hill whiskey paired dinner 7 p.m. Tuesday. Head chef Frank Keith and staff do pairing dinners about once a month, giving them a chance to try new recipes and feature flavors that aren't always found on the regular menu.
Tickets fare $55 and 45 seats are available. It will focus on pairing five Heaven Hill whiskey cocktails with a five-course meal, including a maple-glazed duck breast and an English pea risotto, as well as an amuse-bouche and an "entry cocktail." Tickets can be reserved by calling the restaurant at 582-2253.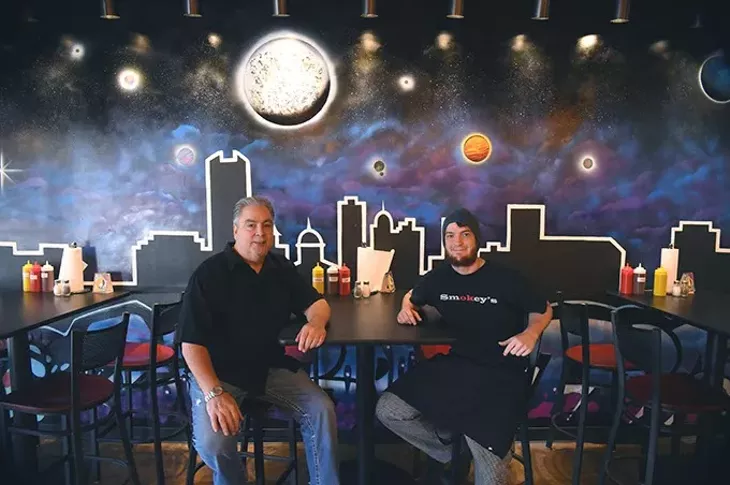 Mark Hancock
From left, owner, Jerry Coles and head chef, Nick Carson, strike a pose in front of a new mural in their newly reopened, Smokies BBQ, on N. Portland Avenue in OKC, 11-17-15.
Smokey's rekindled
Longtime westside restaurant Smokey's Bar-B-Que & Diner, 2410 N. Portland Ave., has a new owner and a revamped menu. Jerry Coles is a first-time restaurant owner, but he did his homework and hired chefs to work on making first-rate barbecue.
In addition to burnt ends and fatty brisket, the new Smokey's offers all-vegetarian sides, and all are made in-house, save the Herman's Famous Coleslaw, from the much-beloved and missed Herman's in Oklahoma City.
The concept is simple, said Coles: Sell good, flavorful barbecue made with fresh (and local when possible) ingredients. The focus is on seasoning and smoke to enhance the meat, not just a vehicle for sauce.
"The old Smokey's had abominable reviews, so maybe I made a mistake keeping the name," he said. "But I decided to spend the money that would go to a new sign on equipment for the kitchen."
Garett Fisbeck
Brothers Arturo and Marco Chavez pose for a photo at the new 1492 New World Latin Cuisine location in Oklahoma City, Friday, Nov. 20, 2015.
New world
After years of work, brothers Arturo and Marco Chavez have opened a second location for their popular 1492 New World Latin Cuisine restaurant. Housed in the Casady Square shopping center, 9213 N. Pennsylvania Ave., the eatery has lots of room and gives the restaurant a fine-dining feel, Marco said.
"Actually, we were looking more toward Norman, but we were approached by some real estate guys who own the property when the spot became available," he said. "We love the area. It's right outside Nichols Hills in the Village, and there's not a whole lot of sit-down dining nearby."
The original 1492, 1207 N. Walker Ave., has been a mainstay in the bustling Midtown District, but the owners began to hear many customers say they'd like a location closer to where they live. Adding a second location farther north opens them up to plenty of new clientele, Chavez said.
The menu features some Tex-Mex, but much of the food at 1492 is Latin fusion cuisine, drawing inspiration from Venezuela, Cuba and Argentina.