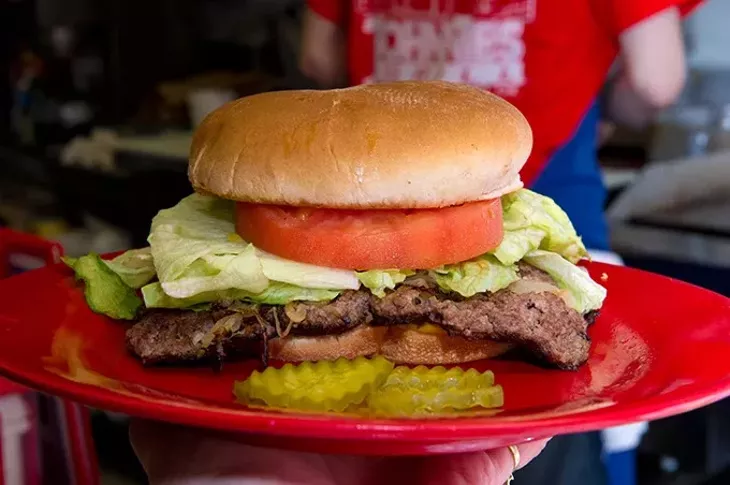 Shannon Cornman
Johnnie's Fried onion burger in El Reno.Photo/Shannon Cornman
Big burger
Lovers of onions and beef will converge on downtown El Reno on Saturday to celebrate the convergence of onions and beef at the 27th annual El Reno Fried Onion Burger Day Festival.
El Reno, home of the onion burger, hosts a day filled with burger-themed events starting with the Bun Run. A combination 1-mile fun run followed by a 5k, the Bun Run starts at 8:30 a.m. at Memorial Stadium, 2001 Sunset Drive.
At 10 a.m., festivalgoers can sign up for a chance to participate in a burger- eating contest later in the day. But the main event is cooking an 850-pound onion burger. Preparation begins at 11 a.m., the giant burger gets cooking at noon and it will be served to the crowd at 1 p.m.
There will also be live music, magicians, a car show, crafts and, of course, food. Last year's festival saw 3,200 hamburgers cooked in seven hours with 50 cents from each hamburger sold donated by El Reno Main Street to a community project. This year's recipient is the Students Striving for Success mentoring program.
More information and a schedule of events can be found at elrenoburgerday.wordpress.com.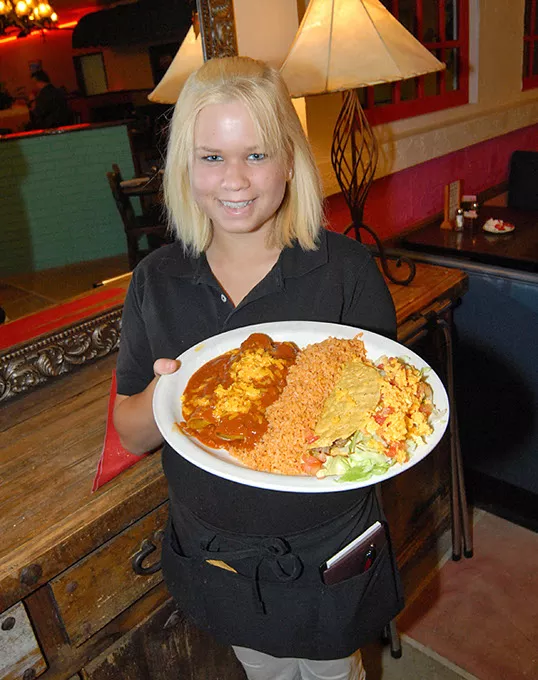 Adios, Pepe
Longtime Oklahoma restaurateur Julian "Pepe" Jose Gonzalez died April 19. Gonzalez was born in Chiclayo, Peru, and became head of his household at a very young age, which instilled in him an insatiable DIY ethic that emigrated to the U.S. in 1959. A brief stopover in Bethany on his way to Salt Lake City proved to be permanent.
Here, Gonzalez met El Charrito restaurant owner Luis Alvarado, who gave him a job at the downtown location even though he didn't speak English. He also met his future wife, Taide Alvarado, his boss' niece, and taught himself English. He worked his way up from help staff into management and, later, into a successful local entrepreneur.
After 21 years with the El Charrito/El Chico Corporation, in 1981, Gonzalez opened his own place, Pepe's Mexican Restaurant, 1701 S. Broadway, in Edmond with partner Manuel Tello.
It remains a mainstay of Edmond's popular restaurant row.
Through hard work and self-education, Pepe lived the American dream. His employees were often treated like family, as were his loyal customers.
They opened a second location in 1987: Laredo's Mexican Restaurant, which recently moved to 5111 N. Classen Blvd., and was renamed Casa De Los Milagros Mexican Restaurant and Cantina.
TOwner Matthew Sebacher with Tamashii Ramen interior construction. mh
Ramen house
For several years, Matthew and Wakana Sebacher have developed a menu and concept for their new restaurant. In May, they plan to open Tamashii Ramen House, 321 NW Eighth St.
Japanese native Wakana came to Oklahoma for school a decade ago and met Matthew after he returned from a military deployment.
"The first time I experienced real ramen was when I met her family," Sebacher said.
That authentic Japanese ramen experience convinced them to start their own ramen restaurant in OKC. Recently, they found the perfect spot for it in Midtown.
The restaurant offers three different styles of ramen — shoyu, tonkotsu and spicy — but might introduce more. They also might add Japanese street and bar foods, including gyoza, Japanese fried chicken, stir-fried yakisoba noodles and homemade garlic fried rice.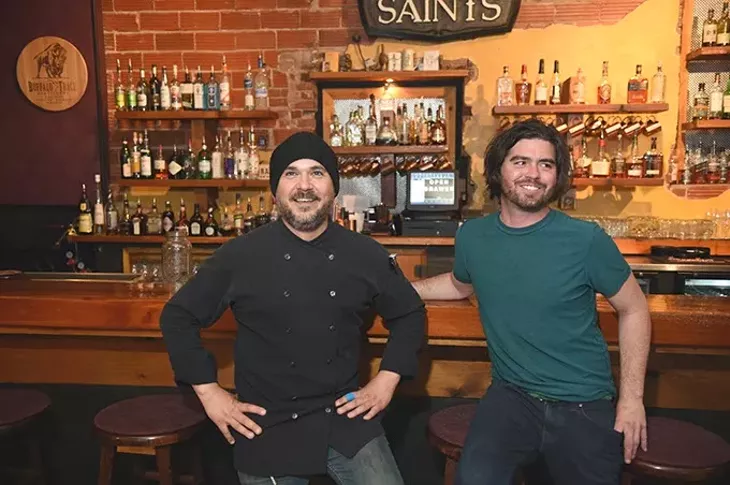 Left Guy Romo an Patrick Ireland at Saitns in the Plaza District. mh
Rolling chef
Look for a new focus on food at Saints, 1715 NW 16th St., as Guy "moto chef " Romo (pictured at left) has been brought in to help revitalize the kitchen.
Romo is working as a consultant and said he'll help the eatery transition to a new head chef in a few months.
"They have a great menu, but they need assistance," he said. "They want to be back on the map."
With a limited kitchen staff, he will condense the menu and add new items, elevating consistency and, in time, re-open for lunch.
Romo, who ran the Moto Chef food truck, is also looking down the road on concepts of his own. He hinted at a series of pop-up dinners similar to Jeff Chanchaleune and Rachel Cope's Project Slurp, for which Romo assisted in the kitchen.